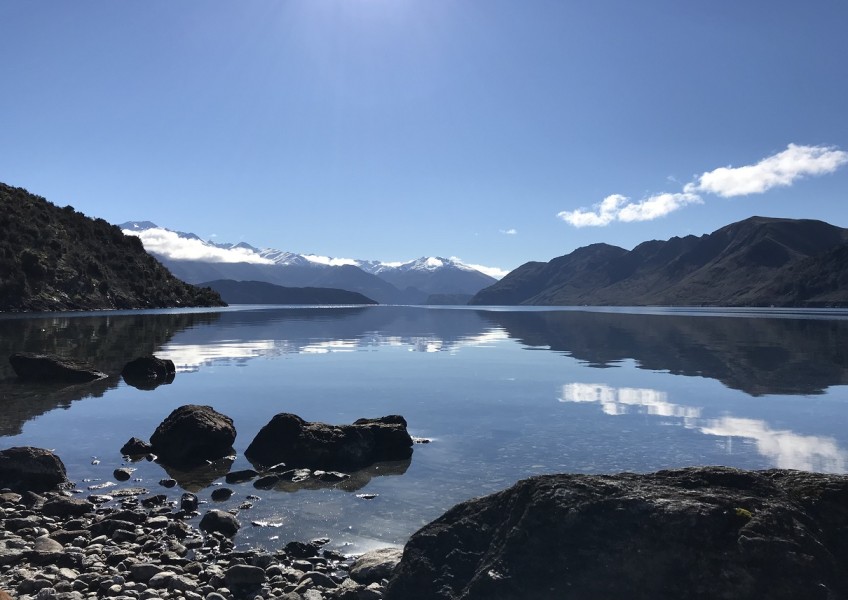 Editorial. Q'town suddenly wants to be like Wanaka
---
Editorial.
The last twelve months, even without Covid 19, has been pretty momentous.
This time last year the campaigning for the local body elections had not even started, the airport expansion debate was still running hot, the Aussie bush fires lay in the future and local Queenstown violinist Noelene Tait was still alive.
But now, 12 months on, we live in a different world. Jim Boult won the election – but did not poll as Number 1 in Wanaka. Even Queenstown voters needed to be swayed by Jim's interim airport expansion freeze and a big community consultation study by consultants Martin Jenkins.
The Aussie bush fires left the whole world horrified by the spectre of climate change, leaving even our South Island glaciers coated in a sinister red dust. An area equal to the combined size of France, Spain and Portugal was reduced to ash and 34 people lost their lives.
Noeline Tait was killed, and Cromwell resident Glen Cherry badly injured, on January 14th 2020 in a rental car accident that represented the culmination of a fierce debate over the effects of what had become mass industrial scale Queenstown tourism.
And then – in the immediate wake of Covid 19 after a complete shutdown – we experienced a wonderful and successful weekend of domestic tourism over the Queens Birthday holiday. Locals welcomed the visitors. We were proud. The businesses were happy, even with their prices reduced to Kiwi levels. We were back in business, as a community and as a town that people like to visit.
But, in spite of a chorus of voices now calling for permanent change from "industrial" tourism to something a lot kinder, sustainable and socially licenced, there are signs that the extractive Big Tourism industry is keen to make an urgent return.
But let's consider some of the facts before we, as a community, decide what we actually want.
It was generally the bigger tourism operators who made their staff redundant and closed down due to Covid-19 – in spite of the Government's wage subsidy.
Mayor Boult's constant refrain that 60% of NZ Queenstown residents work in tourism has been disproved by the fact that we have around 7,000 migrant workers now on or seeking urgent social welfare benefits.
The reality is that the Big Operators, who generally won't talk about their profits, tax, director salaries etc employed a very small number of well-paid local managers and executives – and then an army of lower paid migrant workers. Those workers have now been cast off to be supported by the tax and ratepayer.
Economist Ralph Hanan has detailed in the most widely-read ever Crux article how badly the tourism sector performs in terms of contributing to our local economy.
Those Queens Birthday visitors, no matter how welcome, still managed to bring our local roads to a near complete standstill.
The Martin Jenkins airport study has still not been released to the public in spite of an airport Statement of Intent being accepted urgently by councillors. The SOI was supposed to be guided by the Martin Jenkins study.
So, we now found ourselves in a strange limbo land where the overwhelming majority of Queenstown locals favour a lower, slower or zero rate of growth while we get a proper plan together – post Covid.
That plan, in many ways, looks a lot like Wanaka.
Kinder, smaller, local and caring. Welcoming not industrial tourism but truly sustainable tourism. Not the Them and Us tourism that has become a trademark of Queenstown and given us a poor reputation throughout our own country. More importantly, welcoming new industries and new jobs that will get us out of the low wage, low productivity, high cost of living spiral that Big Tourism delivered as a toxic side effect. That's not to mention the high QLDC rates that went to cover infrastructure stretched and damaged by those same Big Tourism visitors.
A good first step would be if our local and regional Dunedin-owned newspapers would stop calling Queenstown a Resort. It's a town. It's a community. It's not a resort. Wanaka is not a resort either.
If necessary – here's the definition of a resort – "A resort (North American English) is a self-contained commercial establishment that tries to provide most of a vacationer's wants."

---