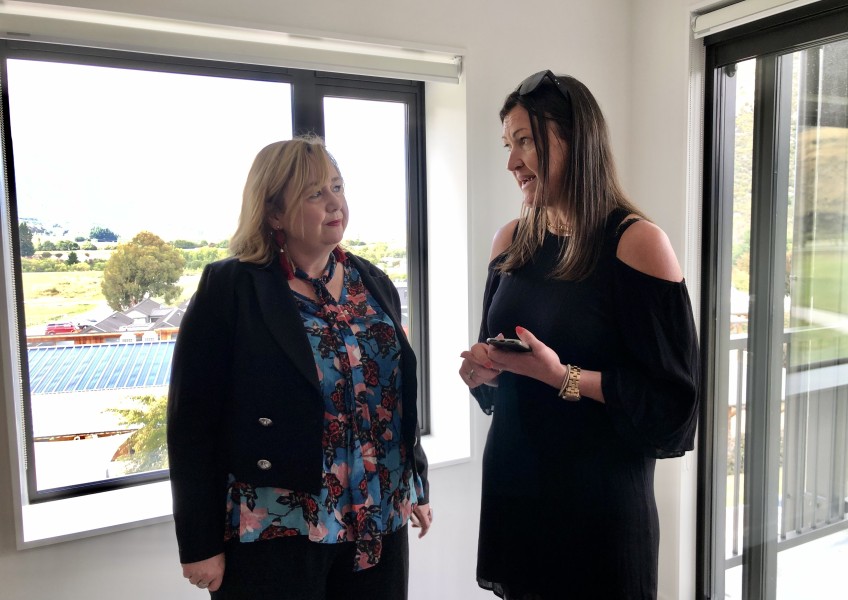 Qtown housing trust model to go nationwide
---
It's hoped that the Queenstown model for affordable housing will be scaled up to benefit aspiring homeowners across the country, while there are calls from providers for dedicated annual government funding for the sector.
Residents are weeks away from moving into the new Toru development in Frankton, which has sold 25 units under the progressive home ownership scheme.
Queenstown Lakes Community Housing Trust (QLCHT) executive officer Julie Scott is delighted that 25 households will soon be moving into their new apartments, but believes the government should dedicate funding to community housing in its annual budget.
"We want to grow progressive home ownership across the country, I want to help more organisations understand this leasehold model, share our IP, get more progressive home ownership.
"Because home ownership is getting out of reach for more and more households every day so if we can come in with assisted ways to make that possible, then why not?"
The Queenstown scheme is a leasehold model whereby the household buys the unit at roughly half its market value - in the Toru complex that means one bedroom units for $200,000 and a two-bedroom unit for around $320,000.
The tenant then pays a ground rent of 1 per cent of the land value, about $50 a week, to the Queenstown Lakes Community Housing Trust.
Buyers under this scheme are unable to sell the property on the open market or transfer it to anyone else.
The Government's Progressive Home Ownership fund of $400 million is a one-off scheme aimed at getting 1500 - 4000 families into their own homes.
It's been criticised recently for housing just 12 families since its official launch seven months ago, but Housing Minister Megan Woods says the scheme is on track, with 166 families contracted to move into homes.
"The only people that are saying it's slow are those who are using this as a political football, and that's reprehensible," Woods says.
Woods says various progressive home ownership schemes are already being rolled out nationwide, but she stopped short of any hints at further funding.
"We're looking at a variety of demand and supply measures when it comes to housing and we'll have more to say on that soon."
Gareth Stanley-Jones had planned to buy in Cromwell as a step towards owning a home in Queenstown, before he managed to secure a home in the Toru complex.
He and nine-year-old daughter Angelique can't wait to get into their new apartment.
"On a single income it's not easy to come up with a mortgage for $800,000 plus. So to get this unit, giving us our own space, it's hard to put words around it," Stanley-Jones says.
As well as the 25 families who bought under the progressive home ownership scheme in Toru, there are 15 public housing units whose rent is set by the government, and eight units have been sold on the open market.
They're set to move in in roughly four weeks.
Watch the full interview with Megan Woods here.

---