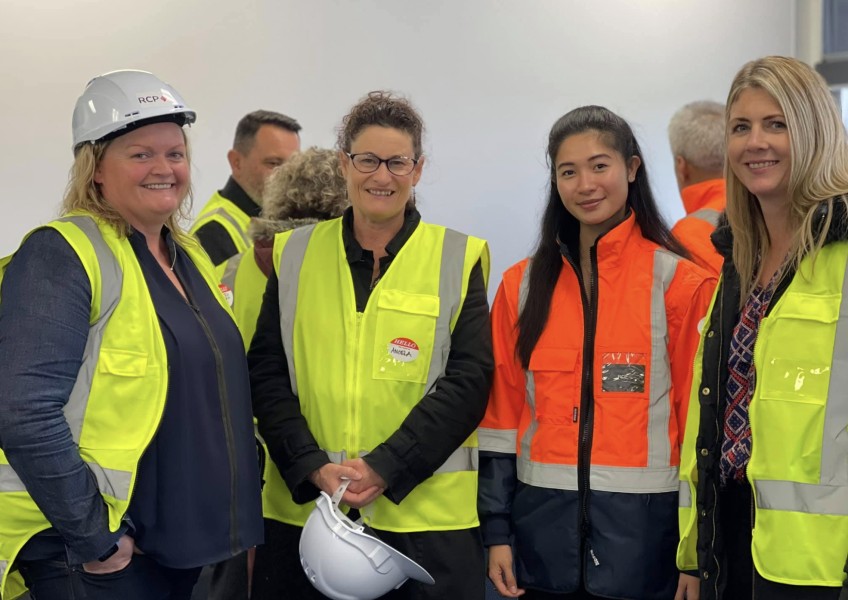 Q'town consultant paid $294,000 by Invercargill council while working in Taranaki
---
Editorial/Analysis
Our most recent update on the adventures of three Queenstown super consultants has been seen by more than 16,000 people, so most people reading this will be familiar with the story so far.
Jendi Paterson, who lives in Arrowtown and is linked to Ruth Stokes (main image - Jendi Paterson (left) and Ruth Stokes (right) with Taranaki MP Angela Roberts (centre left) and Solleil Tan of project managers RCP (centre right) and Bruce Robertson, is currently the project lead on the $50 million Yarrow Stadium in New Plymouth. However, Crux has now discovered two other projects, in Invercargill, that Ms Paterson is working on via her consultancy JALP Ltd.
Crux is not aware of any other employees of JALP Ltd and Ms Paterson, along with Mrs Stokes and Mr Robertson, has so far refused to answer any Crux questions relating to her work for councils and the ratepayers they serve.
Our questions relating to Ms Paterson's work with the Invercargill City Council (ICC) have now been answered (in part) after the intervention of the council's chief executive, Clare Hadley. Prior to that council staff had failed to meet various official information request deadlines.
The ICC has paid Ms Paterson, via her company JALP, $294,157 since January 2021 for various project management roles that the council says were handled via a procurement process that included a declaration by Ms Paterson that she, via JALP, had the capacity to do the work, despite the full time New Plymouth stadium project lead role that is still in progress.
ICC chief executive Clare Hadley told Crux:
"ICC is aware that JALP, as with other consultants, has a number of other projects on which they may be working. In accepting the appointment there is a representation that the consultant has the capacity to meet the required timeframes to complete the work required.
"ICC is not aware of the terms of any engagement of JALP and/or Jendi Paterson by the Taranaki Stadium Trust and I refer you to that entity for further information."
Crux has published the latest response from the Taranaki Stadium Trust further into this story, but first it is important to share details of a new Paterson project at the Southland District Council (SDC), also based in Invercargill, where council staff will only answer Crux questions via an official information process that will take another 20 working days.
The SDC invited consultants who wanted to work on a large scale coastal path project in November 2021 – with the contract being awarded to large planning agency Boffa Miskell in January 2022. The person running the tender process for the SDC was Ms Paterson, using her personal mobile number and her JALP email address.
When Crux contacted the SDC to ask the simple question "Is Jendi Paterson working for you?" council staff seemed to be unusually evasive. None of the communications, PR, media or governance team was available and our calls were eventually taken by the assistant to the CEO.
She was very helpful but then called back a couple of hours later saying that the council could not answer our questions except through the LGOIMA official (20 day) information process. That decision came from the SDC's chief executive Cameron McIntosh who was sick at home with Covid. No further comment was to be made including even a simple confirmation as to whether Ms Paterson was, or was not, working for the SDC. SDC Mayor Gary Tong was copied on Crux emailed questions but did not respond, even though he had promised to address all issues in response to media speculation of problems at the SDC, including questions around the role of Bruce Robertson.
Mr Robertson, who appears to have been instrumental in helping both Ms Paterson and Mrs Stokes become involved with the Taranaki stadium project, chairs the Audit and Risk Committees for both the SDC and the ICC, as well as Environment Southland.
Meanwhile, in New Plymouth
Throughout this process in Invercargill, Ms Paterson continues to run the $50 million Yarrow Stadium project in New Plymouth.
Taranaki Regional Council managers there continue to praise Ms Paterson's work saying the stadium build is going well – on time and on budget.
Ms Paterson started working for the stadium project back in October 2019, with Mrs Stokes and Mr Robertson on the governance group. Ms Paterson was allowed to work remotely during Covid lockdowns and prior to physical construction work starting. Crux has previously reported on Ms Paterson and Mrs Stokes earning $400,000 from the Hamilton City Council at the same time as taking on the Taranaki stadium project.
Last week we were told this by the Taranaki Regional Council's director of corporate services, Mike Nield, when asked about the Invercargill projects that Ms Paterson was working on.
"Ms Paterson was not required on the work site because physical works did not begin until December 2020. From December 2020, Ms Paterson completed much of her work from Taranaki."
Previously we were told:
"For the period September 2019 to June 2020, Ms Paterson was not required on the work site because physical works did not begin until December 2020. It's also worth noting that no other staff were on site between March and May 2020 because the country was in lockdown due to Covid-19."
(Taranaki Regional Council's director of corporate services, Mike Nield, May 25, 2022.)
Before that we were told:
"Any suggestion that the Council has not verified hours worked by its contractors is refuted. Ms Paterson's work has been completed largely on-site in New Plymouth or in the presence of Council officers. Ms Stokes and Mr Robertson's work has also largely completed in the presence of, or alongside, Council officers, and the Council is confident that hours billed are appropriate and reflect actual hours worked."
(Taranaki Regional Council's director of corporate services, Mike Nield, April 27, 2022.)
Crux understands from a credible source that the Taranaki Stadium budget has blown out from $50 million to as much as $75 million, information that is denied by the Taranaki Regional Council.
"We can confirm that the project budget is not $75m. The full cost of the project has not yet been determined. The full project budget for the refurbishment of Yarrow Stadium can only be confirmed once the design of the East Stand is finalised and has been fully costed. Design of the East Stand is nearing completion and market costing for the construction of the East Stand is a work in progress.
"What we can confirm at this stage that the West Stand refurbishment, including new field and stadium lighting, is nearing completion and despite the challenging construction environment, costs for this part of the project are largely on track."
(Taranaki Regional Council's director of corporate services, Mike Nield, June 15, 2022.)
Whether Crux's source or Mr Nield is correct will only be known once the full project budget is revealed and the actual costs are confirmed.


---