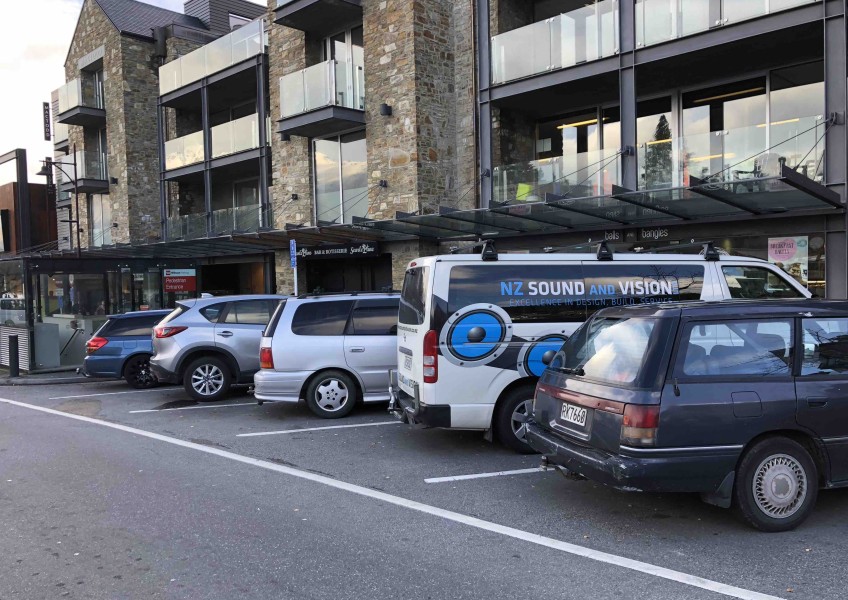 QLDC: town centre car access to be "greatly reduced"
---
The Queenstown Lakes District Council (QLDC) plans to dramatically cut back car access to the town centres of both Queenstown and Wanaka.
The council however says new parking buildings and other measures will eventually provide space for cars that get pushed out of existing car parks.
Property and Infrastructure General Manager Peter Hansby says the council's vision is to change the way the town centres are used. "QLDC is not looking for a situation where the CBD's are completely car free, but we are working towards a future where the number of cars is greatly reduced.
"Parking buildings are essential as we plan for growth and to provide spaces as car parks are displaced from the CBD."
Crux yesterday published a story highlighting general support for better pedestrian access to both Queenstown and Wanaka's town centres, but only if sufficient new car parks were provided nearby.
Social media comments featured high levels of dissatisfaction with the current state of CBD parking access with many people claiming that unaffordable retail prices and tourist congestion were already driving people away from Queenstown's town centre.
A residents' survey carried out by the QLDC last year shows alarming levels of locals who feel that the town centre parking situation is out of control. The survey also showed that both Queenstown and Wanaka residents were finding their town centres increasingly difficult to access, unattractive to visit and too congested with traffic.
The Queenstown survey results showed a staggering 80 percent of locals saying that CBD parking arrangements are unsuitable, 67 percent saying traffic levels are unacceptable and 63 percent saying public transport is inadequate. The survey was carried out before the launch of the $2 Orbus service.
The picture is slightly better in Wanaka where 68 percent of residents are unhappy with CBD parking and 52 percent say traffic congestion is too great, but 72% say public transport is inadequate. Residents who responded to the 2017 survey were split almost 50/50 on whether the town centre layout works for both cars and pedestrians.
The survey results add weight to developers who are building large scale shopping malls and residential developments some distance from the existing CBD in Queenstown.
Another issue raised by readers of yesterday's Crux story is the number of rental cars being driven into the town centre by tourists. According to QLDC, a third of Queenstown airport passengers rent a car. That figure is three times higher than at Auckland Airport, according to the council. The answer, according to Peter Hansby, is to persuade more tourists to use public transport, especially when heading into the town centre. Many CBD hotels have inadequate or even no parking for their guests.
The pressure on CBD parking is getting worse almost by the month. Increases in parking fees, introduced in March this year and designed to reduce town centre traffic in Queenstown, have pushed many cars to the fringes of the CBD. The problem got so bad along the Glenorchy Road that the council had to suddenly ban lakeside parking there altogether just a few days ago for safety reasons. The cars had been displaced from the One Mile car park just next to the Fernhill roundabout.
The council does claim that there is a solution in sight, or at least some improvement. "Every year council officers carry out a parking survey where they observe how parks are used throughout the CBD," says Hansby. "In this year's survey we are already seeing more spaces available, which is great as it means behaviour is starting to change. That's backed up by the patronage figure increase on public transport – and even the amount of bicycles observed parked around the town centre."
In the end though, it's a very high stakes gamble by the council. If the QLDC can't get town centre transport and parking issues under control, then there will be an inevitable shift of focus to new development areas such as Frankton and even Cromwell. The consequences of such a commercial shift will be considerable with wide ranging effects on tourism, business development, employment patterns and the overall demographics of the district.


---