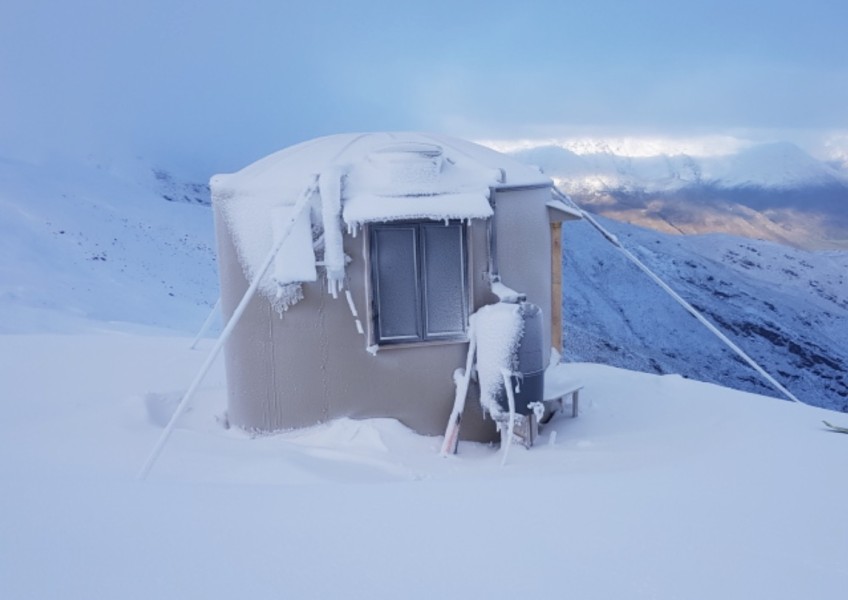 New ski traverse not for beginners - Turks founder
---
The founder of the series of huts along a new ski traverse in the Harris Mountains is urging those who book them to be honest about their backcountry abilities.
Erik Bradshaw and a team of volunteers built five "Turks" - converted water tanks - to provide shelter for skiers undertaking the Mahu Whenua traverse.
Bradshaw's been overwhelmed by the interest in the huts - already he's almost booked out for the season.
The multi-day alpine traverse is the first of its kind in the Southern Hemisphere, and according to Bradshaw has terrain that "offers enough excitement without excessive risk from steep country and glacier travel."
But like anywhere in the New Zealand backcountry, it does present risk and Bradshaw says he hopes those who are booking the Turks have adequate abilities.
"I do have a concern about the skill set of some of the people," Bradshaw said.
"It depends on the time of year but there are distinct points of risk where you could kill yourself or something like that, typically in combination with an avalanche, just to bump you off in the wrong direction."
He hoped those attempting the traverse were aware that between the Turks "it's all just wild country."
Bradshaw's legal responsibility is to ensure the Turks are safe and secure, and he doesn't want to police who attempts the traverse.
"I'm not a fan of the nanny state and anyone telling people what they should and shouldn't do."
He said he's given people realistic advice about the risks, and beyond that, people need to be responsible for themselves.
Bradshaw encouraged anyone unsure of their abilities to visit one of the more accessible Turks, such as the one on Crown Basin overlooking the Wakatipu Basin behind Arrowtown.
In order to use the Turks, skiers must pay a lifetime membership fee to join Bradshaw's Mountain Turk Club for $300, then an extra $100 to book.
Founding members paid $10,000 and families paid $2700 - the cost of a water tank - while others contributed volunteer hours to build the Turks.
Bradshaw doesn't currently have any volunteer work that needs doing, so he encourages people keen to enjoy the Turks to pay the membership fee.
"I just want to make sure I've got the long term viability of the club sorted because I don't want in 10 years time to have to go and say, 'Oh, we need a whole lot more money'."
Bradshaw is holding two meetings to share information about the Mountain Turk Club - In Wanaka at b.Social at 7pm on June 8, and in Queenstown at Cargo at Gantley's at 7pm on Thursday June 10.
Watch the Southern Lens episode on the Turks here.


---