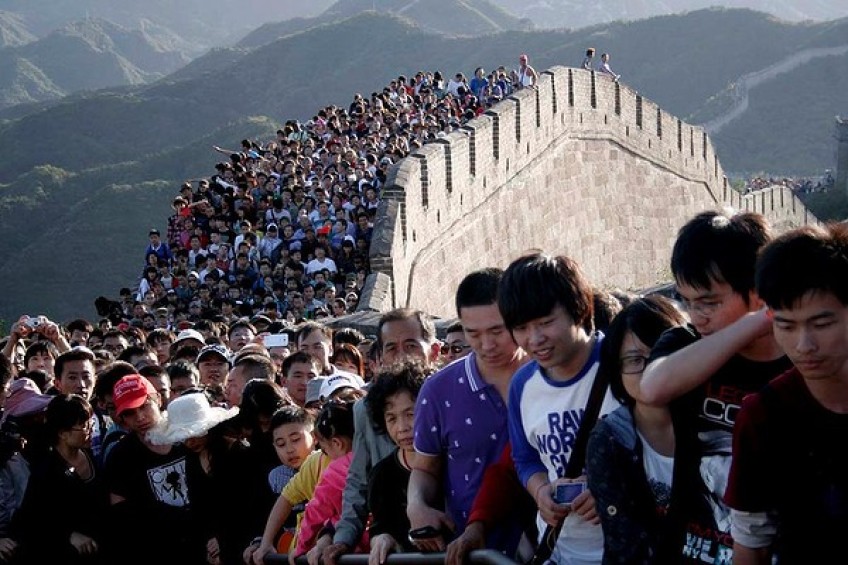 Overtourism - too late for Q'town and Wanaka to turn back?
by Andrew Waterworth - Aug 22, 2018
---
Well-travelled former television reporter and producer, Andrew Waterworth, who lives in Wanaka, recently returned from three months in Europe where he witnessed shocking overcrowding at, and consequent degradation of, some of the continent's most important sights.
In an opinion article for Crux, he looks at places throughout the world where drastic measures are being taken to reduce tourism numbers and calls on New Zealand authorities to take action now before we're faced with the same dilemma.
"Overtourism" is an issue that confronts the present and future towns of Wanaka and Queenstown. We (those who live here and travel) are part of the problem, in so far as we are happy to fly out of Queenstown and use it as a departure point for our overseas trips. We also benefit one way or another from tourism, either directly or indirectly, but that shouldn't dissuade us from looking into the future and assessing what it holds for us if we fail to manage tourism sustainably.
Some might argue that we can't prevent people from coming here, or that we cannot control the number of flights or passengers coming into our airports.
The danger in accepting that viewpoint is that we could wind up like so many places in Europe and elsewhere that are suffering from tourism fatigue.
My wife and I have just returned from a three-month trip to Europe and have experienced first-hand what happens as a consequence of rapidly growing and unmanaged tourism. It's not a pretty sight and it inevitably detracts from the pleasure of the experience.
It doesn't take much research to see that this is a global phenomenon from which we can - and should - learn. It is pretty clear that the airlines through cheap tickets, as well as heavy promotion by governments, cities, tourist organisations and businesses, are major drivers of tourism numbers.
Take, for example, Auckland Airport which owns 25 percent of Queenstown Airport Corporation. Here's what it says on Auckland Airport's website:
https://corporate.aucklandairport.co.nz/airport-of-the-future/whats-driving-growth
Emerging economies and their impact on aviation
The emerging economies of China, South-east Asia, India and South America are changing the dynamics of global air travel. There has been a significant rise in the number of people with disposable income in these economies and it is estimated that 66% of the populations of China and India will take one international trip each year by 2032. New Zealand is uniquely positioned to take advantage of their desire to travel.
The growth of emerging economies has also led to a significant increase in aircraft numbers. According to Airbus, emerging economies represent 50% of new aircraft demand for the next 20 years. Boeing expects the number of aircraft in China will triple in the next 20 years and that Chinese airlines will buy more than 5,500 new planes by 2030.
..and…
This passenger and airline growth has helped to fuel New Zealand's recent tourism boom and bring real economic growth to our cities and regions. It has helped to make travel much more affordable, provided more travel options for Kiwis and increased the volume of freight passing through the airport.
Auckland Airport is responding to this growth by building the airport of the future. Implementation of this 30-year vision is now well underway. We are currently investing more than $1 million every working day in aeronautical infrastructure to ensure that we can accommodate 40 million passengers and 260,000 flights by 2040.
Inevitably, Auckland Airport will be planning to direct significant numbers of those 40 million passengers to the premier destinations of Queenstown and Wanaka. Already there is talk of Wanaka airport being upgraded to handle "overflow" from Queenstown with figures of two million passengers a year being mentioned.
While it's true, of course, that when we travel for pleasure we are contributing to tourism numbers, our contribution to New Zealand's passenger statistics is far less (and will be an increasingly smaller percentage) than the current 3.775 million international annual arrivals (MBIE April 2018 statistics).
Given that Queenstown Lakes District Council owns 75 percent of Queenstown Airport Corporation, it is well-placed to control the number of flights and tourists.
Why should it do that, when tourism is the major driver of our economy? Here's why – because Europe and other destinations have discovered that if you don't manage tourism numbers sustainably – you get structural chaos and a massive attack of tourism fatigue. Tourists arrive to discover not only that it's crowded, compromising their uniquely personal experience, but they're also not wanted, their presence is often not welcome and consequently their whole experience is jaundiced.
In Time magazine on July 26 2018, in an article headlined "Europe made billions from tourists. Now it's turning them away", Lisa Abend summarised the factors at play with "overtourism" succinctly:
http://time.com/5349533/europe-against-tourists/
The reasons for this modern explosion in tourism are nearly as numerous as the guys selling selfie sticks in Piazza Navona. Low-cost airlines like easyJet, Ryanair and Vueling expanded dramatically in the 2000s, with competitive ticket prices driving up passenger numbers. From 2008 to 2016, the cruise-ship industry in Europe exploded, growing by 49%. Airbnb, which launched in 2008, made accommodations less expensive. Rising prosperity in countries like China and India has turned their burgeoning middle classes into avid travelers. Even climate change plays a role, as warmer temperatures extend summer seasons and open up previously inaccessible areas. But the cities and local governments here also share responsibility for the boom, having attempted to stimulate tourism to raise money. In the decade since the financial crisis began, tourism has come to be seen by European countries as an economic lifesaver. The industry generated $321 billion for the E.U. in 2016 and now employs 12 million people. Governments in cities like Barcelona spent heavily to attract tourist dollars. "For decades, the government here was using tons of public money to attract cruise lines, new hotels, new airlines," says Daniel Pardo, a member of the city's Neighborhood Assembly for Sustainable Tourism. "But they didn't think about the repercussions.
New Zealand as a whole, and Queenstown and Wanaka in particular, should look carefully at what's happening in Europe and elsewhere and develop plans to manage tourism so it doesn't turn into an out-of-control disaster. We have the option to be smart and proactive – protecting our region for residents and tourists alike. Or we can be dumb and greedy and kill the golden goose.
One UK travel company we booked excursions through is so concerned about the problems of "overtourism" and its backlash on the industry that they have produced their own documentary to raise the issues and put forward some solutions. It's called "Crowded Out – the Story of Overtourism" and can be watched here:
https://www.responsiblevacation.com/copy/overtourism-documentary
or on Youtube:
https://www.youtube.com/watch?v=U-52L7hYQiE
In 2015, Condé Nast Traveler put out a list of 15 destinations which were "Telling tourists to stay home" which they updated in 2016. Since then the list of places affected by overtourism has grown and a few minutes search online identifies a wide range of iconic places around the world that have restricted, or are planning to restrict, tourist numbers to save their priceless city, culture, environment, wildlife or heritage from further damage, and to protect the future of their communities.
New Zealand isn't on the list yet. It'd be a tragedy if we join them.
I am not anti-tourism, far from it. I love to travel, as our recent trip testifies, and I want to continue to travel, but to do so responsibly. I would like to see an intelligent, forward-thinking debate about tourism, as it is affecting our home town and region, and how it can be managed sustainably and responsibly for the future.
Overtourism hotspots (with thanks to Condé Nast Traveler and numerous other sources)
Galapagos Islands: By 2007, residents and tourists had put such a burden on the ecosystems that the United Nations listed the destination as an endangered heritage site. Today, 97 percent of the land area is designated as part of the national park and tourism is carefully monitored so that there is no further impact on the islands' health or wildlife.
The Alhambra (Granada, Spain): Mass tourism at the Alhambra Palace could be killing the goose that laid the golden egg. Spain's most visited tourist attraction is considering cutting down on visitors in a bid to slow down the building's deterioration. The Moorish monument in Granada welcomed record numbers last year, with more than 3.1 million visitors – an increase of 3.8 percent on 2013. But UNESCO has advised the management board to urgently reduce numbers to help preserve the historic palace and neighbouring Generalife gardens.
Dubrovnik: Tourists and cruise ships could be turned away under new plans to protect Dubrovnik. The town will drastically cut the number of visitors allowed into its ancient centre in just two years, in an effort to prevent ruinous overcrowding, the mayor has revealed to Telegraph Travel. The new limit will go further than Unesco's recommendation of permitting only 8000 people a day inside the hefty Medieval walls, and instead put the cap at 4000. Mayor Mato Franković said the move was to protect the quality of the experience for visitors to the Croatian city. "We don't want to go with the maximum, we want to go lower than that," he said. Franković said Dubrovnik needs to "reset" after a period of unchecked growth in the number of day trippers and cruise passengers that flood into the tiny city each day. UNESCO last year warned Dubrovnik's world heritage status was at risk.
National Palace Museum in Taipei, Taiwan: Housing the largest collection of Chinese art in the world, the National Palace Museum had to limit visitor numbers due to the large number of tourists from China. Overcrowding in the museum has led to the strict timeslots for tour groups and no more than 2500 people for each one-and-a-half hour slot.
Machu Picchu: As part of a $43.7 million reconceptualisation expected to be completed by 2019, all foreign visitors will have to hire a guide, follow one of three designated routes through the complex and be subjected to time limits, in order to prevent bottlenecking. In 2014, some 1.2 million tourists visited the 12-acre Incan citadel, surpassing the daily limit of 2500 agreed to by Peru and UNESCO.
Antarctica: By 2009, a surge in visits led to a ratification of the Antarctic Treaty. Among other things, signatories agreed to bar cruise ships with more than 500 passengers from landing sites, restrict landings to one vessel at a time (per site), and limit passengers on shore to 100 at a time.
Santorini: Hoping to stem the tide of cruise tourists, which reached 10,000 per day during peak season (May-September) last year, the island last year began limiting the number of cruise ship visitors to 8000 a day.
Isle of Skye: Last summer police set up road block check points on the mainland end of the bridge across to the island, and refused entry to anyone who couldn't prove they were residents or had accommodation booked, as the island was being inundated by people who arrived and didn't have anywhere to stay which was causing huge problems.
Norway: Norway is now faced with the prospect of weighing up whether or not too many tourists is a good problem to have—especially at its natural sites. According to The Local, Norsk Friluftsliv, Norway's leading hiking and outdoors group, has called for a limit on tourists trekking to popular spots and vantage points
Venice: Cruise ship traffic has quintupled in the past 15 years and rising rent prices have left locals unable to afford a place in the city. To cut back on the flow of travellers, heritage group Italia Nostra ("Our Italy") has asked the government to ban cruise ships in the harbour and wants to require large groups to book ahead to visit the city.
Koh Tachai (Thailand): Koh Tachai, an island which is part of Thailand's Similan National Park, has been closed indefinitely since May 2016 after proving to be too popular with tourists. Three more islands - Koh Khai Nok, Koh Khai Nui, and Koh Khai Nai - all of which are off the coast of Phuket - have similarly followed suit, though not as drastically. Tourism is now significantly limited, with tour operators having to follow strict rules about when, where, and how to visit the islands.
Zion National Park (Utah, USA): Utah's Zion is expecting a record four million visitors this year and not everyone is happy about it. To combat increased land erosion and "overwhelmed facilities", park officials are considering putting a daily cap on visitor numbers via a new reservation system. Flocks of tour buses pour in from Los Angeles and Las Vegas. Instead of coming to get a sense of nature transcendent, people wait an hour or two in traffic just to get through the park gates, and day hikers jostle with hundreds of other people on one-lane trails eroded by overuse. Rubbish bins can't be emptied fast enough and overflow onto the ground. Wild desert waterfalls at the end of a three or four mile trail feel less like a red rock cathedral and more like a crowded beach. Lines of vehicles to get a first-come, first-served camping spot start forming at 4:30 or 5am and many come away empty-handed. Amusement-park-style lines form to get on the shuttle and into restrooms.
Barcelona: Barcelona's mayor Ada Colau made headlines in June 2015 when she discussed implementing an entry cap on the Spanish city. In order to keep Barcelona from reaching its "saturation limit", Colau's administration is developing plans to balance the tourism sector's interests with those of local residents - potentially putting a city-wide freeze on the development of new hotels and creating a preventative policy before things "get out of hand". As of May 2016, the city was considering a new tourist tax which would charge travellers entering the city who don't stay overnight – i.e. day trippers and those in town on a cruise.
Bhutan: High on the Himalayas' eastern edge, the Buddhist kingdom of Bhutan prides itself on "low volume, high-value" tourism.
Iceland: As of May 2015, the number of visitors to Iceland had increased 76 percent on the same period in 2014 and, last year, Iceland had more American tourists than actual residents. Currently, the Icelandic Tourist Board and the Icelandic Tourism Research Centre are researching how "full" a site can get before it detracts from the experience. "We have to realise that we can't just build up natural sites endlessly," Ólöf Ýrr Atladóttir, director general of the Icelandic Tourist Board, said in 2014. "We can't just endlessly receive more and more people at any particular tourist site and live under the assumption that we are offering the type of experience that people have paid for."
Cinque Terre: Italian officials recently announced plans to cap the number of people allowed to visit Cinque Terre, citing environmental concerns. Though 2.5 million travellers visited Cinque Terre in 2015, the number will be restricted to 1.5 million per year going forward.
The Seychelles: Though tourism is the Seychelles' biggest industry, its Minister of Tourism and Culture, Alain St. Ange, said in April 2015 that work is underway to curb the number of annual visitors in order to protect its future. "We don't want to demean the value of the Seychelles. We're reaching 250,000 people, six times the number of people who live there."
Mt. Everest: In September 2015 Nepalese tourism officials banned "novice" climbers and were considering setting minimum and maximum age limits for climbers. Also in the plans? An emphasis on forming smaller climbing teams so that "traffic jams" up the routes can be avoided.
Andrew Waterworth has had a 40 year career in television, working for Natural History New Zealand in Dunedin from 2000 to 2015 as Executive Producer and, for the latter five years, as Head of Production/Executive Producer. Prior to this, he worked in Australia and New Zealand reporting and producing political, social and science stories, including on ABC TV's Nationwide, 7:30 Report and Quantum programmes, and Beyond Productions' Beyond 2000.
Sources:
http://time.com/5349533/europe-against-tourists/
https://www.cntraveler.com/galleries/2015-06-19/barcelona-bhutan-places-that-limit-tourist-numbers
https://www.telegraph.co.uk/travel/destinations/europe/croatia/dubrovnik/articles/dubrovnik-tourist-limits-unesco-frankovic/
https://www.newsweek.com/traveling-italy-these-cities-are-turning-against-mass-tourism-909632
https://edition.cnn.com/travel/article/venice-separates-tourists-and-locals/index.html
https://www.cnbc.com/2017/09/05/tourists-not-welcome-popular-european-destinations.html
https://www.usnews.com/news/best-countries/articles/2018-06-19/europe-confronts-the-impact-tourists-leave-on-most-popular-destinations
https://www.businessinsider.com/afp-fed-up-with-mass-tourism-europes-hotspots-take-away-the-welcome-mat-2017-8?IR=T
https://www.thisisinsider.com/cities-hurt-by-tourism-2017-12
https://money.cnn.com/2017/08/25/news/economy/tourism-backlash-europe/index.html
https://www.business-standard.com/article/international/how-many-european-cities-are-now-fed-up-of-too-many-tourists-visiting-118072200103_1.html
https://www.express.co.uk/travel/articles/841843/holidays-2017-anti-tourism-protests-where-map
https://www.reuters.com/article/us-europe-tourism-backlash/summer-lovin-not-in-angry-europes-tourist-hotspots-idUSKBN1AK24L
https://www.escape.com.au/world/travel-destinations-so-popular-that-youll-have-to-get-in-line-to-see/news-story/3700529ffeccb3afbea3fd4109af7a98
https://e360.yale.edu/features/greenlock-a-visitor-crush-is-overwhelming-americas-national-parks
https://www.mnn.com/earth-matters/wilderness-resources/stories/should-we-limit-visitors-national-parks
https://www.bbc.com/news/uk-england-cornwall-45147541
Read: Destination Queenstown boss Graham Budd speaks with Crux about the dangers of overtourism.


---