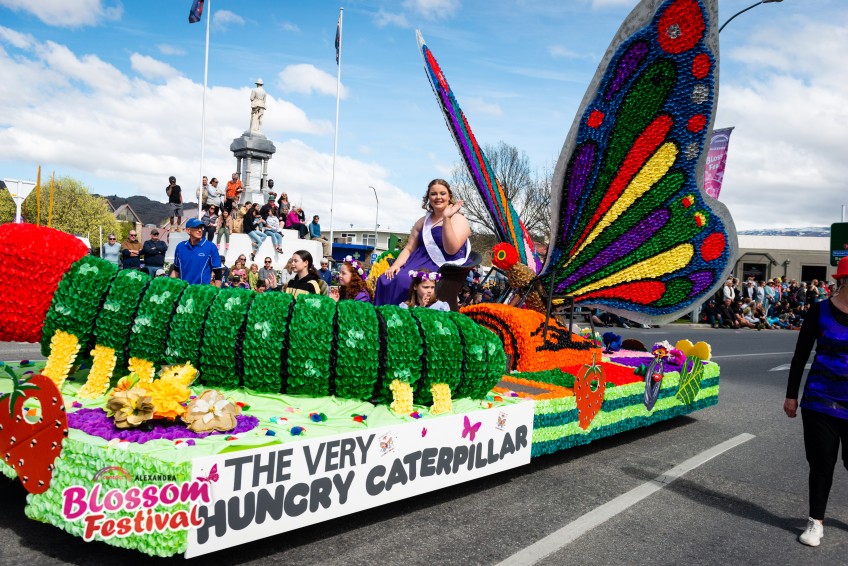 Original 'Blossom Queen' heading back to Alexandra
---
The first ever 'Queen' for Alexandra's blossom festival is heading back there this weekend for the event.
Karen Peterson was given the honour back in 1957 when she was fourteen years old.
She's making her way back to the 65th event in the town, complete with sash to join the 'senior Queen's float'.
The iconic spring festival kicks off tomorrow, but most people will be flocking to the town for the floral fanfare of Saturday's big parade.
Locals have been hard at work adorning floats big and small with crepe paper blossoms, which they'll parade down Centennial Ave, Alexandra's main drag, alongside trucks and princesses old and young in a tradition that spans more than six decades.
It's to be followed by the "Party in the Park", which includes bands, amusement park rides, stalls, stunt bikes, wood chopping and the New Zealand Gold Panning Championships.
Plus, festival goers will be able to vote for their favourite floats.
On the main stage will be Kiwi bands Lady Killers, followed by the Jordan Luck Band, and there'll be a stage for entertainment aimed at the younger people in the crowd too.
Last year organisers had to pull the pin on what would have been the 65th celebration of the festival, due to Covid-19 restrictions.
"Reaching 65 years is a significant milestone" and it's being marked with an interactive, multimedia display at Central Stories Museum and Art Gallery.
Keen to get your blossom on? Find all you need to know here.

---