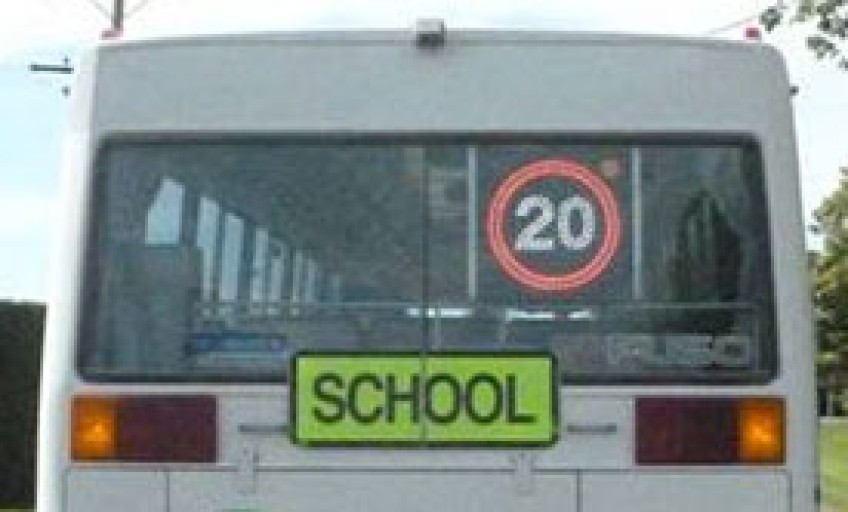 No kids standing in school buses on open roads, school argues
---
Wanaka Primary School's Board of Trustees wants a "one seat per child policy" on school buses which travel on the open road.
Chairperson Andrew Howard gave the board's bottom line to Ministry of Education staff when they visited Wanaka on Tuesday.
Ministry senior managers from Wellington and Dunedin met Howard after he publicly expressed concern about primary school children being forced to stand on crowded school buses.
Howard was backed up by Queenstown Lakes District Mayor Jim Boult and Waitaki MP Jacqui Dean, whose area includes Wanaka.
Howard says the risk of young children standing in school buses was exacerbated in the Upper Clutha area, as many buses travelled on open roads sometimes affected by ice and used by increasing numbers of foreign tourists, many of whom were unfamiliar with New Zealand's roads and road rules.
"An urban commuter bus travelling at 30kph and a bus on the open road at 80kph shouldn't be treated the same way," Howard says.
Four ministry staff – including the national manager of school transport operations, an official who oversees the school bus contracts in Otago and Southland, and a transport advisor – attended the meeting.
"The fact four of them came – including a national manager - and they did acknowledge the issue makes me optimistic."
Howard said the New Zealand Transport Agency's certificate of loading legislation (based on weight rather than numbers) was discussed, along with "the fact it is well and truly out of date and doesn't match with current road safety focusses.
"The ministry's number one consideration should be protecting our children."
Howard says the ministry presented figures on the cost of providing a seat for every child who travels on a school bus. He declined to disclose the number, but said he "completely disagreed" with it, saying it was "radically" different to the $1.4 million quoted in a ministry report in 2010.
He says the ministry agreed to look at the costs again and come back to him, although they had not provided a timeframe.
"We're very determined and we will keep the pressure on, whatever way we need to.
"This (discussion) has been going on for six months and we're not willing to wait months…I will give them a week. If there's nothing concrete, we will need to move forward and become more aggressive."
Supporting Howard's campaign, Mayor Jim Boult said in a letter to the ministry: "We don't for one minute condone adults riding in motor cars without seatbelts, yet we are prepared to allow the most precious part of our community – our children – to stand up unrestrained on the open road. The situation does seem ludicrous."
But, when contacted by Crux, the ministry and NZTA said Wanaka's school buses are compliant and that buses are the safest form of transport for school children.
"Serious injuries on school buses are extremely rare and we don't plan at this time to set a requirement for loading that is different than the rules that apply to children travelling on public transport to and from school," a ministry spokesperson said earlier this month.
NZTA spokesperson Andy Knackstedt said buses where the certificate of loading covered a permitted number of standing passengers were specifically designed and fitted out to safely carry standing passengers by having, for example, hand holds and rails.
"The evidence in New Zealand shows that school bus travel is the safest form of transport for school children, with only four minor injuries sustained across the country in the five years from 2013 to 2017," he said.


---