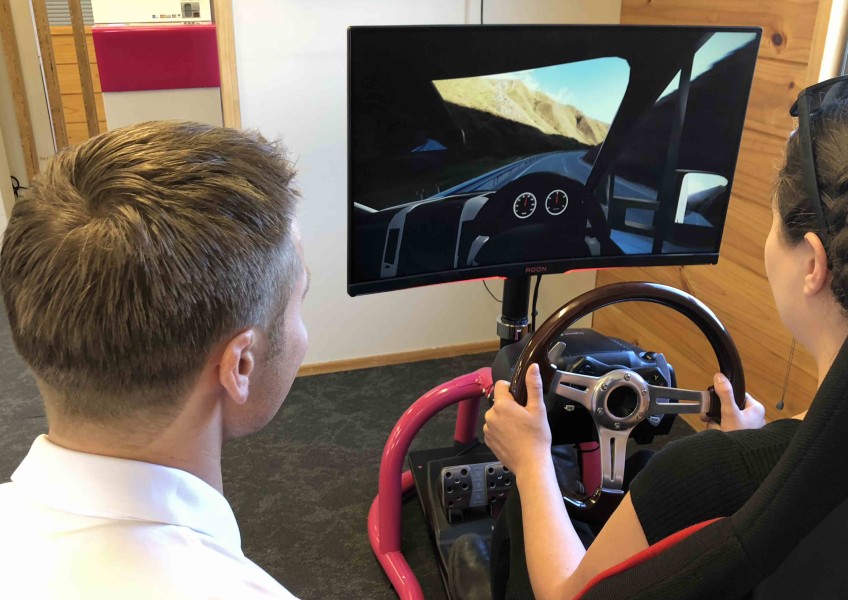 New Q'town simulator to help overseas rental car drivers
---
A rental car operator at Queenstown airport has launched a new driving simulator to help prepare out of town drivers for challenging local road conditions.
The simulator is aimed at not just overseas drivers, but Kiwi drivers who are not familiar with our narrow mountain roads.
The system has been developed for GO Rentals by Dunedin based rally driver Rhys Gardner who says the simulator gives a realistic experience of some of the more challenging southern mountain routes, including the Crown Range. Gardner's company, CoDrivr, specialises in driving simulation equipment.
Go Rentals Managing Director James Dalglish told Crux that the plan is not to use the system to test drivers but to educate them. He said however that the company was not afraid to deny a rental vehicle to drivers who seemed seriously unprepared for safe driving in the Southern Lakes district.
By coincidence an overseas driver who was in the GO Rentals office during the simulator launch ending up being advised to check out other ways of getting around the South Island after having language difficulties and struggling with some of the road education materials used by the company to assess driving skills.
National statistics show that overseas drivers are generally not more likely to be involved in serious accidents than locals, but the statistics are much worse in the Deep South.
"That's because down here the out of town drivers are a much higher proportion of cars on the road" explains James Dalglish. He does however acknowledge that many drivers do struggle with southern roads and he sees the simulator as a way of preparing them for the conditions.
GO Rentals is the biggest independent car rental car company in New Zealand and hopes to roll out the simulator to some of its other offices. James Dalglish is also part of the Rental Vehicle Association of New Zealand (RVA). Dalglish says the RVA recognises the need to do more to make rental car drivers safer on the road generally.
Main Image: The new driving simulator launched today in Queenstown.


---