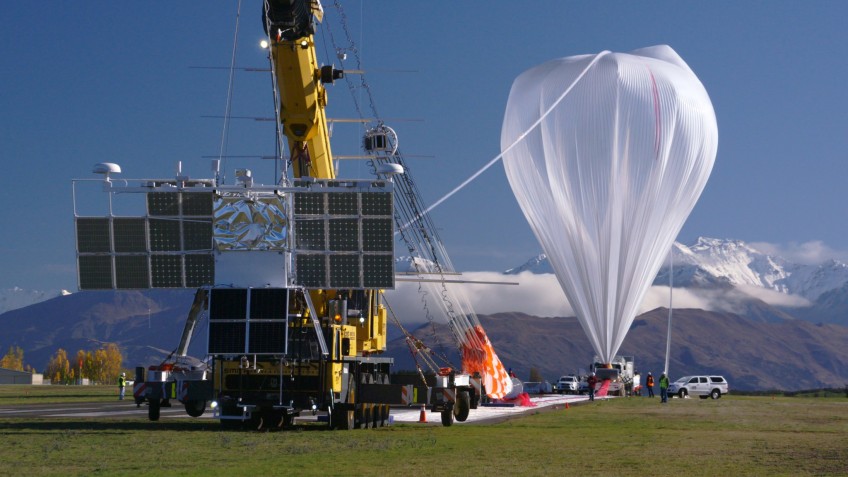 NASA in Wānaka for giant balloon attempt next week
---
UPDATE Monday, April 3: The weather isn't playing ball, and the launch attempt slated for tomorrow, Tuesday, April 4, has been cancelled. At this stage, there will be no further launch attempts made until after Easter.
NASA is back in Wānaka and from next week will be looking for a window of ideal conditions for its first attempt this year at sending one of its supersized balloons towards space.
It is a return to the town for the United States space agency, which first began using the Wānaka Airport as a launch base for its super pressure balloons in 2015, not always successfully.
There is no guarantee the crew will achieve lift-off with each attempt – equipment failure or changing weather conditions can throw a spanner in the works last-minute.
Last year, NASA was forced to abort six launch attempts in the town.
A spokesperson for the Queenstown Airport Corporation says NASA is expected to be attempting another launch from the Wānaka Airport early next week.
Wānaka residents neighbouring the airport have been given a heads up of the launch attempt, weather dependent, via a text message.
A spokesperson for NASA says it has a crew already on the ground preparing and is "excited for this year's campaign".
He says the agency plans to launch two super pressure balloons this year, primarily to test the agency's technology for these balloons, but it will fly a science payload on each balloon as well.
The balloons launched in Wānaka are designed to travel for up to 100 days, however none have stayed up that long to date, and float above mid-latitude on the earth.
These longer-duration super pressure balloon systems are still under development – and learning and testing are a big part of the Wānaka campaigns.
The balloons carry a set payload of scientific equipment for NASA, and can collect data and carry out experiments, with a price tag lower than that of a rocket or space mission.
They can also piggyback other, typically small, instruments that cannot justify their own flight.
Once inflated, they are big enough in size to hold an entire football stadium inside of them.
Full of helium, they end up pumpkin-shaped, designed to float in near-space, above most of the earth's atmosphere.
NASA says to launch, winds need to be light and flowing in a reliable direction both at the surface and at low levels up to about 300 metres.
In addition, NASA monitors for favourable stratospheric wind conditions at 33.5 kilometres, which is where the balloon will float.
This will be the fifth super pressure balloon campaign in the town. There were successful flights in 2015, 2016, and 2017.
The 2015 flight out of Wānaka developed a leak and was terminated over Australia, coming down in a remote part of south-west Queensland.
Last year NASA signed a lease for hangar space at the Wānaka Airport for future missions.
Main image (Facebook/Wānaka Airport): Up, up and away - a NASA crew inflates one of its super pressure balloons at Wānaka Airport.

---