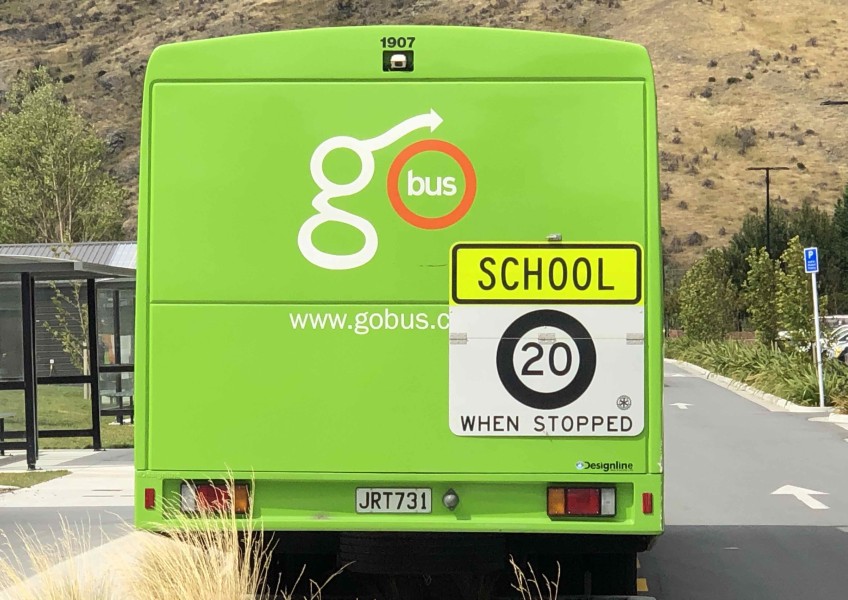 Mayor in school bus row - "I'll remove $2 bus funding"
---
As fears grow around student safety while using public transport, Mayor Jim Boult says he'll consider removing council subsidies for the Orbus network if the Ministry of Education reduces school bus services.
Crux has been told by readers of situations where school kids are getting on and off Orbus services in 70 kph traffic areas, with their safety at risk because traffic does not have to slow down when passing a public bus.
School buses have a 20 kph speed limit for passing traffic on both sides of the road.
The Ministry of Education says it plans to reduce school bus services as the Orbus network grows. This will push even more school kids onto public buses that carry no warning signs and where traffic does not have to slow down when passing.
The problem is even worse in new suburbs like Lakes Hayes Estate and Shotover Country where new bus stops have yet to be built due to problems QLDC has with getting consent for their construction. This is understood to be due to residents objecting to having bus stops outside their houses. This has resulted in school kids getting on and off public buses in the middle of the road in what's developed as an informal "hail and ride" system.
The Ministry of Education however says it plans to push ahead with looking at withdrawing school buses as the Orbus network grows.
The Ministry's Head of Education Infrastructure Services, Ms Kim Shannon told Crux:
"We offer transport assistance in areas where there is no public transport available. In areas where the public transport network is growing, we regularly review our services. Requirements for signage and speeds around school buses is set by law."
The Otago Regional Council issued the following statement to Crux:
"The ORC-run bus service (Orbus Queenstown) does not offer separate school bus services. Orbus Queenstown is a public transport service – we welcome all passengers, including school students, and we take the safety of our passengers very seriously.
School students choosing to use the service do so under the same fares and terms as other passengers.
We're aware a small part of the bus service on Route 3 (Lake Hayes Estate to Jacks Point) is currently operating as 'hail and ride', meaning that passengers can get on and off the bus anywhere along that stretch of road. We are working with QLDC towards establishing new stops in this area – once these are in place, there will no longer be a 'hail and ride' system."
All of which leaves Mayor Jim Boult angry and frustrated. "The only reason that the Ministry of Education has not withdrawn school bus services is because I've fought them long and hard on this issue. It's their job to provide safe school bus services. If they do go ahead with reductions in school bus services then we'll have to look at our options, including removing our council funding from the Orbus network. I hope it does not come to that, but it's all about safety."
QLDC contributes around $600,000 a year in subsidies to Orbus, funded largely by increases in CBD parking charges.


---