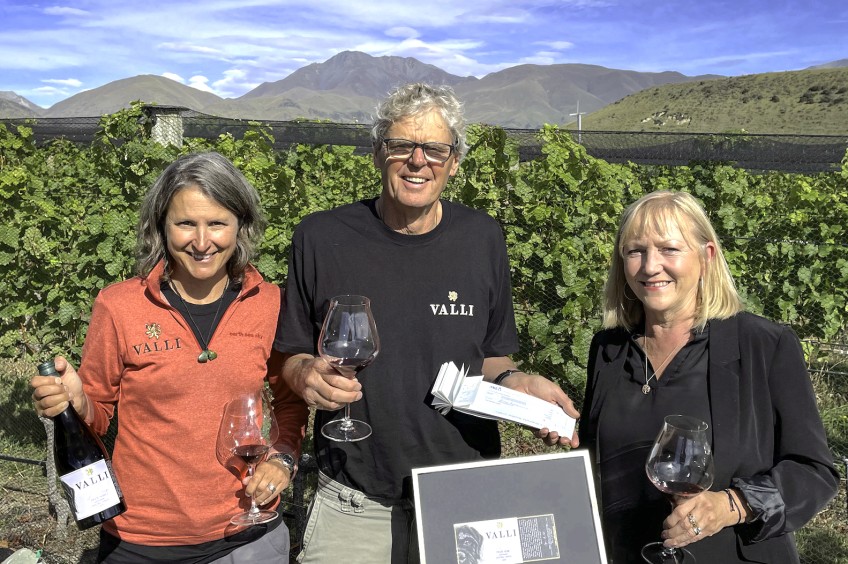 Loss of a beloved vineyard dog memorialised in wine and charity
---
From Valli Wine:
Lost and homeless dogs throughout Otago will enjoy a better life following the passing of a much-loved winery dog in Central Otago.
When heart-broken winemaker Jen Parr said goodbye to "Missy" her Labrador-cross two years ago, she wanted to turn her grief into something positive. The result was a special memorial vintage of Pinot Noir made from Bannockburn grapes which bears the dog's name.
The Valli Missy Pinot Noir 2019 sold out in a matter of weeks when it was released in December and this week a cheque for $6250, 10% of the gross sales of the wine, was presented to Pound Paws an animal rescue operation based not far from Valli's Waitaki vineyards.
"Adopting Missy had been one of the most rewarding experiences of my life and she became a part of the winery team in Cromwell and in the vineyards, particularly Bannockburn." says Parr. "I had the full support of Valli owners Grant Taylor and Nicole Schofield whose dog Thiefy was adopted from Pound Paws several years ago."
"It was not only a way of remembering Jen's dog Missy but also by donating a portion of the sales to Pound Paws, it was a way of making it possible for others to experience the joy that Thiefy has brought us," says Taylor.
Like most non-profits, Pound Paws has seen an increase in demand for services coupled with a decrease in donations as purse strings tightened in the wake of the Covid-19 pandemic. They are funded by donations and staffed by volunteers, so every contribution makes an impact.
"This donation is going to be used for dogs that require the extra work above our standard spay, neuter and vaccination package," says Pound Paws founder Charmaine McLaren. "Some dogs arrive with injuries or health problems, some need surgery, some with old untreated injuries. We couldn't be more grateful."
Valli Sales and Marketing Manager Hollis Giddens says the response to the Missy wine was incredible. "Jen and I spent the better part of a couple of weeks fielding phone calls and emails from friends and fellow canine lovers who wanted to share their stories."
Pound Paws Rescue is a non-profit animal rescue based in Oamaru and servicing the greater Otago and Canterbury regions. It is 100% self-funded and volunteer-run, relying on fundraising and private donations. For more information, or to make a donation, foster, or adoption, please visit: www.facebook.com/poundpawsrescue.
Valli Vineyards was founded in 1998 by pioneering winemaker Grant Taylor. Based around the estate vineyard in Gibbston, Valli produces single vineyard wines highlighting the different sub-regions of Otago. In 2015, Jen Parr joined Grant in the winery where the pair aims to create wines with honesty, integrity, and most importantly, a sense of place.
Main Image: Jen Parr and Grant Taylor handing over the donation to Ingrid Moore of Pound Paws at the Valli Waitaki Vineyard.


---