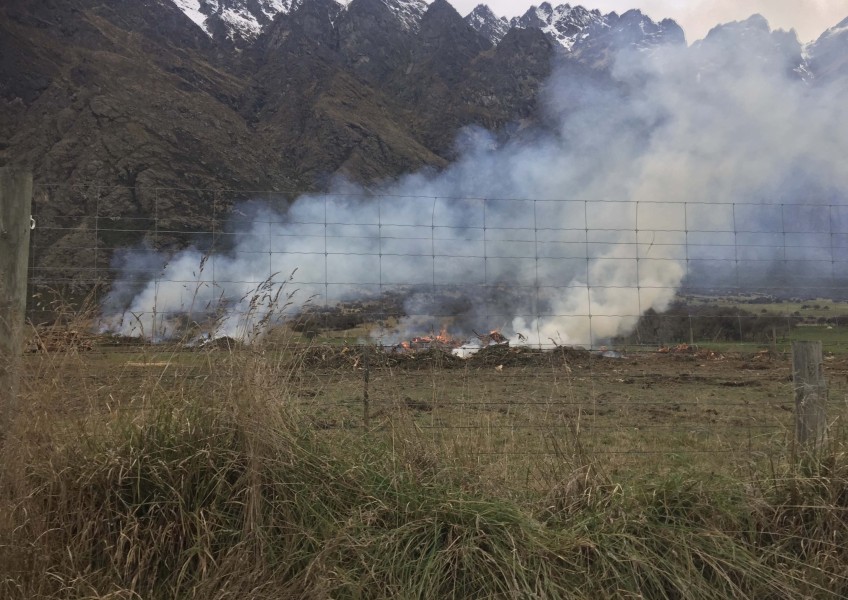 Locals accuse ORC of ignoring Remarkables fire
---
Local residents living near the foot of the Remarkables hve complained to Crux that the ORC ignored their pleas for a major fire to be extinguished.
The fire was permitted by the ORC, but they eventually acted this afternoon after residents complained of stinging eyes and lung problems at 9.00 am this morning.
It took until mid-afternoon for the ORC to act and some residents were still observing more wood being thrown onto the fire even after the ORC told them the fire would be put out.
The Otago Regional Council issued this statement a short time ago.
"This fire has been permitted by Fire and Emergency NZ. Due to the impacts of smoke from the fire, we have been working with Fire and Emergency NZ today with a view to having the fire extinguished. ORC has staff onsite currently ensuring that no further material is added to the fire. The options for extinguishing the fire present some challenges; these options will be revisited tomorrow.
Martin King, ORC Manager Compliance, said "We take our responsibilities around air quality in Otago very seriously. Our thanks to the public for reporting the issue – remember, if you see pollution in Otago, let us know by calling our 24/7 Pollution Hotline."
Pollution Hotline: 0800 800 033."

---