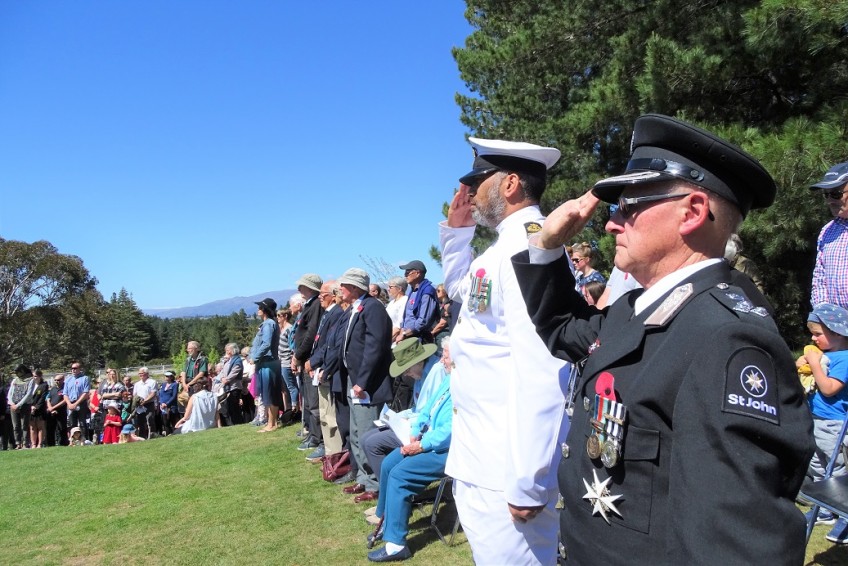 Local communites mark high WW1 death toll
by Kerrie Waterworth - Nov 16, 2018
---
Celebrations and Remembrance Day services have been held around New Zealand today to mark a hundred years since the end of World War I including an Armistice Day commemoration at Lake Hawea.
New Zealand suffered proportionately more casualties than any other country in the British Empire in the First World War but the Upper Clutha district suffered one of the highest rates of losses in the country.
Out of a population of approximately one thousand across Wanaka, Hawea, Tarras, Lowburn and Cardrona, 208 men and one woman went to war and 48 did not return.
One hundred years on, the Hawea District Anzac Committee 2018 Armistice Day centenary commemoration began with a walk from Peter Fraser Park to the Anzac memorial peninsula led by a vintage World War I ambulance.
As the parade made its way along Capell Ave in perfect spring weather, fireworks were lit on the lake waterfront and exploded in clear sunny skies, re-creating the sounds of the last guns and artillery before the signing of the Armistice at 11am.
On arrival at the Anzac Memorial, the parade of walkers was greeted by the Hawea Flat School Kapa Haka group before Sergeant Lorne Capell gave the call to commemoration.
Guest speaker Ian Rae reflected on his German ancestors who had arrived in New Zealand in the 1880s but who fought in the First World War as part of the New Zealand forces.
Children and youth were very much a part of this service with Mt Aspiring College Head Girl Bella Fraser reading the Hawea District Roll of Honour and Hawea Flat school pupils placing crosses of the fallen.
Official party members laid wreaths but so did pre-schoolers from Kanuaka Corner and Kidsfirst Kindergarten.
Wanaka Community Board member Rachel Brown, together with her daughter Winifred McAllister Brown, read the poem "For the Fallen" by Laurence Binyon, and recounted how her two grandfathers survived the First World War but never wanted to talk about it. "They did everything they could to forget it; now today we do everything we can to remember it."
The service concluded with the Last Post, a silent tribute, the singing of the Australian national and the New Zealand national anthems and a fly-past of a World War I aircraft.
In his closing remarks, Sergeant Capell asked those attending to think how it must have been for those still in the trenches in that last hour of the war and for the loved ones at home.
"I have been to areas of conflict myself but they were never intense like that, and you just can't imagine the horror of it. The sacrifice made was not just the ones that gave their lives, but also all those people that came back with scars, what they saw and how it stayed with them for the rest of their lives. I am just grateful we live in a time of relative peace."
Ken Allan was one of the official party and laid a wreath with Tom Walker representing the Returned Services Association but he was also one of the editors, researchers and writers involved in the Upper Clutha Historical Records Society book, "Courageous and Free" about the Upper Clutha WWI soldiers and nurse who "made the ultimate sacrifice so that we could live free".
"You can put a story together from the war records but it doesn't tell the real personal things. That's where we went out and searched for their descendants, their living relatives, and we found them in Australia, down at Te Anau and Haast and not just people from this area. One family from Haast didn't realise that their soldier Josiah had had a twin brother, so there were some benefits for the families in us contacting them and correcting the history and making sure it was right."
Allan also attended this morning's ceremony with his eight year old granddaughter, Emma Allan. He says it is incredibly important children attend these services.
"They are the ones that are going to have to continue to hold these ceremonies in years to come, but I have seen a resurgence in the number of children attending these ceremonies over the last ten to fifteen years and I think it's great."


---