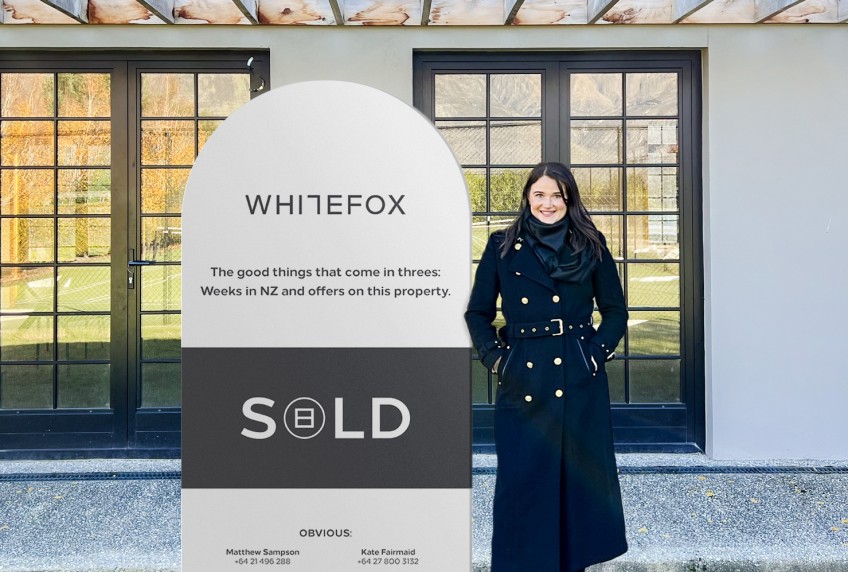 Kate's Take: Winding up for Winter
---


Since our launch back in March, WHITEFOX Queenstown has hit the ground running. We've marketed some incredible properties and have been particularly successful in selling luxury homes previously marketed without success by traditional agencies.
We've expanded our team into Wanaka with the hire of well-known local Sara Cleugh as an Advisor & Negotiator. Our highly engaging social media marketing has proven very popular, with WHITEFOX New Zealand and Australian social pages now reaching over 30K people, supported by our extensive international database of over 40,000. We are loving the response from the community and loving the dynamic pace of The Lakes District.
What's happening in the market?
There was a significant dip in listing numbers in May. Shoulder seasons typically see a drop in numbers, but a 25% drop was relatively significant. Activity and competition amongst buyers is increasing, with fewer listings coming to market than this time last year. Leading into the school holiday period however we expect to see these numbers increase.
I believe this indicates owners are feeling confident in servicing their mortgages, even with the last 12 months of increasing interest rates. This feeling is reinforced by the conversations I have been having with clients and other agents… stressed sellers are few and far between.
Queenstown's median sale prices remain relatively unscathed compared to the rest of New Zealand's housing market. Comparing May 2022 to May of this year, average prices in the district have dipped only slightly (2.1%), but looking at sales data from April 2023 – May 2023, there is a month on month increase of 3.6%. I'm often asked why this is the case, and I believe the simple answer is demand. With a steady increase in population and visitors, demand for housing in Queenstown is stronger than ever. And I think unlikely to change anytime soon.
Speaking of visitors, winter has landed, and the crowds are following suit. With snowfall on the horizon, the number of adventure-seekers and visitors will treble, boosting the real estate market. We are preparing for what is always a busy period, with several beautiful properties from Jacks Point through to central Wanaka due to hit the market for winter. We are particularly excited about two luxury residences on Warren Street in Wanaka known as The Lodges. Recently completed and constructed by award-winning builders, Christie Brothers Building, we were humbled to be chosen over three other agencies to represent this incredible listing that we are bringing to the market soon.
Signs of the market picking up again are reinforced by my partner Stewart Mitchell of Loan Market Queenstown, who is an accurate barometer of market movement – when he gets busy, the markets follow suit. He has seen a significant increase in enquiries and bank approvals, with many investors returning to the market.
Another increase we've noticed is the number of land transactions coming through. The fallout from Covid and the skyrocketing price of construction and raw materials in 2022 saw those looking to build, sit back and wait (my partner and I are testament to this, having purchased land in the basin 24 months ago with the intention of pressing forward immediately, only to pull in the reins due to supplies being unreliable). Now pressure on construction is easing and there is now a good window up until Christmas to have your build priced. This is supported by the number of calls we receive from architects looking for work – always a good litmus test for the construction market.
What's happening at WHITEFOX?
Our WHITEFOX brand is attracting some incredible talent. I have been kept busy establishing new agents and finding fresh talent from across the country. These efforts have found great success with some prominent members joining the ranks in the coming months.
As mentioned above, Sara Cleugh has come on board as an Advisor & Negotiator. Sara and her husband own high-end construction company Gibb Building in Wanaka, and notably, Sara's family recently donated Mt Iron to the Queenstown Lakes District Council. Sara has 8 years' experience in real estate, and after taking a break to raise her kids and help with the construction business, she is excited to be getting back into it. We are just as excited to have her on board and have someone on the ground in Wanaka.
Matthew Sampson has also joined the WHITEFOX family. I originally met Matt at Trenzseater in Queenstown, where he was setting up the store for the Lewis family. We kept in touch while he lived in Christchurch, working in real estate sales for 4 years. Now he's moved back to Queenstown to join our team which I am thrilled about.
Also mentioned above, we have had some incredible sales over the last couple of months. More rewarding for the fact that two of the properties had been listed with other agencies without success. These include a luxury residence at 34 Minaret Ridge, and a beautiful home in Threepwood Farm. You can read the full story here.
THE DEAL: 1356 Gibbston Highway, Arrow Junction
Are you looking for a suitable property for horses or animals? Somewhere beautiful that isn't too far removed from civilisation? We have a wonderful listing at 1356 Gibbston Highway. 4.2ha of land, horse truck friendly access off Gibbston Highway, and an allocation over 70,000 litres per day of water under the current water scheme. Check out the listing here.
SEALS THE DEAL: The market is picking up the pace, and so are we.


---