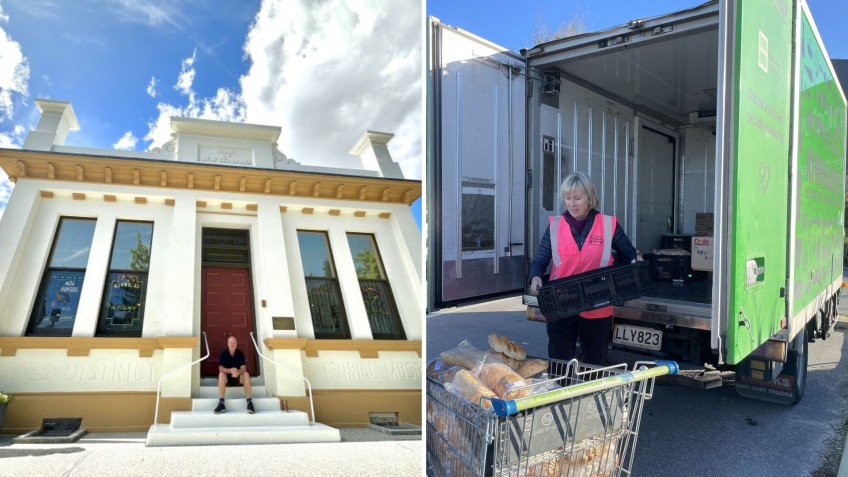 Impact100 gives $100,000 grants to KiwiHarvest, Lakes District Museum
---
One saves food, the other memories, but both have been given a $100,000 helping hand from a group of Queenstown women motivated to give back to their community.
KiwiHarvest and Lakes District Museum were chosen as the joint recipients of this year's grand Impact100 Wakatipu grants at a gala event last night.
The Queenstown branch of the food rescue charity has its eye on a new refrigerated truck to enable good food to be diverted from landfill and delivered to people who need it, while the Arrowtown-based museum will put the money towards equipment and staff to digitise its collections to preserve them for future generations.
Impact 100 Wakatipu chair Clare Irons says KiwiHarvest will be replacing their existing vehicle 'Lily', which people may have spotted driving around town.
"If they don't have a van that works they can't rescue food, and that means in turn that the charities they support, like Happiness House, Baskets of Blessing, the Salvation Army, Mana Tāhuna, don't get the food that they need to redistribute to the people that they support.
"What they were finding was their lovely old van 'Lily' was breaking down a lot and they were having to overnight call in favours from local mechanics to fix things so they could be back on the road first thing in the morning."
With a new vehicle on the go, 'Lily' will be repurposed to help the charity's operations in Wānaka, where volunteers use their own vehicles to ferry food.
Meanwhile at the Lakes District Museum, a huge project is underway to create a digital footprint of local histories.
Ms Iron says there is a "wealth" of artefacts and documents in the museum's collections.
"But if anything were ever to happen, that could all be destroyed."
She says digitalisation will also allow students and researchers easier access to information.
"Some of the stuff in the archives is so fragile that people can't actually access it."
The museum's director, David Clark, had told the group it could be tough to secure funding for heritage projects.
"So I think they were really thrilled that the community of women sees this as a really important project for the community too."
Three other runners-up each received $3,500 - they were The Lightfoot Initiative, Queenstown Trails Trust and Southern Lake Sanctuary.
It was the fourth year of the female fundraisers rallying to give money to worthy local charities, inspired by the worldwide Impact 100 model of philanthropy.
This year, 208 Wakatipu women joined the cause, either as individuals or with sponsorship from a business.
Ms Irons says having the support of businesses allows more women to take part, and helps the group be more representative of the community.
"I think we are $1,000 dollars shy of $700,000 over four years that we will have given just to charities here in the basin - so it's local women supporting local organisations, which is pretty amazing."
She says there is something special that comes from a collective of women giving back, and thinks there is still a place for it in 2023.
"I think sometimes women feel like philanthropy traditionally is something that men do or businesses do. And, actually, there are a lot of women who have been entrepreneurial, they have their own businesses - there's now a greater financial freedom that many women have...Being able to use that to support their community, I think, is really important."
She says acting collectively, rather than individually, across generational lines as is the case with the group, can be "very powerful".
Her message: Anyone can give back, and in lots of different ways.
"Philanthropy is something that people think too often that you have to be like a Bill Gates or a Warren Buffett...but, actually, we all know that it's often the women in our communities who are the ones who give, and philanthropy just means love of humanity.
"So, whether you're giving by baking for your neighbour who's having a hard time or picking up their kids from school, or helping out at the preschool fundraiser, you know, actually women have been philanthropists - they maybe just don't think of themselves that way."


---