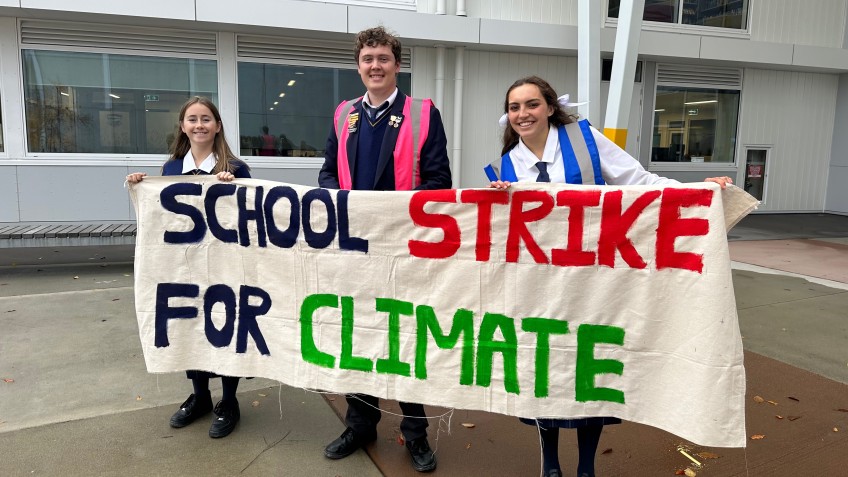 'I am worried': Queenstown youth march for climate
---
Lining up outside the Queenstown Airport this afternoon were approximately 40 Wakatipu High School students, passionate about seeing stronger action taken on climate change.
They were marching in solidarity with thousands of other students around the country for what today has been the second School Strike for Climate of 2023.
Each student had their own reasons for taking part, and many chose to share them with Crux.
Ashley, a year-nine student, an animal rights supporter, says she's out here marching for the animals living at the earth's poles.
"Because the ice is melting...polar bears and some penguins are going to be extinct – future generations won't know what a polar bear or penguin is."
Beside her is fellow student Audrey Austin, a recipient of the New Zealand Plant Conservation Network's Young Plant Conservation of the Year Award.
Her love of birds is what brought her to start taking climate action, she says.
Whilst in attendance at Shotover Primary School she was involved in the environmental team, attending local community planting days and taking part in the school's wetland regeneration project.
"I've always loved birds and that's been my driver."
She spoke specifically of rock wrens, and how the warming of the planet means they have to climb higher in alpine environments than they have had to to survive and that is having an impact on their population.
"It's isolating the populations and it means their genetic diversity has shrunk heaps…we're losing all our biodiversity to climate change and it's not okay, we have to stop."
Over the past century, New Zealand's average annual temperature has increased by 1.1 degrees Celsius, with 2022 being the warmest year on record, according to the Ministry for the Environment's Climate Economic and Fiscal Assessment 2023, released last month.
Another champion tree planter was Lucy Boniface, who worked with Mana Tāhuna last year. Despite plenty of great mahi happening locally, she still thinks "Queenstown is feeling the effects" of climate change.
"It's obvious we're having nowhere near as much snow…summer was absolutely beautiful this year, but it still feels like summer is all around."
Today's temperature was 14 degrees.
"I am worried - you see a lot on TV about what we need to do on climate change. All this terrible stuff is happening and then we get freak storms."
Wakatipu High School environment prefect Eoin McGlynn has made today's march happen, consulting with the school, local council, the airport, police, and Waka Kotahi on the march and getting permission slips out to parents – on top of the general busyness of being in his final year of school.
He attended Queenstown's last strike earlier in the year, which Crux also covered. However, our article on Facebook attracted some commenters saying the students were only marching as an excuse to ditch school.
He refutted these claims.
"I'd say this is a lot of effort to go through for one hour off school on a Friday.
"If I wanted to do that, this isn't how I'd go about it. This is an issue that we care about. We want our voices heard."
There's four national climate demands from today's strike and Eoin says the regenerative farming claim is what he feels most passionate about.
"It's a big part of the New Zealand economy and sustainability and feeding people and it needs to stay there, but it can be made much more sustainable."
The other three demands include making sure the New Zealand government sticks to its promise from the Paris Agreement and reduces it's greenhouse gas emissions to 50 percent of its 2005 levels by 2030. They're wanting to lower the voting age to 16, and have more involvement of local iwi in climate decisions.
Since it's an election year, Eoin reckons the protests are well-timed to show those in parliament what young people want to see actioned.
"We're the people who are going to be voting in the next election.
"It is the young people who are going to be having to deal with whatever happens in the next couple of decades around climate change and its prevention."
The Ministry of Environment's 2023 report shows that even if emissions were eliminated today, warming and other climatic changes would continue to occur, because of pre-existing greenhouse gas in the atmosphere. It predicts the planet will continue to warm, and by 2040 the intensity of extreme rainfall events could increase by up to seven percent, while by 2050, sea-levels are projected to rise by 23 centimetres.
Earlier this month Wakatipu High School principal Oded Nathan said the school supported the students' involvement in the march, telling Crux the goal was for the young people to "be informed and educated and to partake safely in the climate march, if that is what they wish to do".
"We have discussed the route and timing and students will be liaising with local authorities to ensure that it is within their requirements and done safely."
Wakatipu High School's head student Annika Thornton says having the school-organised march was great for students to "feel like they're included and their opinions are heard and there's a way for them to get out and be involved".
"Actually taking part in something, even if it's a walk like this, it makes them feel passionate...it's cool to get out and do these things."
There's another march pencilled in for September, and Annika's hoping they can spread more awareness at the school for more students to get involved next time.
Main image: Wakatipu High School pupils (left to right) Lucy Boniface, Eoin McGlynn and Annika were some of approximately 40 who left their classrooms to strike for climate action today, May 26, 2023.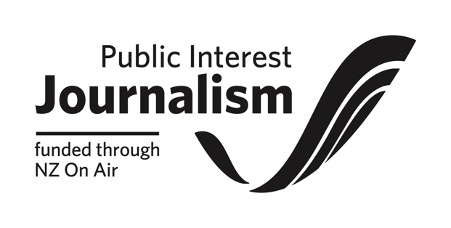 ---