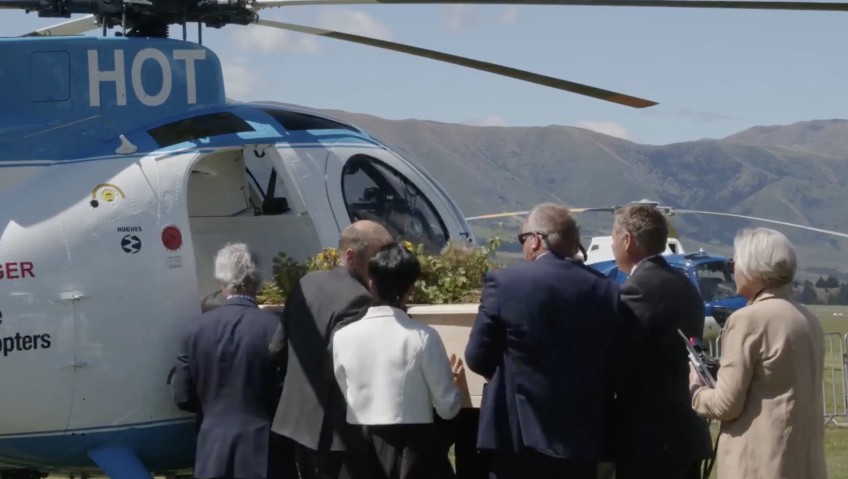 Hundreds turn out in Wānaka for Sir Tim's last flight
---
Hundreds of residents attended the funeral service today at Wānaka airport for Sir Tim Wallis, New Zealand's best known and best loved aviation pioneer.
Moving tributes were paid by Sir Tim's two surviving sons, Toby and Jonathan who recalled his daring, adventurous and sometimes dangerous life with references to scrapes with the Russian mafia while importing venison and recovering WW2 warbird aircraft.
The sons also recalled local family trips from Wānaka with the four young Wallis boys sitting in the front while Sir Tim flew his favourite Hughes 500 chopper (callsign HOT) with wife Prue (now Lady) Wallis sitting in the back reading a book.
The service was also live streamed to many hundreds of people who could not attend.
Sir Tim's son's revealed that Sir Tim wanted to be cremated with his ashes to be scattered over his alpine territory stretching from deepest Fiordland to the the southern boundary of the McKenzie basin.
Newsroom journalist Melanie Reid paid tribute to Sir Tim before screening her 60 minutes documentary "Beating the Odds" that was shot over an extended period of time.
Then, into the crisp spring sunshine Sir Tim's coffin was carried out to his Hughes 500 HOT in preparation for his final flight.
Images courtesy of Southern Lakes Funerals and Wānaka Video


---