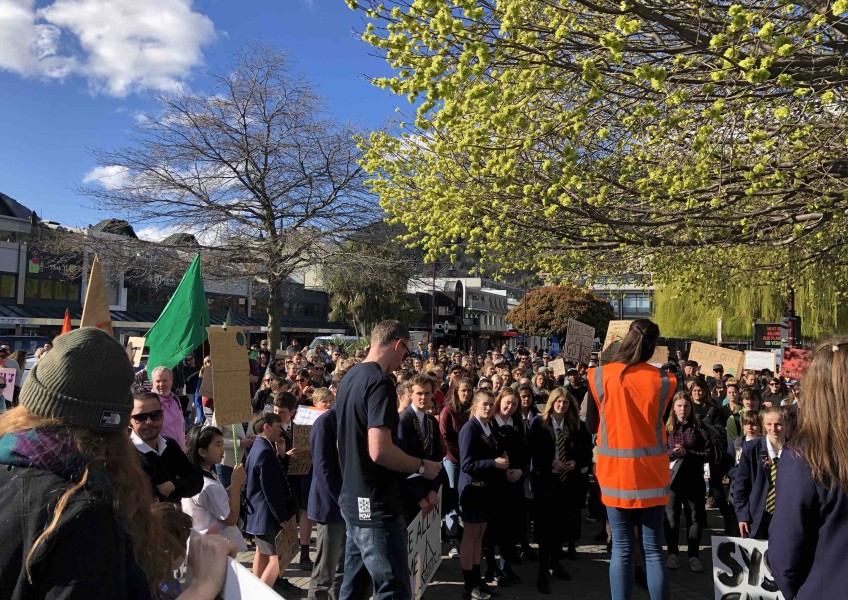 Hundreds march in Q'town Climate Strike
---
Queenstown locals turned out in their hundreds today for the third climate strike - this time with participants from every possible age group.
The protesters gathered in bright sunshine and, running about 20 minutes behind schedule, marched through Queenstown from the Gardens to Earnslaw Park.
Placards ranged from "There is no Planet B" to more local themes challenging airport expansion.
The Queenstown march was just one of over forty events staged nationally.
A letter signed by more than 11,000 people was on its way to Parliament, calling for the government to declare a climate emergency and to start building a renewable and regenerative economy.
Nearly 170,000 took to the streets, "that's an entire 3.5 percent of New Zealand's entire population," the NZ organisers tweeted.

One of the national organisers Sophie Handford said School Strike 4 Climate had only been in New Zealand for seven months.
"Greta Thunberg's ability to say it how it needs to be said, she says 'we only have time to speak clearly and everyone at the moment needs to be speaking clearly about the impacts of climate change', I think the way that she's able to put these world leaders in their place and almost make them feel guilty for what they're doing and the destruction of what will be our future is incredibly powerful."
Another organiser Luke Wijohnand said: "There's such a difference between what we see happening in our political area and what is coming out from these scientists. It's like they don't even read the stuff, it's like they can't even understand or they don't panic when they hear that billions of people are going to die."
He said climate change legislation "is too little too late".
In Christchurch, more than 2000 protesters gathered in Cathedral Square. One of them was 79-year-old Keith Thomson who said he was protesting to protect future generations.
Mr Thomson said some political parties hadn't received the message about the impacts of climate change.
And although the outcome of climate change would have little consequence to him due to his age, he feared for younger people.
In Nelson a crowd of about 2000 protested. Isaiah Malaulau, 18, from Nelson College said it was sad that students had to demand change from the government. He was also prepared to make changes himself.
Additional reporting RNZ.
Main Image: Climate strike protesters in Earnslaw Park at the end of their march.


---