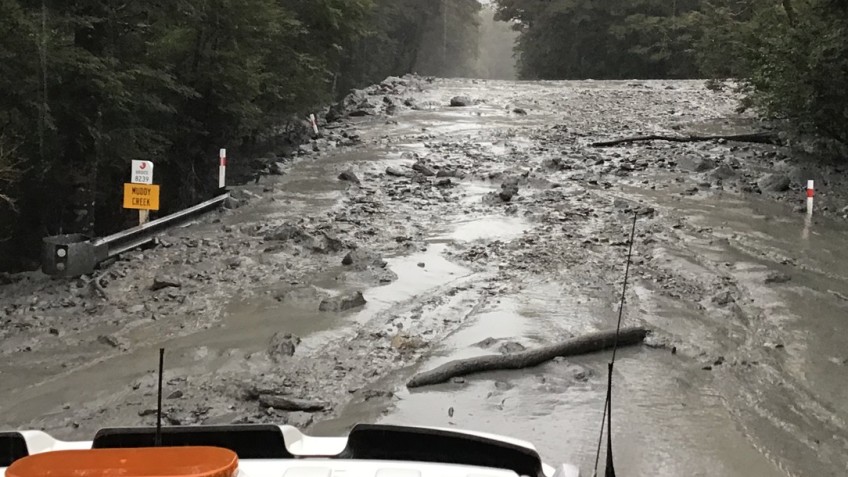 Video: Haast highway to remain closed for weekend
---
Clean up is underway on the road west from Wānaka after torrential rain yesterday and overnight flooded creeks and caused slips.
State Highway Six north of Makarora remains closed today and Waka Kotahi says motorists should not expect another update on the situation until Monday, leaving few options for traveling to or from the coast this weekend.
In a written statement this afternoon, Waka Kotahi says there are multiple slips along the highway north of Lake Hāwea on top of the huge deluge that flooded the road closer to Makarora yesterday morning.
It is the aptly named Muddy Creek, near popular tourist stop the Blue Pools, that overflowed its bed and inundated the highway with a messy mix of muddy water and debris.
This afternoon, snow also started settling in the area as roading crews started work to tackle the slips from each side. Work will continue in the area throughout the weekend.
Highways throughout the south have been impacted by the wild weather that has moved up the island in recent days, and the transport agency is asking people to avoid travel where possible.
"People should not be out on flooded roads today or overnight. If you have an essential journey, you will need to build in extra time and please be informed of what might be ahead of you," Waka Kotahi's Nicole Felts says.
Main image (Supplied/Waka Kotahi): The active and mobile slip which has closed State Highway Six north of Makarora at Muddy Creek, a little before 10 am, Thursday September 21.
Read more: Rising water ruins Cromwell rural road


---