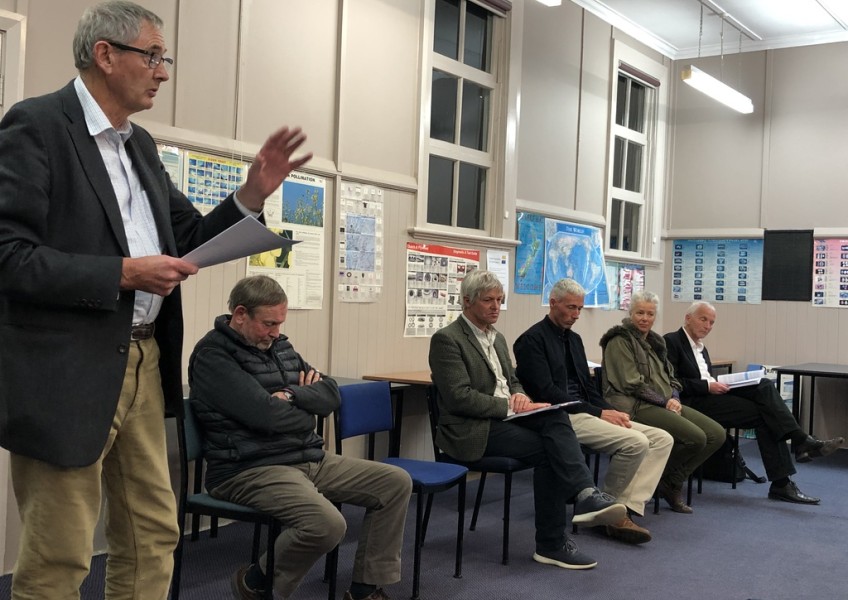 Dunstan candidates band together to effect change at 'Dunedin-centric' ORC
---
The Dunedin-centric approach of the Otago Regional Council (ORC) was one of the biggest challenges facing the Dunstan ward, and the councilors elected to represent it would need to band together to effect change.
That was the shared view of all six candidates standing for the three-seat Dunstan ward of the regional council, speaking at a public meeting in Cromwell tonight – one of six such meetings the group planned across the ward.
Incumbent ORC councillors Graeme Bell and Michael Laws were joined by challengers Richard Bowman, Alexa Forbes, Phill Hunt, and Gary Kelliher.
Each took ten or so minutes to convince the audience of why they should get their vote, before questions were taken from the floor.
Cr Laws kicked off proceedings, stating frankly his focus for the evening was politics over environment.
"There are three of us in the Dunstan ward and 12 councilors overall on the Otago Regional Council, so we make up only a quarter of the voting strength there.
"One of the great ironies is that 70 to 75 percent of all of the work that the Otago Regional Council does happens here."
He says Dunstan ward councilors have "battled" what he sees as a "huge mismatch" between where the resources and the governance team are in the main and where the work and the need is.
"It's only by using some very strong political techniques and tactics that we've started to effect change."
Laws, who at the last election secured his seat around the council table after beating Kelliher by five votes, says whatever the election result this time round, the successful candidates would need to be ready to "fight from day one".
Next to speak, current Queenstown Lakes District Council councillor Alexa Forbes, who stressed tackling issues related to growth, pest control, public transport and water quality demanded a collaborative approach, something the ORC had been dismal at since its inception.
"It hasn't developed the collaboration between the community groups, the catchment groups, the people who work in pest control, the people who look after their waterways, the landowners, the communities right the way through.
"Because that's how you solve these big problems…That's the approach I think really needs to happen. Top-down from where we develop a strategy, bottom-up, and we need to work with you."
She says public transport shouldn't stop at Queenstown, and in the long-term needs to go throughout the region.
"The Kawarau Gorge is clogged everyday – how we move our goods and our people needs a really good re-think."
Forbes was grilled by audience members on the QLDC's application to the ORC for consent to discharge wastewater and sewage from its network into lakes, streams and rivers.
She says she entered into council with a view to improve systems and infrastructure that had been ignored for too long, and the QLDC's Ten-Year Plan included significant investment in improving wastewater infrastructure.
Former ORC member Gary Kelliher told those gathered he knew from experience how tough it was to bring the issues of the Dunstan area to the top of the agenda in Dunedin.
"All three councilors will need to work closely. It will have to be a team effort."
Cr Laws acknowledged Kelliher had been a willing sounding board and knowledge source during Law's first council term.
Kelliher, a Springvale farmer, says he didn't believe the QLDC should not be given ORC permission to pollute.
"I believe leaving them outside the law without a consent, in fear of prosecution will get them to fix their pipes sooner."
He says he met recently with the rejuvenated Guardians of Lake Dunstan group, and promised to arrange a meeting between group members and all three elected Dunstan ward councilors post-election.
It's his view all lake guardian groups should be given greater standing by the regional authority as well as financial support.
Kelliher says, if elected, he will hold "coffee and chat" sessions throughout the region during his term.
Farmer Phill Hunt, in his address, stressed the ORC needed to get everyone working together to achieve results.
"This is imperative…we no longer have time for petty politics and need to change the governance culture of council to effect change.
"The hands-off approach of council has gone too far…Council should not tell us what to do, but it should be brave enough to invest in our communities and in science, which will give us options."
A continued focus on the environment and a respect for economic drivers within the whole of Otago is required, he says.
Looking forward, the ORC needs to help facilitate the building of more dams to ensure sufficient irrigation supplies to support rural industries that are the lifeblood of the region, he says.
Incumbent two-term councilor and former Central Otago District Council member Graeme Bell says it has been a privilege to represent Dunstan on the regional council.
His contribution is built on extensive local government experience as well as a career in farming and the wool industry, he says.
He was a strong supporter to get the K5 virus in the region to attempt to control rabbit numbers, he says.
Questions have been raised regarding the success of the virus, and Cr Bell told those gathered when he queried a lead scientist on the case, he was told the virus was never tested on local bunnies prior to being released.
"We actually need to spend far more money on science and monitoring and actually get to know and understand what is actually going to work."
Speaking to a Cromwell audience, he stressed Lake Dunstan deserved to be given the same status as neighbouring Lakes Wakatipu and Wanaka, when it came to issues of weed control and water quality.
"They are all major environmental lakes and we need to do everything we can to protect them."
He raised the issue of stock truck effluent disposal sites – the ORC is set to site its next one in the Cromwell area – and who should pay for them.
"We need to get the law changed…It should not be the responsibility of the ratepayers or the taxpayers in funding effluent stations. That is, to me, the responsibility of the trucking companies."
Former Environment Southland biosecurity manager Richard Bowman says his career had given him awesome insight into the workings of local territorial authorities.
The last of the candidates to speak, Bowman says his motivation to stand came from his passion for the great outdoors as well as disillusionment as a ratepayer.
"I've come to the conclusion that as a ratepayer in Otago, which I have been for some time, I don't think I've got a very good deal out of the regional council."
A resident of Lake Hayes, Bowman was instrumental in establishing the Friends of Lake Hayes group, committed to understanding and improving water quality in the lake.
"When we went to look for the Otago Regional Council, they were very hard to find. We could get them to meetings occasionally. We could get a little bit of sympathy, if you like. But we didn't get much more than that."
Regional council needed to be there, working alongside community groups – those groups shouldn't have to lobby the regulatory authorities to get them to do their job, he says.
What's needed: "Smart, stroppy, intelligent, energetic" councilors who set the policies and hold council staff to account to implement them, he says.
Wallabies and water dominated question time for the Cromwell crowd.
All candidates generally agreed there will be no cheaper and easier time to control wallabies in Central Otago than now, and the ORC needed to act, in collaboration with community groups, to eradicate the pest before it took hold.
When it came to water, there was strong agreement the ORC could better monitor water quality across the ward, and be more open in how it reporting its findings to residents and ratepayers.
The Dunstan ward elects three candidates to the twelve-person regional council based in Dunedin, and the ward comprises both Central Otago and the Queenstown Lakes district plus a small part of Southland.
Two more public meetings are planned – one in Alexandra on Sunday at 2pm at Central Stories, the second in Frankton, Queenstown on Sunday at 7pm.
Main Image (Credited Kim Bowden): The six candidates vying for three places representing the Dunstan ward on the Otago Regional Council meet face-to-face with voters in Cromwell tonight as voting papers arrived in mail boxes for what they say will be a pivotal election for the region.



---