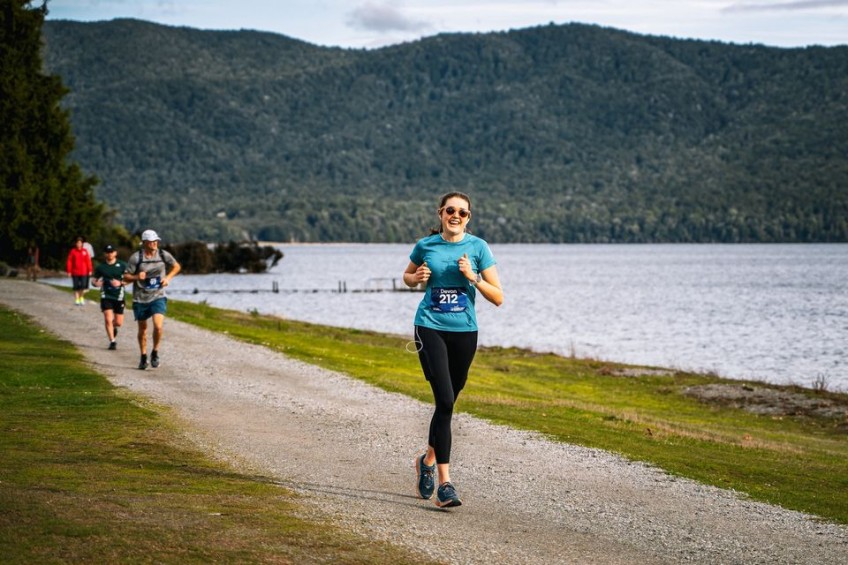 Trails to grow as fundraising races promise world-heritage-endorsed views
Jun 29, 2023
---

Prepare to don the running shoes and take in some spectacular scenery in a series of running races with views to rival any around.
The annual Fiordland Trails Trust fundraising event that has participants taking to some of the south's most picturesque trails is set to return on Saturday, August 5.
There's the Mitre 10 Te Anau 10-kilometre and the Meridian Hydro Half Marathon to choose between, with both courses boasting native bush, off-road trails and spectacular river, lake and mountain views.
The event was created in 2019 by the trust to raise funds to expand its trail network and help maintain the existing Lake2Lake trail, and with consent granted for a new stretch of path, this year there's a clear incentive for organisers.
Their marketing is enough to entice anyone to race: "It's a fantastic opportunity to experience the bracing freshness of a Fiordland winter's day, when crisp clear days are the norm...With mighty Mt Titiroa behind you and the World Heritage Fiordland National Park to your left, the scenery will enthral even the seasoned runner."
Here's a snapshot of the Hydro half to prove it: Participants will be running under snow-capped mountains, snaking their way through sections of beech forest and alongside the crystal clear Waiau River, and passing the lake's control gates before finishing up at picture-perfect, lakefront Te Anau.
Plus, they reckon runners should keep their eyes peeled for takahe or kākā as a route passes the Te Anau Bird Sanctuary.
Meanwhile, the shorter 10 k-er will start at the Yerix Reach access point, just off Golf Course Road, before taking runners along a stunning part of the Lake2Lake Trail, with a few climbs to keep it interesting, before finishing in town.
The end for both races will be at Lion's Park, which will have a village-like vibe - a spot for sponsors and spectators alike to cheer competitors on across the finish line.
Meridian is back for another year as the main sponsor of the community-focused events, but there is a newcomer - a gender diverse category for the longer half-marathon event.
Numbers for the 2023 events have been increased to 300 for the Hydro half and 500 for the 10 kilometre to accommodate growing demand.

Entries close Tuesday, July 25, and organisers have a tip for keen competitors: Don't be like everyone else and leave it until the week before!
Fiordland Trails Trust is a charitable trust funded entirely by donations. These yearly events raise funds for the development and upkeep of its Lake2Lake and Upukerora multi-use trails that follow rivers and lakes around Te Anau and are open year-round.
The Lake2Lake trail, which is 28.5 kilometres long and graded "easy" - Grade 2 - is one of the most popular in the area. It is well-maintained and gravelled, suitable for all ages and abilities, prams, dogs, walkers and runners.
Users can ride, run, or walk the full length of both trails or short sections – whatever suits.
They can be broken into five shorter outings if needed:
Upukerora River mouth to Te Anau control gates 9 kilometres
Te Anau control gates to Rainbow Reach 12.8 kilometres
Te Anau boat harbour to Upukerora River 4.5 kilometres
Te Anau lakefront to Te Anau Bird Sanctuary 2.2 kilometres
Manapouri township to Supply Bay Road 4.5 kilometres
Consent has also officially been granted for an extension, which will see an additional 14.5 kilometres of multi-use track constructed, from the Upukerora Trail bridge to Boundary Creek.
Organisers say, "the best way to support the trail and the Fiordland area is to enter yourself into the Meridian Hydro half or the Mitre 10 Te Anau 10-kilometre event".
"There's spectacular backdrops, stunning scenery and a vibe that can't be beaten.
"Come stay, bring some friends and enjoy what Fiordland has to offer."
Keen? Find out more here.



---