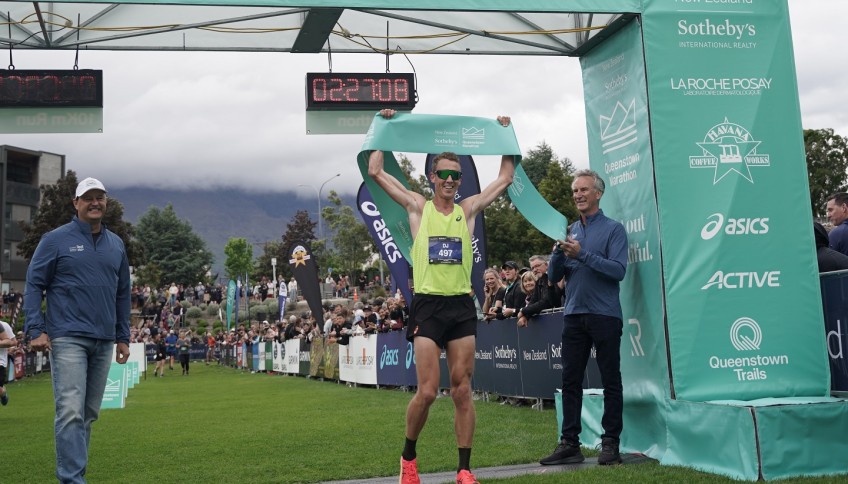 Daniel Jones and Hannah Oldroyd repeat Qtown marathon wins
Nov 19, 2022
---
Former winners Daniel Jones (main image above) and Hannah Oldroyd continued their fine run of form by taking out the 2022 New Zealand Sotheby's International Realty Queenstown Marathon titles.
Wellington based Jones came into this event three weeks on from his historic Barfoot & Thompson Auckland Marathon three-peat and though initially tracked by Wellington Scottish clubmate Hiro Tanimoto, Jones made a surge around the 15km before convincingly taking the tape in 2:27:02.
"A marathon is always hard work but to be back in Queenstown racing again is awesome, it was amazing, it was pretty perfect conditions, a little bit windy but we had such good crowd support and when it comes down to it racing is racing so that's what drove us home in the end," said Jones.
"My clubmate from Wellington Scottish, Hiro Tanimoto, we ran together for the first 15k, side by side, and then I think around Lake Hayes where there is a bit of an incline I managed to pull away from him a bit there and opened up a bit of a gap and then it was around the halfway mark I pushed it and put in more of a surge to open up the gap and that's why I was able to open the gap and hold it from there. You never know how much gap it is so you're always pushing hard right to the finish and that's what I did."
Jones last won the Queenstown Marathon title in 2018 and says despite having just raced in Auckland he was keen to return to one of the world's most beautiful marathons.
"It's one of those things, I only raced Auckland a few weeks ago and I was registered for Queenstown, and I thought let's see how the legs pull up after Auckland and it just so happened that the recovery was pretty good, and I felt fine, so I said let's go. It's great to be back racing in Queenstown," he said. "Coming through Queenstown right at the end there it's just spectacular, the amount of people that line the streets and cheer you home is so unreal, it's really cool," said Jones.
Like Jones, Christchurch-based Hannah Oldroyd also backed up her recent Auckland Marathon win in claiming her third Queenstown Marathon title, repeating her 2018 and 2020 success.
Despite enduring a tough week leading into the event, Oldroyd finished in 2:53:44, over 13 minutes ahead of Katie Morgan in second. Otago's Margie Campbell rounded out the podium in third.
"It was really unexpected, I've had a bit of a rough week, so it was all about energy management and survival so yeah, over the moon," said Oldroyd. "The support was awesome, it always is out here. There were way more hills than I remembered, I'm sure they've put a new one in under a bridge somewhere and up the other side, but the support was great I just felt like absolute rubbish right from the start, but I survived.
"It is beautiful, sometimes you think you'd rather walk it to enjoy the views. That's probably the most I've actually had a chance to look at the scenery, especially around Lake Hayes so it was nice."
Auckland triathlete Jack Moody made it back-to-back wins in the La Roche Posay Half Marathon, winning the 2022 event two years on from when it was last held in 2020.
"It starts building the pressure doesn't it, so yeah twice, three would be the dream. I think we'll just keep coming back until we can't anymore," said Moody.
"It was awesome, the most amazing conditions out there, everyone had been worried about rain all week, but it was just perfect, not too hot, not too cold, nice little tailwind for most of it and just a great atmosphere, there's supporters everywhere you look so it's a pretty special course," he said.
In the women's half marathon it was Sydney-based Brit Amy Cogle who took the win.
"I'm originally from the UK but I've been living in Australia for coming up to 20 years. We're in Sydney so we've just come over to run here then we're going up to visit family in the North Island," she said. "I came to Queenstown in 2019, I came to run but I got injured a few weeks beforehand, so I just came and spectated and my friend ran the marathon. I just loved it that weekend and I thought I have to come next time but then COVID hit and so this is the first time.
"It was good, it was a bit more undulating than I was expecting but the weather was good conditions, it wasn't too hot, wasn't too cold, and a few people around me to run with so yeah I enjoyed it," said Cogle. "There's nothing like it, I would come every year if I could, it's just amazing."
Results – 2022 NZ Sotheby's International Realty Queenstown Marathon
NZ SOTHEBY'S INTERNATIONAL REALTY MARATHON
Men
Daniel Jones (Wellington) – 02:27:02
Hiro Tanimoto (Wellington) – 02:32:05
Ben Gatting (Auckland) – 02:37:53
Women
Hannah Oldroyd (Christchurch) – 02:53:44
Katie Morgan (Ranfurly) – 03:06:57
Margie Campbell (Dunedin) – 03:07:21
LA ROCHE POSAY HALF MARATHON
Men
Jack Moody (Auckland) – 01:08:13
David Lee (Auckland) – 01:10:30
Simon Cromarty (Dunedin) – 01:12:14
Women
Amy Cogle (Sydney AUS) – 01:23:05
Kirsten Hall (Christchurch) – 01:28:51
Laura Bungard (Dunedin) – 01:29:15
HAVANA COFFEE 10KM
Men
Ben Scott (Invercargill) – 00:36:37
Leon Miyahara (Dunedin) – 00:37:11
Paul Nicholas (Dunedin) – 00:37:15
Women
Natalie Dryden (Christchurch) – 00:39:41
Berber Swart (Damwâld NLD) – 00:41:09
Fleur Starcevic (Sydney AUS) – 00:41:55

---