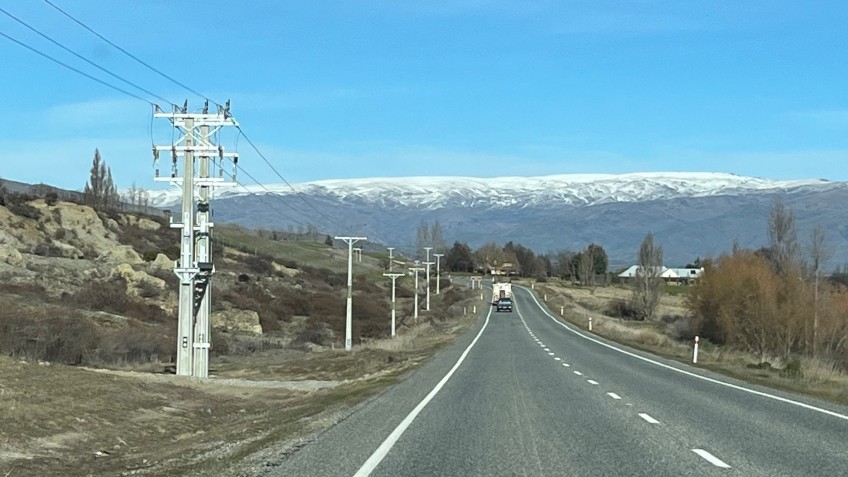 Cromwell power line shoring up more-electric future
---
Big new power poles on the highway hugging Lake Dunstan heading out of Cromwell will future proof for growth and help protect against outages.
That's the word from Aurora Energy as it completes the installation of the new line that runs from Deadman's Point Bridge towards the top of the lake, along State Highway 8.
Aurora's service delivery general manager Richard Starkey says the new lines are 11kV, the same as what already runs above the lake, but the conductors themselves are larger, so they can carry more electricity.
"This is in response to the need for greater capacity in the area due to new subdivisions and businesses, as well as the region's expected increased use of electricity as consumers transition from fossil fuels to renewable energy sources."
The new line along the state highway will also connect to the Lindis Crossing substation, Mr Starkey says, and that's good news for users.
"If there is a planned or unplanned power outage in the area we have more options to configure the network to reduce the number of customers impacted and get their power restored faster."
The new location close to the road will provide for easier access.
"We worked with Waka Kotahi NZ Transport Agency to get approval to install the lines along the road, meaning they are no longer on private property and our contractors will have easier access for any future repairs or maintenance."
There was no need for resource consents as the new line is within the state highway road corridor or across land zoned rural, making it a permitted activity under the Central Otago District Council's District Plan.
The line will make another, further up the Bendigo hills above the highway, redundant, and it is expected to be removed by the end of September.
However a third line, higher up the hill again and the main connector between Cromwell and the Lindis Crossing substation and Wānaka, will remain.
There's also lines upgrades happening right of Deadman's Point Bridge, heading towards Alexandra.
"These will not be moved down to the roadside due to slip concerns and the lack of space in the road reserve on the hill side of the road," Mr Starkey says.
Two weeks ago, Aurora announced the completion of an 18-month-long project to bury a 33kV cable delivery electricity to Arrowtown and surrounds.
The lines company is making significant investment in its network to ensure reliability and safety of supply after years of underinvestment in maintenance and replacement of its infrastructure.
However the catchup comes with a substantial cost to consumers.
Main image (Facebook/Aurora Energy): Aurora Energy says its new power line along State Highway 8 above Lake Dunstan will be easier for contractors to access and an existing line higher up the hill will now come down.


---