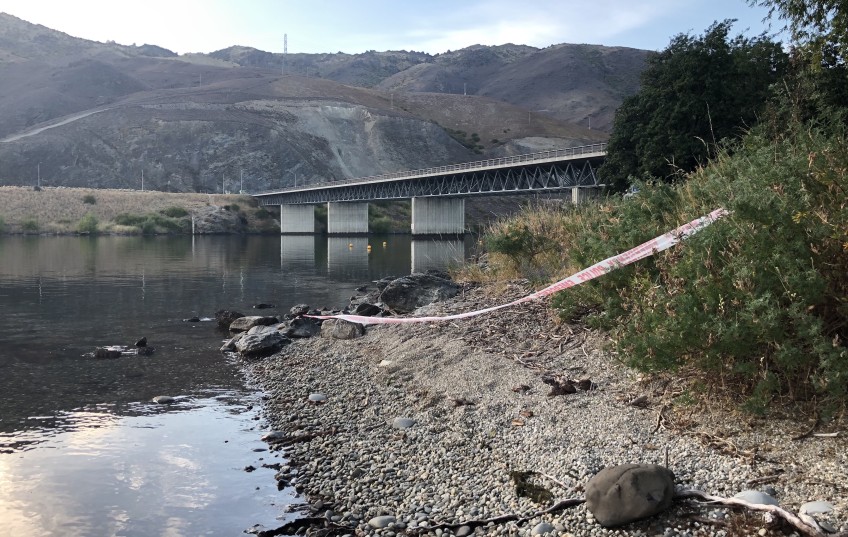 Crash mystery as police dive squad head to Cromwell
Feb 01, 2022
---
The vehicle and ute that crashed at Deadman's Point bridge in Cromwell yesterday afternoon still lie at the bottom of Lake Dunstan this morning as police wait for their Dive Squad to arrive.
A Crux reporter at the scene today says the water at that point is around 10 metres deep and there are no signs of the vehicle braking as it crashed through a fence at the side of the road approaching the bridge from the west at around 5.15 pm on Monday.
It took police three hours after the incident to confirm that the vehicle and trailer had indeed crashed into the lake. Crux understands that at least one person was in the vehicle at the time of the crash.
Police maintained a guard on the crash site overnight with three buoys in the lake marking the spot (see main image) where the vehicle and trailer are believed to be.
The cycle trail under the bridge is closed.
Recovery of the vehicle is expected to be a challenging operation after the dive squad have established later today if a driver and or passengers were involved in the accident.
Weather conditions at the site are calm with rain forecast later this afternoon.
The main highway, SH8B, is open to traffic.
Main Image: Three bouys mark the underwater position of the ute and trailer this morning (Feb 1

---