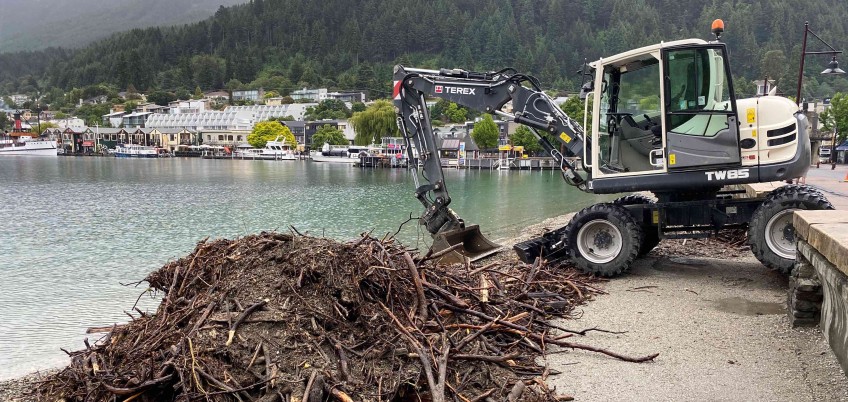 Council continues flood measures as lake levels drop
Dec 10, 2019
---
QLDC has issued the following statement regarding continuing flood measures as lake levels drop.
Lake and river levels in the district have continued to recede and the catchment areas received no rainfall overnight. Queenstown Lakes District Council (QLDC) will continue clean-up activities in both Wānaka and Queenstown CBD's.
In particular the Council has continued to remove tonnes of driftwood from both CBD foreshores as a priority.
Although lake levels have fallen, rain is due later in the week. QLDC is planning an enhanced removal programme for the end of the week but will confirm this once the latest MetService forecasts have been assessed tomorrow morning. Business owners may wish to consider delaying clearing sandbags until that time.
Business owners who do wish to dispose of sandbags should return these to the original collection points in Wānaka, Queenstown, Kingston and Glenorchy.
With surface water reducing, QLDC will be reopening parts of Ardmore Street and Helwick Street this morning, with Ardmore Street remaining closed from the Helwick Street intersection through to Meadowstone. Lakefront carparks will remain closed while debris continues to be removed.
The Glenorchy-Paradise Road is also expected to reopen around midday.
QLDC contractor's Veolia have continued to monitor lake levels and aim to begin reopening the wastewater system later today beginning at Dunmore and Helwick Streets. The team will be contacting business owners directly and QLDC will also provide updates via social media.
Public toilets remain closed in all affected and high-risk areas, and portaloos will remain in place until further notice.
The QLDC Parks teams are also watching lake levels before they can provide any timings for the reopening of the Queenstown lakefront playground and the Wānaka Dinosaur Park. Once water has receded they can evaluate what is required to get the playgrounds up and running as soon as possible, such as replacement fall protection as the safety of children using the facilities remains paramount.
Tracks and trails throughout the district also remain closed, also for the safety of track users, whilst the Parks team evaluates any washouts and potential risks.

---