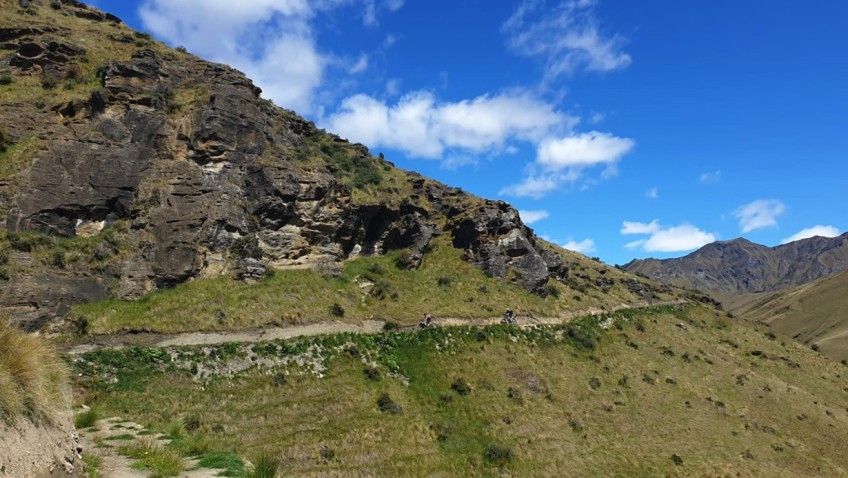 Coronet Loop to open for Motatapu race
---
Fresh backcountry terrain at Coronet Peak is set to open to mountain bikers thanks to a three-year collaboration between a property developer and national and local trusts.
Soho Property Ltd, the QEII National Trust, and the Queenstown Trails Trust have worked to develop the 56-kilometre Coronet Loop trail, which accesses land around the back of the popular ski resort previously not open for public access.
Use of the trail will kick off with a mountain bike race that will form part of the Macpac Motatapu 2022 event, and tickets open to would-be racers tomorrow (Thursday, January 20), with current Motatapu competitors getting first dibs on half of the 200 available race spots.
After this, the entries will open to the public on Monday, January 24, at 9am.
The circuit's a technical one, and it gives riders access to previously closed-off sections around Greengates Saddle, and Deep and Coronet Creeks.
Macpac Motatapu co-owner Gemma Peskett is stoked to add a race on such a special new track to her event line-up.
"The Coronet Loop is the perfect step up for our riders who have done the Macpac Motatapu valley mountain bike and want to move up to the next level.
"There are some tough climbs and fast descents, accompanied by more technical terrain and challenging course length, which will appeal to an intermediate to advanced rider.
"Plus, the most epic views throughout the course."
Held annually in March, the Macpac Motatapu is one of the largest off-road events on the New Zealand sporting calendar.
With close to 4000 participants in 2020, the Motatapu attracts runners, riders and walkers from across the country, and it has become a "bucket-list" off-road event for many.
Three out of five events for 2022 are already sold out and only a few spots left on the remaining.
Traversing Motatapu, Soho and Glencoe stations, it opens up for one day of the year high-country terrain usually inaccessible to the public.
Find out more about the Coronet Loop Mountain Bike here.
Main image: Photo supplied.

---