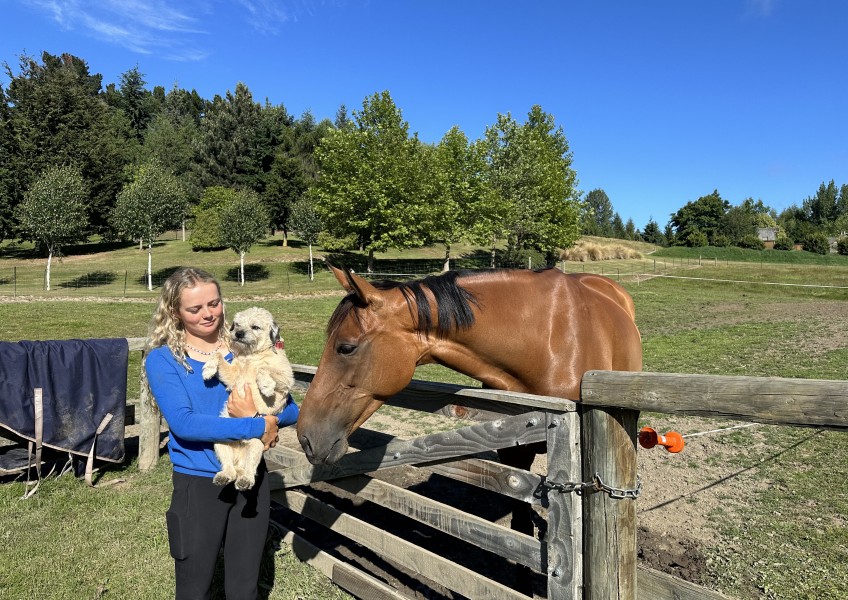 Animal welfare at centre of Qtown rich lister fireworks battle
---
Main image: Local Cara Quinn with family dog Sparky and horse, Dakota
A large scale fireworks display on a $18 million rural Queenstown property is causing strife in the neighborhood, with nearby horse owners concerned for animal welfare.
The fireworks party is scheduled to start the New Year with a bang, involving 14 minutes of Class 1 Category G explosives set to light up Dalefield as the clock strikes midnight.
The party hosts, who appear to be trying to keep their identity secret, are linked to the property owners Redemption Song LLC. The company is believed to be owned by Tony Malkin, a US citizen who is owner of the Empire State Building. He's previously found himself in conflict with his "golden triangle" Dalefield neighbours, including high profile Winton Group property developer Chris Meehan.
The fireworks event is completely legal; an approved fireworks technician is flying in and health and safety assessment was completed by an authorised compliance certifier on behalf of WorkSafe New Zealand. It meets all the regulatory requirements. Neighbours noted that animal welfare isn't part of the legislation.
There are around 100 horses, with a collective value totalling millions of dollars, in the vicinity but only one equestrian-trained vet on call that evening. The supplied figure only includes horses, but there are also other domestic pets, dogs and cats, nearby.
Dalefield resident, Johnny Quinn is working on a plan B to move his animals away from the area, concerned the horses will go into shock or bolt if they stay. He has four horses, a dog and three alpacas.
Mr Quinn says the "absolute terror" humans feel during an earthquake, is what horses feel when fireworks go off. He adds that there's a larger country-wide discussion to be had about big-scale fireworks in rural setting in New Zealand.
"Right now, anybody can come into the region and set off fireworks" he says and believes having a bylaw in place to properly regulate these situations would be beneficial. After contacting local council, MR Quinn was told there was nothing they could do, since it had been given FENZ approval.
A Fire and Emergency spokesperson spoke to fire concerns that had been raised by neighbours. FENZ say they agreed to the safety precautions set out by the certified handler in charge of the fireworks display.
"Currently, fires and fireworks are both unrestricted in this area. The location of the display is more than a kilometre from the fireworks and fire ban area locally known as the Queenstown Red Zone.
Mr Quinn was notified of the display Wednesday (December 22) by one of his neighbors, who'd be contacted by Donna Stewart-Freemantle, who's organising the display on the property, on behalf of the owners owners.
Of the four Dalefield residents who spoke to Crux yesterday, nobody knew who owns it. Mr Quin expressed annoyance that someone "not part of the community" was causing this much disruption – to their New Year celebrations and putting their animals at risk.
"They don't care about anyone else," Mr Quinn says.
The property owners hosting the event have issued the following statement to Crux, offering financial assistance to move local animals.
"We are private people who have owned our property for nearly 20 years. We have deep and long lived social and charitable connections in the area. As a courtesy beyond any requirement, mindful of house pets and livestock, we have reached out to neighbours to ensure they are apprised of our plans. We will happily consider any reasonable request from our immediate neighbors for financial assistance to move their livestock. We are sorry for any inconvenience."
Residents have banded together, putting up a petition last night, it's collected 250 signatures at the time of publish.
A fireworks display of this size and scale is not uncommon for private parties, according to Nick Lealand, co-director of Professional Fireworks Ltd - the company handling this show. He says personal celebrations make up 30 – 50% of their displays.
"It's New Year's eve, you expect people to be celebrating.
"We really do our best, we're a family business, we're not cowboys," Mr Lealand says.
The unique way that fireworks excite people, is the reason their business does what it does, he says.
Liz Park, has Louie - a retired horse with arthritis - five ewes, and nine lambs on the same road, she's cancelled hew New Year's party plans to be in the paddock with them.
She's angry that a "deep pocket, silver spooner" has disrupted her evening and is causing stress and potential severe injury to her horse.
She's surprised the certificate was granted, given the rural area and the time of year, thinking fire safety would've been part of the equation – even if animal welfare wasn't.
"Have you ever tried to hold a horse when it's scared, and it takes off – people are going to get hurt," she says.
Geoff Woodhouse, director of Remarkable Vets, explained that horses are programmed to respond to noise with a high fight-or-flight reflex.
"The horses can't discern between something that's threatening and not threatening, that loud noise, so it's very instinctive, very reactive and the instinct is often to run with a horse."
Mr Woodhouse says there is legitimate concern for pet owners but "the actual incidence of injury is relatively low" for fireworks, he cited last Guy Fawkes night as an example, where the vet received no calls from horse owners. However, Dalefield resident and horse owner, Daniela Schneider says last Guy Fawkes there weren't any fireworks set off in the area.
Mr Woodhouse says that there is a "risk factor" this evening, and if they do get a call that evening, it'll most likely be because the horse has run into a fence – which they do when they're stressed.
"The potential for injury of significance is high, and if we get called to something, it's not likely to be trivial."
Another neighbour, Daniela Schneider says she's staying home concerned for the safety of others and people coming home after celebrating New Year's not expecting horses on the road.
She says she's "putting her wants aside" concerned about her horse getting out and going on the road, in the middle of night, when it's pitch black.
"We had New Year's plans, but we now can't go, we are staying home to keep people safe."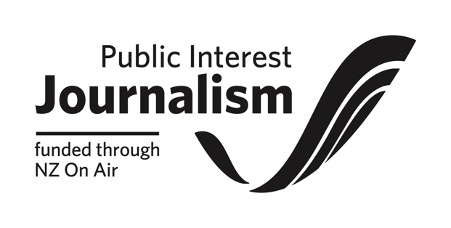 ---