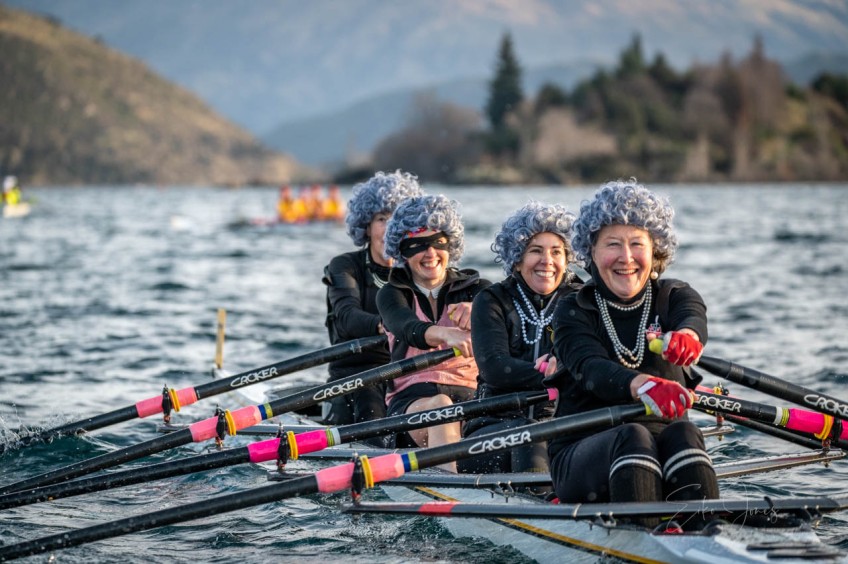 Wānaka's 'Round Ruby' row draws colourful crowd
---
Wānaka Rowing Club's now annual Round Ruby rowing event, back for its second year this weekend, was a 'hoot', according to local organisers.
The event has rowers taking to Lake Wānaka and racing from the Wānaka Water Sports Facility, looping around Ruby Island, then on to Rely Point, before finishing back at the start.
The event sets a long course rowing challenge with a social atmosphere - costumes are encouraged - and the views "hard to beat anywhere", according to club president Graham Berry.
This year 32 boats, including crews from Oamaru, Invercargill, Dunedin, Queenstown, Alexandra and Cromwell (made up of 132 rowers) competed in what proved to be fairly demanding conditions on the lake.
Rowing club committee member Karen Wells says the section from Ruby Island to Eely point was particularly challenging as a side wind made for choppy water that left many participants soaking wet.
"Despite the dowsing, there were nothing but smiles all round as all crews safely made it back to shore."
Fastest boat home and winner of the Round Ruby Trophy, gifted and awarded by Michael Sidey, was the Dunstan Arm Octuple in a time of 23 minutes, 36 seconds, with the club's quad coming in second in 23 minutes, 53 seconds.
Fastest of the mid-sized boats was the '50 Shades of Green' quad from the Port Chalmers United Rowing Club.
There was plenty of effort put into costumes with "punks, pirates, Bananas in Pyjamas, Gangsta Grannies, sailors, life guards, fluro, neon and some with not much on" all taking to the water during the festive regatta, Ms Wells says.
The winner of the best dressed crew went to local quad 'The Floating Hen House', whose pre-race warm up performance art caught the attention of the judge.
The Ruby Oar (wooden spoon) was awarded to the Oamaru 'Pirates', whose quad was renamed a submarine after a near swamping.
"I really cannot express what a hoot of an event this was. So much fun, such a cool atmosphere," Ms Wells says.
Visit the club's Facebook page for more.
Main image (Supplied/Eiko Jones): Four 'Gangsta Grannies' take part in the annual Round Ruby rowing event on Lake Wānaka,


---