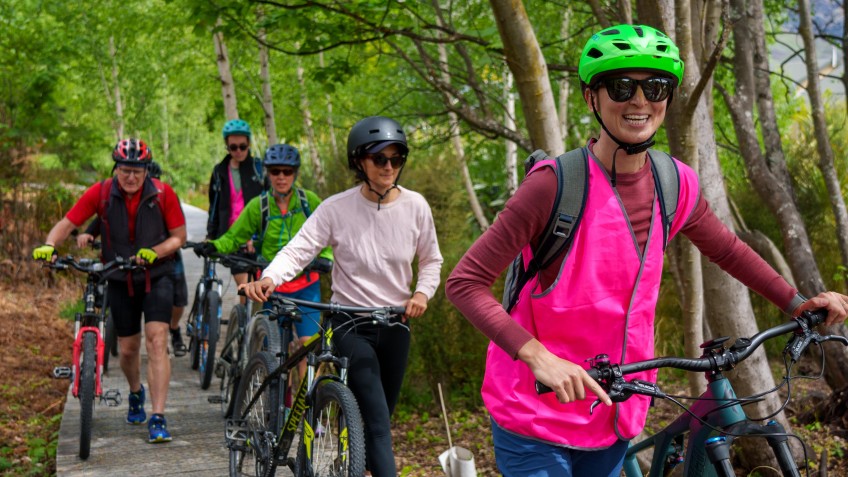 Wānaka's Biketober gets ready to roll
by Biketober crew - Sep 08, 2023
---
As far as inventions go, the humble bicycle is up there with the best. Egalitarian transport, gentle exercise, and pure, simple joy. Throughout its history, the cycle has opened up worlds of possibility. Today, it offers one of the simplest forms of climate action. And we need it, desperately; if we're going to reach net carbon zero by 2030, we've got six years to halve our emissions. And it's not going to happen from the car.
This spring, Biketober is back for the second year to celebrate all things pedal-powered. Run by not-for-profit Wao Aotearoa, the annual Southern Lakes Festival of Cycling will transform the month of October with workshops, races, family events, film nights and more.
Biketober is a celebration, but it's also a rallying cry. According to researchers at the University of Innsbruck, driving 500 metres equates to roughly one kilogram of glacial ice melt. We need to change our behaviour, fast. This festival is a chance to ignite an active transport culture in our community, and to gather in the name of a future on a liveable planet. A future filled with bicycles.
Across Wānaka, Queenstown, Glenorchy, Arrowtown, Alexandra and Roxburgh there'll be a range of events for all ages, from a native plant cycle tour, six-hour mountain bike race and e-bike picnic to film nights, maintenance workshops and a kōrero on bike-packing.
Things will kick off with a warm up event, the Green Steam, on September 16 - a hefty ride for type two fun-lovers from Wānaka to the top of Treble Cone, carrying skis. On September 30, the festival officially opens with Boots 2 Bikes in Wānaka, a fun afternoon in a closed off Ardmore Car Park (outside Big Fig) combining retro ski gear and bikes.
Wao Summit program manager Babu Blatt is hoping to see way more bikes on our roads come October. "I'm most looking forward to the Chargeabout Tour De Fridge: it combines bikes, community, quirkiness, music and food/drinks - all my faves," says Blatt, part of the organising team behind Biketober. You can find the event calendar and details here on the Biketober website.
Amongst other highlights will be the Wao Green Drinks on October 11, exploring how Wānaka could become a cycling capital, the two bike film nights on October 10 and 17. These will screen films delving into everything from cycling and mental health to bikepacking through Pakistan.
Got a broken bike gathering dust in the garage? Bring it (and your healthy ones!) along to the Bike Maintenance Sessions on October 14, and learn from the experts. On October 28, join the Sustainable Communities Tour, a Wao Summit event which visits local champions and changemakers to hear about and learn from their journeys.
As well as official Wao Biketober events, Blatt says this year the number of partner events has ramped up. "It's awesome - the whole community is coming on board!" she says. Activities, many of which are free, include group rides, social events, tours and a week's worth of activities for kids.
And if it's competition that gets you moving, try entering the Biketober Challenge through Lovetoride.net. You might surprise yourself, and inspire your mates to get involved and give you a run for your money.
At the end of the day, we need to get out of our cars in whatever way we can. Because, whilst the Southern Lakes is a region which goes crazy for recreational biking, we're not doing so well transport-wise. Across 2021 and 2022, the Wao initiative, Get Smart, Get Moving ran a local transport survey to find out how our community was moving around. Despite 70 percent of people having access to a cycle, people were making the majority of their trips (most of which were short - under 10 kilometres) in the car.
This October and November, the Wao team is running another survey to see how our habits have shifted. You can find the QR code at many of the major Biketober events, and the festival is a great opportunity to take part and have your say.
Whether it's an e-bike picnic, a mountain bike race or a night about bikepacking which sparks your interest, Biketober has got something for every appetite. If we want a liveable planet, we urgently need to change what we're doing, but it needn't be grim. Get your bike ready, and we'll see you at the festival.
Main image: Supplied


---