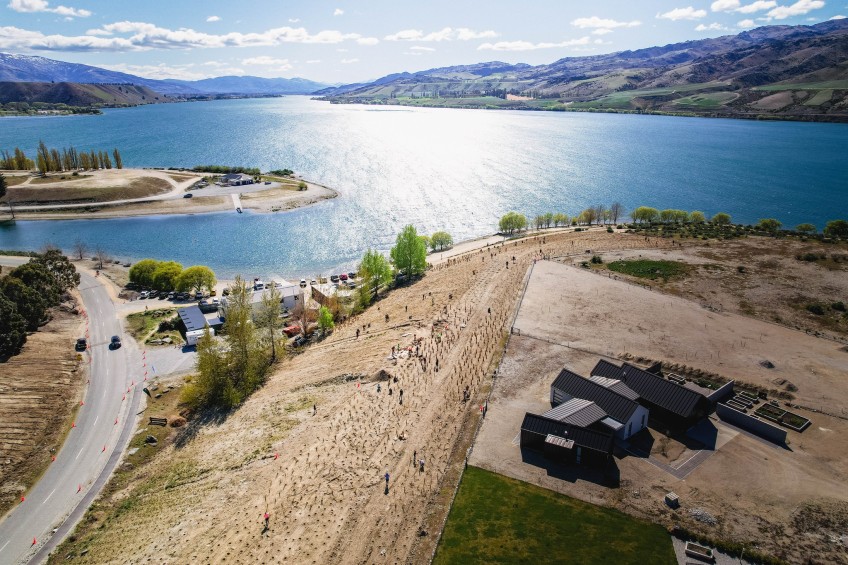 Massive mahi at McNulty Inlet
Mar 10, 2023
---

It's been a long and hot summer, so you'd think there would be no chance for new plants to thrive along the side of Lake Dunstan. But thanks to the mahi of groups of locals working together, you can think again.
The Te Tapu o Tāne crew finished clearing the entire McNulty Inlet site of weeds to give our native plants space to grow without competition. Despite one of the driest summers on record, the plants are thriving, thanks largely to irrigation which has been installed to allow the plants to survive the intense Central Otago sun.
Native plants provide essential habitat for wildlife, including birds and insects that are adapted to local ecosystems. Restoring native plants can help increase biodiversity and support the overall health of the ecosystem. They can also enhance the beauty of the lake and surrounding landscape, providing a more natural and scenic environment for people to enjoy.
A big thank you goes out to the team at the Lake Dunstan Charitable Trust, Te Tapu o Tāne, along with everyone from WaterForce, Fulton Hogan, CODC and Corrections NZ who lent a hand to the project.
Main image (Think Loud Creative/Lake Dunstan Charitable Trust on Facebook): Lake Dunstan



---