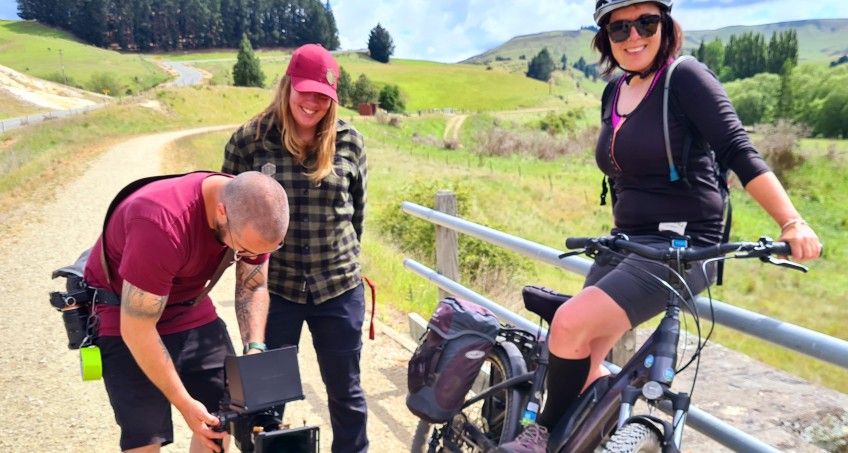 Film showcases poetry tour on two wheels
Nov 07, 2022
---
In late 2020, Liz Breslin, Annabel Wilson and Laura Williamson embarked on a "spoke'n'word tour" of the Otago Central Rail Trail.
The three poets packed amps, mics and notebooks into trailers and e-biked the length of the Rail Trail to perform at historic halls in five locations along the way: Clyde, Ophir, Oturehua, Ranfurly and Middlemarch.
It was a poetry tour like no other - emissions-free, muddy, rowdy, and backdropped by otherworldly landscapes, and it's the subject of a new documentary screening this month in Wānaka, Queenstown and Dunedin.
Ms Williamson, who is based in Wānaka and edits the print magazine 1964: mountain culture / aotearoa, says the tour was about taking words out into the rural corners of Otago, many of which have inspired writers in the past.
"Literature and landscape have been shaped by each other in our region, and this is one of the things we wanted to celebrate," she says.
It was also about showcasing the potential of using bikes, instead of cars or vans, to take a show on the road.
"We wanted to model using e-bikes to travel between venues. It can be done, especially with more and more tracks like the Otago Central Rail Trail opening up across the country. Our fuel costs were zero, our carbon footprint negligible and riding bikes is super fun. Plus, lots of people came to our shows. It's not every day a trio of cycling poets shows up in your town."
The three women teamed up with Wānaka's The Film Crew to make Rail:Lines The:Film, a 25-minute documentary about the tour.
"We wanted a wider platform to promote the viability of touring an emissions-free arts project, highlight the strength of the poetry community in our region and add to the scant number (of) women's poetry stories documented on film."
Of the 55 titles tagged to 'poetry' on the NZOnScreen online archive, only four female poets are represented, she says.
There will be a live performance along with each screening.
Keen to catch the screenings in Queenstown and Wānaka?
Wānaka: Friday, November 11 at 6pm at The Studio Space in Spencer House Mall
Queenstown: Sunday, November 13 at 6pm at Te Atamira, as part of the Queenstown Writers festival


---