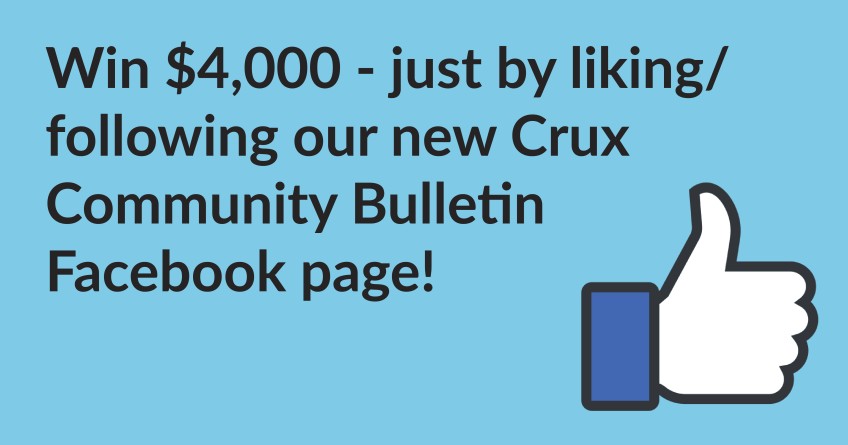 Crux – big growth and a big change. Win $4,000!
Nov 02, 2022
---
As Crux has grown in the four and half years since our launch, we've been figuring out how to better serve the community that is our home.
The answer is the Crux Community Bulletin. This is a new section of Crux for all of the less urgent community news that is still important. Sports, schools, charities, special projects, membership drives, fundraisers, awards ceremonies and community achievements – we want to publish it all.
We've been trialling the Bulletin since earlier this year on social media as a closed Facebook group but have now made the decision to launch a full separate Facebook page, linked to the Bulletin section of the Crux website.
If you've already joined the Crux Community Bulletin group, just head across and like/follow the Bulletin Facebook page instead.
You will have seen that Nikki McKay has joined the Crux team as Editor of the Bulletin and she'll be driving the curation of this new content.
To help everyone get to know Nikki and the Bulletin we are launching with a special $4,000 prize that will go to the community focussed organisation that you think is most deserving of widespread promotion. The $4,000 worth of Crux marketing across all of our channels should be linked to a special goal or project for the organisation you nominate.
Examples of a special project would be:
A local educational campaign
A membership drive
A special project or trip
A fundraiser
All you need to do to enter is like or follow the Crux Community Bulletin Facebook page and nominate your preferred organisation (keeping it brief) in the comments to this article or to [email protected]
The competition closes on Friday November 18 - with the results announced in our weekly Friday newsletter and across all other Crux channels.
Don't forget to also follow the Crux Community Bulletin on Instagram - https://www.instagram.com/crux_bulletin/
Most importantly send all of your community news and events information to [email protected]. Make sure to include all relevant details – time, place, contact details and some good quality images.
Its free, fast and effective. We reach the biggest local audience in Queenstown, Wānaka and Cromwell.


---