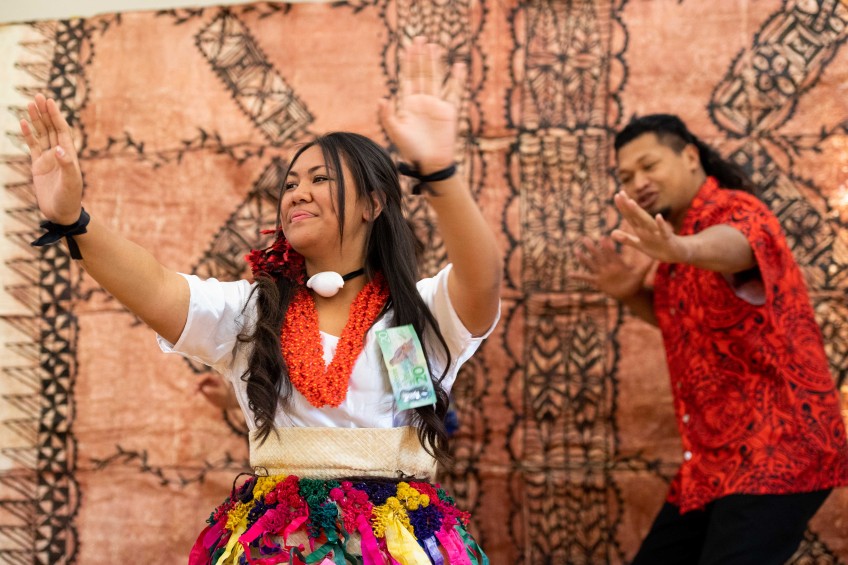 The Pacific comes to Central for early Christmas lunch
---
It may be New Zealand's most inland town, but Cromwell welcomed the Pacific this weekend.
Dozens of families from Central Otago, Wānaka and Queenstown came together for an early Christmas celebration.
Joining them were Fijian and Ni-Vanuatu RSE workers, who've left their island homes to work locally in horticulture and viticulture.
Dioni Naivaluvea, one of a team of organisers behind the event, says hundreds of people turned up for the festivities.
There were cultural performances and a shared lunch.
The Christmas gathering was a first for Pasifika Central Otago, a group of volunteers working to connect people of Pasifika heritage living in Central.
"It was awesome just to see people come and have a good time and connect with other other people...for them to know that there are other Islanders around in Central - that was really positive."
The group decided to extend an invite to the RSE workers, who spend Christmas a long way from family and friends, to help make them feel welcome in their temporary new home, she says.
There's the company of the other workers, but the stint in New Zealand can be socially isolating for many on the RSE scheme.
"They say, pretty much, normally they just go to work and then back to their rooms...their dormitories.
"That was one of our main goals...to get them involved - for them to know they are part of the celebration."
The inaugural Pasifika Christmas gathering was held at the Sports Club in Cromwell, and organisers are keen to make it an annual event.
"It helps you to keep a connection to where you're from and your identity and your culture...Even though we are here, we can still keep it in our hearts."
For families, it's also a way to help young children connect with their family's heritage, she says.
"You know, showcasing to them who you are and where you are from as an Islander."
The island nations of Fiji, Kirbati, the Cook Islands, Tonga, Tuvalu, Niue and Tokelau were all represented at the event by families living in Central.
Photographer Clare Toia-Bailey is a New Zealand-born Samoan - she's lived in Central for more than a decade and says she was "warmly welcomed" at the event.
"It was a pleasure to see people from all walks of life there to support the community."
She says there was plenty of "love, fun and laughter" that was great to capture on camera.
"Congratulations to the organisers."
Main image (Clare Toia-Bailey/Image Central): In the the Pacific groove at a community Christmas celebration in Cromwell this weekend (December 3, 2022).


---