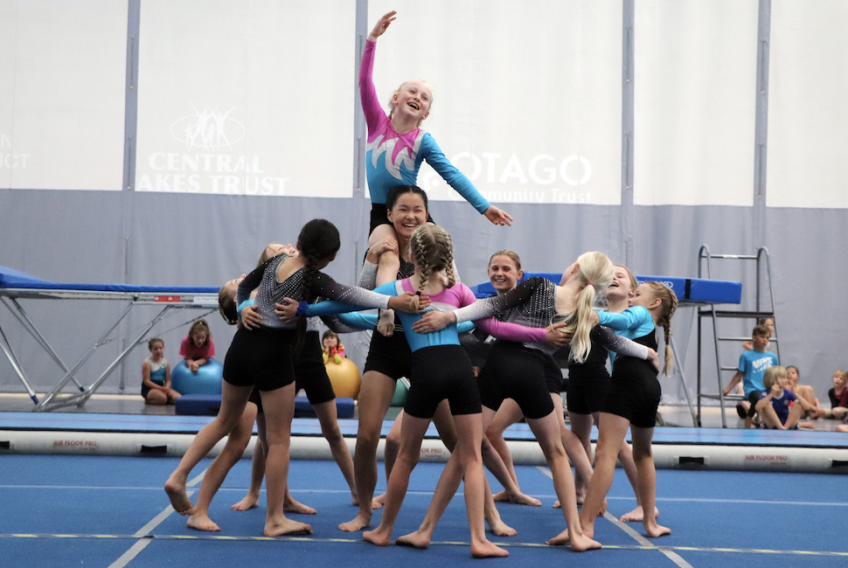 Aspiring Gymsports to celebrate 21st with keys to new home
May 17, 2023
---
This year Aspiring Gymsports celebrates its 21st and, fittingly, it will receive the keys to the new the Queenstown Lakes District Council Youth Sports and Community Centre, this July.
The gymnastics club will have a new home in the new facility, a conversion of the former Mitre 10 building in the town.
But there's always costs involved with setting up any new home, even when you're a club, and members of this one are working hard to gather funds.
AGS has raised well over $126,000 towards its $225,000 goal for equipment purchases, which include a new competition quality full-sized sprung floor, now making its way from Europe and expected to be installed before the end of the year.
Rae Paterson, the club's founder, sees the sprung floor as a community asset and citric to the success of the gym.
"It's not only safer for all gym users but is the centre piece for the club's sustainability going forward. The floor is essential for all of our community users, from schools and early childhood centres, enabling whole class visits from primary and secondary schools.
"It will also allow AGS to become a regional hub for gymnastics, a place where Central Otago competitions can be held, raising funds for the gym whilst reducing the need for our gymnasts to travel to gym competitions."
To achieve the significant financial goals for the move AGS club members have been busy fundraising via auctions, volunteering and applying for community grants.
Plus, the club has been the thankful recipient of generous donations from local businesses and patrons, including being the charity of choice for the Hirepool Charity Classic golf tournament in March, which raised $27,000.
AGS is 55 percent of the way to its $225,000 goal.
"We still have some way to go to fill the new gym with safety crash mats required to fill a larger gym, and equipment for our growing recreation programs including Parkour/Ninja ramped walls and bars.
"However, we'd like to take this opportunity to thank the generosity of our funders so far including the New Zealand Lotteries, The Lion Foundation, The Grassroots Trust Central and The Otago Community Trust.
"Plus, donations made via Wanaka Lions, Wanaka Golf Club, Meyer Cruden, The Wanaka A&P Show, private patrons, Wheels at Wanaka, The Wanaka Beerfest and Mitre 10 Mega Wanaka - our long-term business partners."
Main image (Supplied): Aspiring Gymsports athletes in action.

---