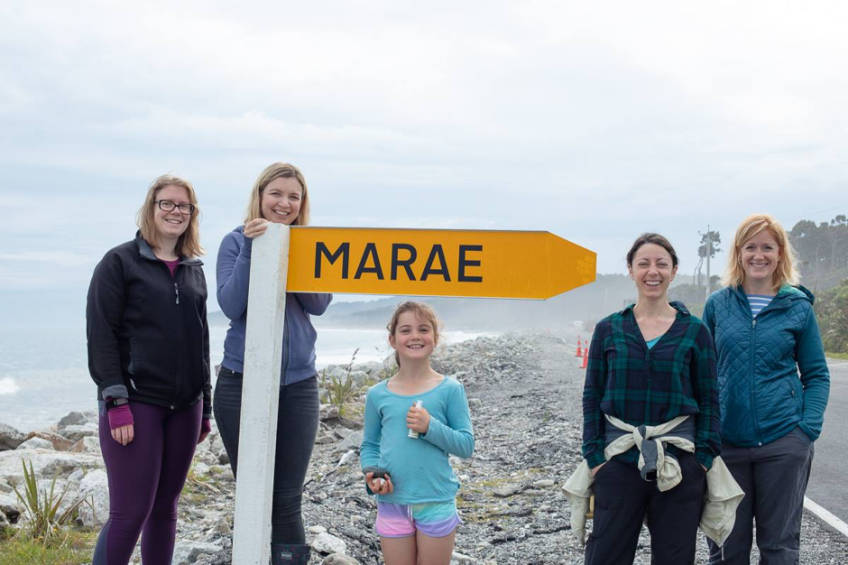 Te Reo's unlikely hero enriching local lives
by Esther Whitehead - Dec 10, 2018
---
Esther Whitehead, Crux contributor and long-term Queenstown local, isn't afraid to tackle big issues like mental health and poverty in her articles. As managing trustee of the Dyslexia Foundation of New Zealand, she is a strong advocate for equity in education. Locally, she is the founder of the Sustainable Queenstown Charitable Trust, which inspires change through community engagement and provide environmental solutions to businesses.
Thanks to Paul Green Photography for some of the images in Esther's story.
There are some people that come into our lives for a reason. Jeromy Van Riel is one. His Dutch roots belie his role in the district for connecting people through Te Reo. When I signed up to learn Māori at the beginning of this year, I admit to feeling surprised when they told me our tutor was Jeromy Van Riel. I thought, "He doesn't sound very Māori!" While this is more a reflection of my own ignorance of what makes a person Māori, his story is unique and so is he. His story deserves to be told.
The sun shines over the native forest through the window of the marae, where the trees meet the waves. Hector dolphins swim freely in the bay and sandflies keep the tourists from staying too long. It's a paradise. As members of the local Te Reo student group we recognise how privileged we are to visit the West Coast Marae. We have been given the opportunity to understand the culture we live within and amongst every day. Over 30 students sit with me, enjoying the kai, the company and the learnings.
Emotions are charged, the room buzzing with positive energy as everyone gives the kōrero (speech) they've worked hard on to thank their teachers, their hosts and their classmates. It's more than a quick thank you though, there are wide smiles, quiet tears, open hearts, and open minds to welcome in new experiences. Noho marae is an enriching gift and one I hope every New Zealander can experience.
They say if you want to know a culture, know their proverbs (that's a proverb itself). Te Reo has many, and the oral language is rich with whakatauki (proverbs) providing a gateway to the past to inform and forge our future.
Jeromy closes his kōrero; his are always profound and meaningful speeches, and we bask in the heartfelt insights, a little richer than we were before.
Growing up in Invercargill, Jeromy used to hang on the marae regularly, loitering with his Māori mates, until he was taken under their wing, and accepted as one of the whanau, fed and looked after. He then took an interest in Te Reo, becoming so proficient that he is not only a master teacher but has mana across New Zealand, and is deeply respected by those who meet him and work with him throughout Māoridom.
I asked Jeromy and others at the marae why it is that a Kiwi/Dutch man has achieved so much in Māoridom, how is it that he has been taken so earnestly and been accepted so well.
"When I was 13 [now 40] I had an epiphany that one day indigenous people around the world would take leadership positions despite what was being told to me by Pakeha and Māori alike. At 16, my girlfriend was Māori, and her father would discourage me from learning Māori because, in his view, it was a waste of time. My school principal told me, if I carried on focusing just on Te Reo, I'd amount to nothing and end up in jail."
This seemed to be a mandate for Jeromy to over-perform. He believed it was the right direction.
"I always felt and still feel that Māori has the medicine for the modern world. It's about understanding a connection to people and place. The old people gave me only unconditional love and the message that 'you will always have a place with us', and this was lacking in my Pākeha world. So it spoke to my heart, it encouraged me spiritually. Everything in Māoridom including every waiata (song) is framed as a positive affirmation, it touched me where Pākeha pop culture and mainstream education was negative and lacking."
There is a learning that takes place when talking to Jeromy. To care too much what others think, puts you on the established path. What you risk losing from other people's regard for you on that path can feel like too great a loss for many, but to forge your own path is a risk from the beginning. There is, in fact, nothing to lose. Jeromy has forged his own path.
There were challenges along the way for Jeromy, many of which fell out of his own misinterpretation of the culture, lack of knowledge of cultural nuances and courtesies. One one occasion, he even spoke on the Paepae. The road to hell is paved with good intentions, and believing that Māori was a dying language and culture, he led the charge without asking for permission first. He was fortunate in that he always had great mentors who were there to guide him back in the right direction.
"I see my role as a bridge builder, connecting Pakeha to Māori, sharing Māori out to the world. When I doubted myself I asked my kaumātua, my koro said to me,
'You have to carry on, while I teach Te Reo and my understandings to my people; you must teach it to your people.' Some Māori wouldn't be able to articulate in English what the language means (there is little direct transliteration), Jeromy can do that.
Cory Ratahi, Queenstown local and all round good guy, talks about when he first met Jeromy in 2016. Brought up and raised in Māori culture, north of Gisborne, Cory spent his life around the marae and even experienced regular Tangi.
Like so many, Cory didn't have the language, but his mum wanted him to have it. He grew up with the notion that Māori language isn't going to get you anywhere.
"Mum understood that our Māoritangi was important to our identity, she was pale with green eyes and she wanted her kids to be known for their identity as she never felt known for being Māori. Mum was really intelligent, she and I both excelled in the areas that the white world cherishes, like science and maths. Being successful in these almost pushed us outside of Māoridom, because the arts and culture was never seen as important as the academic choices. My success in these areas somewhat excluded me from my Māori heritage."
Cory's mother's passing was his final wake up call, and becoming fluent in Te Reo was his promise to her.
"Since her death in 2010 I have been searching for a way to include it in my life. I almost gave up, because previous teachers taught the language but were detached from the culture and moving down here (Queenstown) there is no obvious culture, which is actually the worst assumption people can make. I have a great ambition to represent on the paepae back home on the East Coast when I retire, and I want to be a great orator in Māori. Without speakers on our marae, the language will die out, and I can't bear the thought of it dying out, most villages suffer from people leaving. Having lived in the North Island, I've experienced negativity engaging in the marae, but I have become enlightened since meeting Jeromy."
"It's the first time, I had a teacher who taught me quickly", says Cory, "His style fitted, his attitude is funny, and he knows his stuff like few others. Then the other epiphany was that he told stories of my Iwi that I didn't even know and he delivered it in a way that was memorable, and he isn't even Māori. In Jeromy, I have met a person who is the most Māori guy I have ever known. If he can do it, it's not just a culture for our people. It's for everyone. So it's no longer about possessive culture."
"Jeromy gives off an ahua, a vibe that you see and feel, he's very Māori. He has been the spark to the rebirth of my Māoritanga (Māoriness). Ever since I met him my Māoritanga has been growing exponentially in all directions, so now I am involved in so much mau rakau (taiaha training or traditional Māori martial arts), waiata (song) and waiata groups in Queenstown, and I also teach Te Reo (voluntarily) at QLDC where I work."
If you're thinking you'd like to join the many students who are now studying Māori in the district, you'll have to get your name down on the waiting list. It's fully booked for the next two years. Noho Marae, is a big feature of the course and when students graduate in Year 3 they are fluent. One of my fellow Year 1 students, Bill Cook tells me why he's chosen the course this year.
"I've known Te Reo for a long time but just single words, like place names, anything in nature, and only through reading but I have always known I was Ngai Tahu." In his 50's and a long-term local, Bill grew up in Athol, "It was a great place, you know; country life, I started working early, and I had a good founding and a strong work ethic."
Always aware of his mum's roots from Bluff, he spent heaps of time down in Bluff and Stewart Island growing up, his dad would go to the islands for muttonbirds. "I have only stood on my muttonbird island twice in my life but I understand that sense of belonging to a place. " Bill's heritage is on his mum's side, she was a Spencer; James Spencer was the founder of Bluff. Bill has worked for Ngāi Tahu Tourism on and off for the last seven years, and spent 33 years prior driving jet boats.
"For me, the awakening was my mother's Tangi (funeral) 15 years ago" he says with glassy eyes, "One of my close cousins spoke at her Tangi, he was really close to my mum. I knew all my whakapapa but couldn't speak it, and worse still, I couldn't understand my cousin's korero, which was painful, as it was his respect to my mother."
"With Ngāi Tahu Tourism, they have pushed me and others along, and in 2017, I approached an old kaumātua – a local I respected and he told me to see Jeromy. Now I can say I am beginning to understand and speak so much more Māori."
Bill attends lessons with his adult daughter Stephanie, who has also flourished in Jeromy's lessons, particularly when they all went to the Bluff Marae earlier in the year, and she slept under her direct female ancestors represented as poupou (carved support pillars) inside the wharenui (ancestral house).
It was very moving for Stephanie and Bill and all of us on the course to observe their personal journey and their ancestry unfold, as it illustrated the enduring power of story telling containing the wisdom, truths, and traditional views handed down from generation to generation through their iwi. It was such an enriching experience for everyone on the course.
Two things about why people signed up on the course made an impression on Bill in his first class back in February. It was parents whose kids know more Te Reo than them, and so they're motivated to learn it, and relative newcomers to the country in recent years, who want to learn.
"It's great to see it on the rise, people finally accepting Te Reo and trying to learn the basics."
At work at Ngāi Tahu Tourism, Quinton Hall, the CEO, is passionate about Te Reo, he's ambitious about the language and culture being embedded in day to day operations, and is the driving force behind a belief that it can only get better.
"Our staff are asking for more resources, and they're enthusiastic. The first commercial trip that gave a Karakia (prayer) received some push back but now a year on, it's accepted and Ngāi Tahu Tourism is embracing its inclusion. It was very moving to have a trip Karakia. It's all about bringing the Māori world into the story for customers to engage with. Tourists are looking for deeper experiences of Māori in their New Zealand trips."
For Jeromy, like Bill, it's more than just the language, he wants to create a community of Māori speakers that can support local whānau and whole communities to speak Te Reo.
"Where we can express ourselves using Māori language to enable us to better engage, learn and operate with a true sense of national identity, can only be positive. I would say that many of our local Māori are being asked for their stories now. For 30 years they have been crying out for their stories to be told. I say give us a place where we can stand proud and you can stand with us." Jeromy says.
He sees a dire need for a cultural centre in our district, the connection and interest in Māori is often driven by foreigner visitors more than kiwis. His vision is that we will be among the best on the world stage, and celebrated in a way that gives value and honour to Māoridom; a place to meet to say this is our shared identity.
"We can stand united in the bi-cultural New Zealand that we're wishing to achieve. It's about cultural proficiency and pride." We need to have a place to stand and practice; a hub, and that isn't whitewashing, it's intentionally brownwashing for the right outcome. Every New Zealander who goes to an English pub can do the haka, but can they do it right?
"I feel so glad that I went against everyone's advice when I was 13. My classes are booked out for the next two years. It was right for me and for the New Zealand that I believed in. Everyone else is catching up now. I am excited about this government's social policy and its wellbeing framework. That drives me."
Ko au ko koe, ko koe ko au.
I am you, you are me.
"The language is a vehicle for the rest." He says.
There is something meaningful in keeping company with a wise person. They are able to gift past knowledge forward, so we can receive treasures that appreciate with time. The rise in Te Reo allows the ancestral voices to reverberate today, and gives us all a deeper connection to our stories. I am grateful for the privilege of learning Te Reo, and for finally being able to access the Māori culture after living here for 20 years.
Thank you, Jeromy.
Main Image: Fellow Te Reo students from left to right: Emma, Katherine, Zoe, Alice and Suzy


---