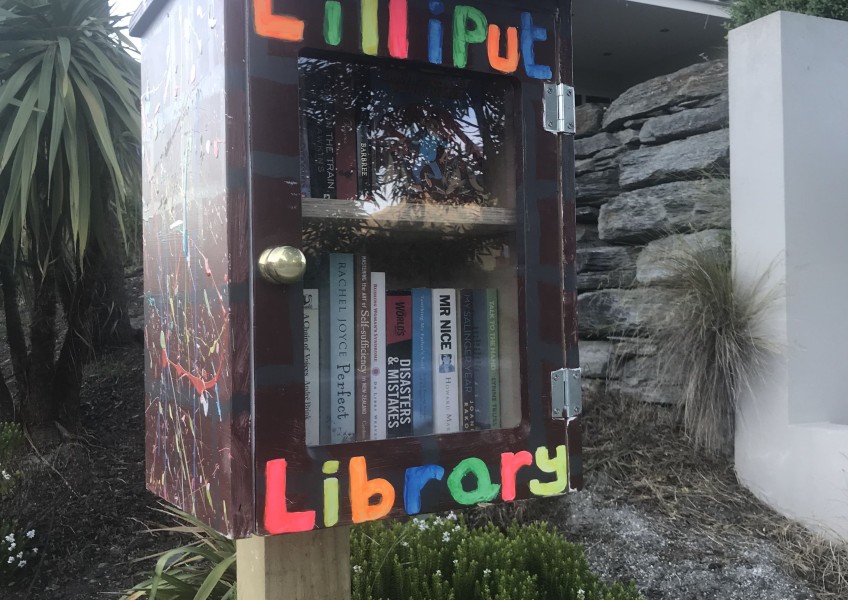 Lilliput Libraries - tiny but mighty
---
There's something magical on the trails around Queenstown. Lilliputians have infiltrated our surrounds and seem set on helping to spread the word of… well, words. Lilliput libraries are just that, tiny libraries where you can borrow a book, and leave one in return. If you're out biking along the Queenstown trail, walking down Atley Road or meandering along Kelvin Peninsula and see a small covered structure a little bit like a giant mailbox full of books, chances are you've found one of these magical boxes of literary delight. They've been steadily multiplying since 2016 and you may well be aware of them already. We figure they're pretty special and worth highlighting.
They have been generously sponsored by the amazing Catalyst Trust and are one of those glorious things in life that gives freely and asks nothing in return. Seeing one last week has spurred me on, I'm off to see if we can set up one in our neck of the woods. If you'd like to do the same then email [email protected] and get in touch.
So how do they work, really? Well, if you see a Lilliput Library and there's a book that you like the look of then yes, feel free, take that book home and love it and read it. You'll be helping the tiny library achieve its life purpose. If you'd like to offer it a little sustenance in return then leave a book of your own. Spreading words is a little like spreading magic, you can share ideas that have made an impression, influenced you in some way. Any way of encouraging that is to be applauded.
Cath Gilmour, local extraordinaire and impetus behind the impressive Catalyst Trust is the driver behind the Lillipution invasion. Having read about the scheme's success in Dunedin in the Saturday ODT she was inspired. Not one to let the grass grow, Gilmour was on the phone to Ruth Arnison (who runs the Dunedin network) and the Catalyst Trustees the next day. By Monday she was on to the Kelvin Peninsula Community Association (Gilmour's on the committee) who agreed to sponsor the materials. Gilmour is relentless, she swiftly got support from Resene for paint, the Mosgiel Men's Shed for building, painting from Jeri Elliot and surplus books from QLDC. Two years ago the first library went up outside their house near the Kelvin Peninsula trail.
Gilmour sees it as a natural fit with Catalyst Trust's goals.
"They are enriching and networking the community through activating our minds. [Lilliput Libraries]build community, spread the love of books and reading, and encourage recycling of loved reading material."
The scheme has evolved since then. QLDC continues to provide a box of books to begin with, Mitre 10 Mega the supplies, Resene paint, and Landsker Construction has built ten. Gilmour explains how the people involved are constantly evolving.
"Local retired architect Hugh Skinner has now put his hand up to build the 14th, destined for Jack's point . A variety of local artists (including in some cases the families who are now guardians) have painted them. So it's a real community collaboration. Catalyst Trust acts as the coordinator, organises the collaboration and does the PR."
There are currently 13 libraries across the district with a map available on Catalyst Trust's website. If you're inspired to be a Lilliputian Mum or Dad then get in contact via Catalyst Trust's website or Facebook page. Much like taking on a pet, it's a labour of love. The Trust will explain the process and the commitment needed to be a guardian. It's essential that they're well cared for and loved, that allows them to spread their joy.
Gilmour describes the process, should prospective guardians be successful in their hope to care for a tiny library.
"We provide a "how to" list for guardians, set them up with a library, paint, an initial box of books and link to Mitre 10 Mega to get the post and concrete needed for installing it once it has been painted. Most people organise their own artwork. Everyone I've talked to since them becoming a guardian is loving the experience. Once a new library is installed, we publicise it on our Facebook and website, through QLDC and library social media, and the Dunedin Lilliput library Facebook page. Lilliput libraries are always one of our most popular catalyst Facebook postings."
The libraries attract all sorts of interest - from locals and visitors alike. They draw people in, create a gathering of neighbours where kids walk away with their heads buried in books that they have discovered. One day Gilmour came across a note.
"There was a book in Mandarin with a letter inside saying "Dear friend, it was raining yesterday. I had a walk. Your book share attracted me. I had taken a book. I hope you can read my book which is my joy on this tour. Thanks again. If you have a holiday journey to China, I hope you can call me. See you later. My telephone…" (details redacted).
This sort of encounter shows the far-reaching spread of the libraries and the joy that they share, not only in our town, but across the world. In a town where little is free, these tiny libraries are bringing joy and spreading knowledge wherever they appear. They're the sort of thing that a town becomes known for, iconic. So when you next venture out, take a book, sit and read in nature and leave something in a library for someone else to enjoy.


---