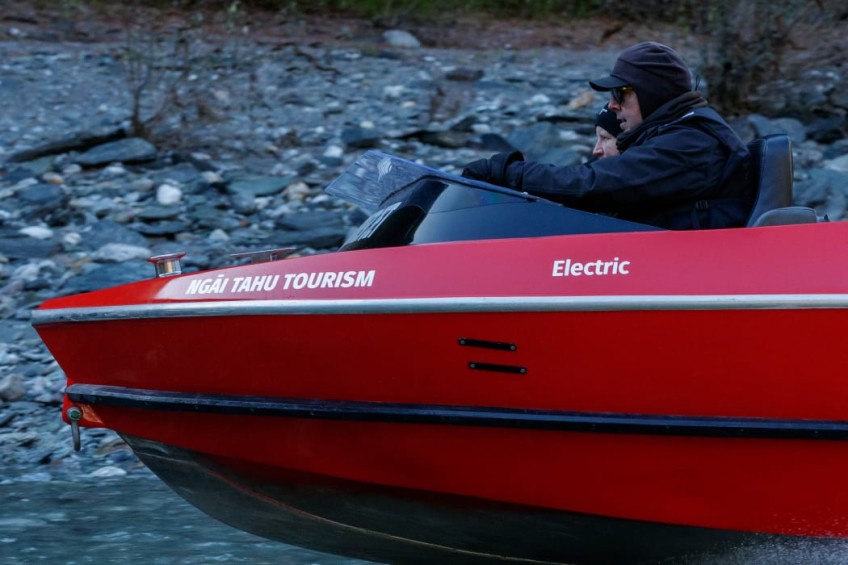 World's first electric jetboat unveiled in Queenstown
Jul 06, 2022
---
Te Rūnanga o Ngāi Tahu has unveiled the world's first electric jetboat designed for tourism in Queenstown this morning.
The project received up to $200,000 in funding from the Energy Efficiency and Conservation Authority in 2019.
It converted a petrol-powered Shotover Jet boat to rechargeable electric batteries, which would make it a lot quieter.
The project was part of Te Kounga Paparangi - Leading change for the future - an 88-point action plan approved by the Board of Te Rūnanga last August to tackle the causes and impacts of climate change.
Te Rūnanga o Ngāi Tahu Kaiwhakahaere Lisa Tumahai said the iwi would be taking major steps to cut its greenhouse gas emissions, embrace renewable energy, and reduce its impact over the next nine years.
"As mana whenua we are putting into action the core principles of kaitiakitanga - guardianship - and rangatiratanga - self-determination," she said.
"We look after our whenua, we care for our whānau and we take ethical actions and decisions for the future of our mokopuna."
Ngāi Tahu aimed to have at least half of its jet boat operations converted to electric by 2030, but the electric prototype wouldn't be ready to take commercial guests for several years.
Ngāi Tahu Tourism general manager Jolanda Cave said they wanted to make all their operations carbon neutral by 2050.
"It is of utmost importance to us at Ngāi Tahu Tourism that we are true to our iwi values," Cave said.
We all have a role to play in ensuring our world is healthier for future generations and while there is a long road to travel, the electrification of our jetboat fleet is an incredible step."
Te Kounga Paparangi also included water conservation, reducing waste, and protecting mahinga kai - traditional food gathering.
Lisa Tumahai said a vital element was was protecting whānau, by powering marae with solar energy to make them more resilient and self-sufficient.
"We don't claim to have all the answers, but our size and influence gives us the freedom to innovate," she said.
"This jetboat prototype is an exciting expression of what that innovation can achieve."
The initial water testing took place on Lake Whakatipu in May, followed by tests in the Kimiākau - Shotover River - last month.
Main image (RNZ/James Allan Photography): Head driver Nick Simpson taking the Shotover Jet electric prototype for a spin.


---