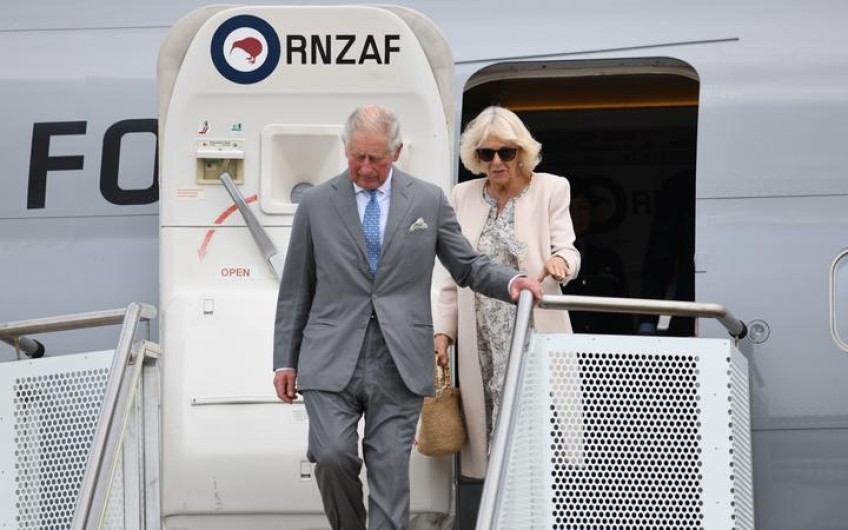 Whenuapai welcome: Charles and Camilla arrive for NZ tour
Nov 17, 2019
---
Prince Charles and the Duchess of Cornwall have arrived in Auckland to begin a seven-day tour that will also take them to Northland, Christchurch and Kaikōura.
They touched down at RNZAF Whenuapai around 1.30pm and were met by the Governor-General, Dame Pasty Reddy, and the Deputy Mayor of Auckland, Bill Cashmore.
The Prince of Wales and the Duchess of Cornwall are making their third joint visit to New Zealand.
They visited in November 2012 to mark the Queen's Diamond Jubilee, and again in November 2015.
Their first full day in the country tomorrow is set to be a busy one.
They will begin their official duties with a wreath-laying ceremony at the Mt Roskill War Memorial in Auckland.
They will go on to the nearby Wesley Community Centre which is also located in the Mt Roskill War Memorial Park.
The royal couple are expected to meet some Pasifika families, as well as refugee and migrant families who all use the community centre.
From there they will travel to Critical Design, a social enterprise founded in 2013 by Rui Peng and Adam Ransfield. The main purpose of the Mt Roskill business is to turn plastic waste into usable products - an activity that is bound to interest the prince in particular who is a long-standing supporter of environmental initiatives.
During the afternoon they will return to RNZAF Whenuapai to present the Queen's Colour and attend a reception.
During their Auckland stay, Prince Charles and Camilla will receive an official welcome at Government House and meet with Prime Minister Jacinda Ardern.
One of the highlights of the royal couple's seven-day tour will be a visit to Waitangi Treaty Grounds on Wednesday. It will mark the first time a member of the royal family has visited Waitangi since the Prince of Wales' visit 25 years ago.
The Prince and the Duchess will also visit Christchurch and Kaikōura in part to see how each centre has recovered from major earthquakes, and in Christchurch's case the mosque attacks in March.
The couple will fly out of New Zealand next Saturday. The Duchess will return to the UK, while the Prince will visit Tuvalu and the Solomon Islands.


---