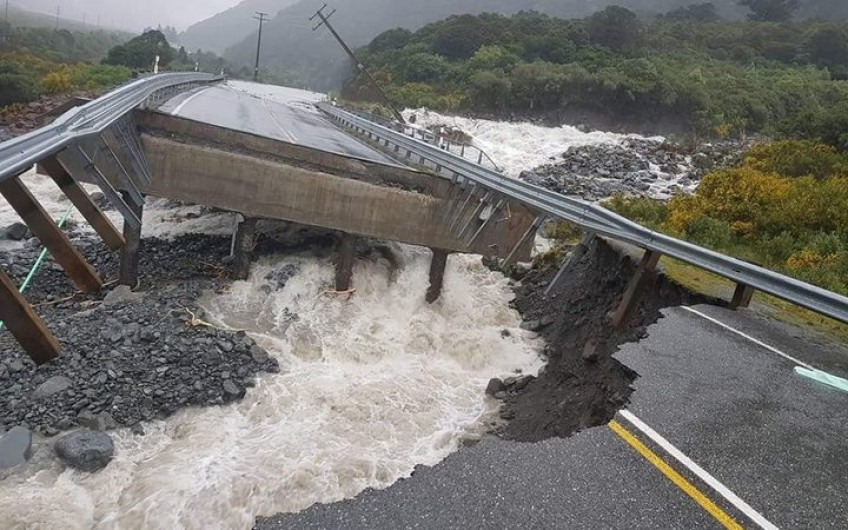 West Coast tragedy: Body of woman swept away by river found
Nov 09, 2018
---
The body of a woman swept away by a river on the West Coast during torrential rain has been found by a search and rescue team.
Greymouth police say emergency services were told that a woman had gone into the Haupiri River shortly before 8pm last night.
They said a search and rescue team recovered her body just after 8am this morning.
Police confirmed that the woman was from Gloriavale, a Christian community based at Haupiri on the West Coast.
Meanwhile, Civil Defence authorities in Westland will be meeting at 6am in Hokitika to assess the damage from the heavy rain which has drenched the West Coast.
Westland Civil Defence spokesperson Andy Thompson told Morning Report the rain continues to fall and is likely to remain heavy through the morning.
"We're still expecting some significant rainfall for the next couple of hours."
He said the road conditions around the regions are "still very suspect" and urged drivers to be very careful.
Contractors will be out on the roads this morning to check the situation around the region.
However, he said there is slips, and potentially undercutting of roads.
"There are some local roads around the Hokitika and South Westland district that are still closed due to flooding, surface flooding, some streams burst their banks as well."
The fire brigade was out in force in the early hours of the morning, between 1am and 2am, pumping water away from some of the houses in the region, Mr Thompson said.
"The emergency services did their job in the middle of the night and in some pretty trying conditions, did a pretty good job."
The has been minor flooding in areas including Kaniere, but the Hokitika River has held and water levels are falling, he said.
MetService said the rain has now eased at Haast, south of the glaciers, and the weather front is moving north.
It is also issuing a snow warning for people in the Canterbury High Country.
Ten to 20 centimetres of snow is expected above 800 metres, south of Arthur's Pass.
South Westland Area School in Hokitika remains closed due to road closures and slips in the region.
And Westland High School are advising students that if they're unable to make it to NCEA exams because of the weather conditions, that they should ring the school.
Roading engineers will also be on the ground this morning assessing the damage.
State Highway 6 is closed between Hokitika and Fox Glacier, while State Highway 73 is blocked at Otira due to a major washout just before Goat Creek Bridge in Arthur's Pass.
Mr Thompson said his agency together with NZTA will review the closures at 9am.
It's expected SH73 could be closed for days or weeks in order to repair the bridge and motorists are being urged to use the Lewis Pass to get between Christchurch and the West Coast.
The flooding which has blocked SH6 stranded hundreds of tourists in Franz Josef overnight and the town remains cut off to the north and the south.
River levels on the West Coast are very high and the authorities are continuing to monitor water levels closely.
A group of 26 students and three staff from Otago Boys' High School who were forced to spend the night in a hut in Mt Aspiring National Park, after being cut off by floodwaters are expected to walk out today.
They are reportedly safe and have plenty of supplies.
Major roads affected SH 1 Ashburton - Caution Flooding - Near the intersection with Walnut Avenue. Road users are advised to take extra care. SH 73 - Springfield to Arthurs Pass - Caution - Flooding - Due to heavy rainfall there is flooding in the Mingha Bluff area. Manual traffic control or traffic signals will be required as the road is down to one lane. SH 73 Otira to Jacksons - ROAD CLOSED - Slip - Road closed due to surface flooding, washouts and slips. SH 6 Hokitikai to Fox Glacier - ROAD CLOSED - Surface Water - Road closed due to surface flooding, slips and washouts. . SH 7 Reefton to greymouth - Caution - Flooding - Flooding at Stillwater Underpass. Take care and slow down. SH 73 Otira to Kumara Junction - Road Closed - Goat Creek Bridge has been washed out. There is no vehicle access until further notice. An assessment of the damage will be carried out on Friday 9th November. Detour route: SH1 (Christchurch to Waipara), SH7 (Waipara to Greymouth), SH6 (Greymouth to Kumara Junction) SH 90 Tapanui to McNab SH 1 Junction (Willowbank) - Caution - Flooding - Due to surface flooding near Waikaka Rd intersection, there is a temporary speed restriction of 30 km/h in place. Road users are advised to take extra care.
Main Image: Flooding on Arahura Valley Road Photo: West Coast Civil Defence


---