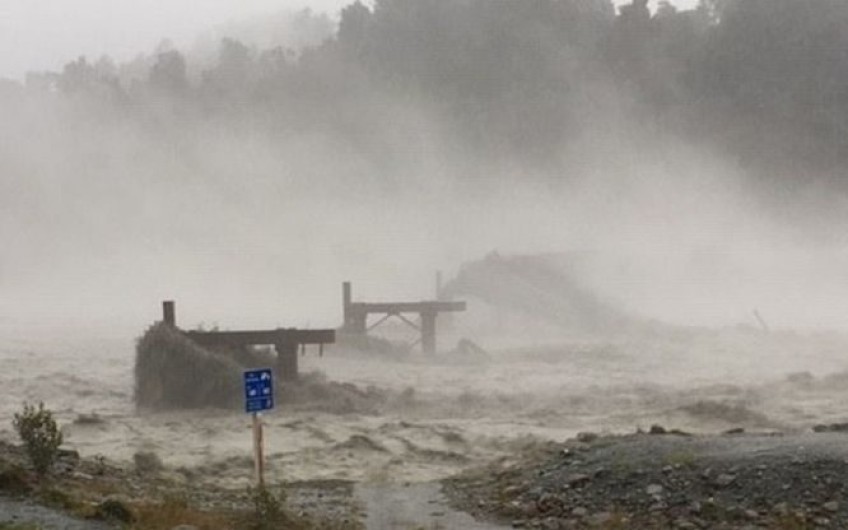 West Coast flooding: NZTA was warned about Waiho Bridge days before it washed away
Mar 28, 2019
---
The Transport Agency (NZTA) was warned two days before the Waiho Bridge was wrecked that works upstream could make the bridge unstable.
The spans of the bridge were ripped off by the flooded Waiho River on Tuesday, cutting the road between Franz Josef and Fox Glaciers.
Franz Josef businessman Logan Skinner was worried that work upstream of the bridge was pointing the current directly at its bridge's northern abutment.
The failure of that same abutment caused the bridge to wash away 25 years earlier.
With heavy rain predicted, Mr Skinner emailed NZTA on Sunday to say the bridge could be vulnerable, but the agency replied on Monday to say there was nothing to be worried out.
"There was a temporary bank put in upstream of the bridge to divert the channel while they repaired the groins on the north bank and that is probably disappearing, which is what is supposed to happen to it," NZTA network manager Colin Hey said in an email.
"The groins have been repaired now, so all should be fine, hopefully for a while. First test coming now, by the sounds of things."
The bridge failed on Tuesday and Mr Skinner said it would still be there if NZTA had heeded his warning.
"The issue was raised, and now we have got no bridge."
"Had some action been taken and had the force of the water not been directed at the north abutment, and key rocks had been in place, then the road would probably be open today."
The bridge's destruction severed the main link between Franz Josef and Fox Glacier. What would normally be a 25-minute drive between the two towns has become a 12-hour journey, via Aoraki-Mount Cook National Park, through Arthur's Pass.
The closure has had a "massive" impact on Franz Josef, Mr Skinner said.
"The town's like a ghost town today. Not many tourists want to drive in from the north, and then turn back. People on short holidays just don't want to do that, so it's going to cost this town a lot of money."
NZTA has promised it will fix the Waiho Bridge within 10 days at a cost of about $1 million.


---