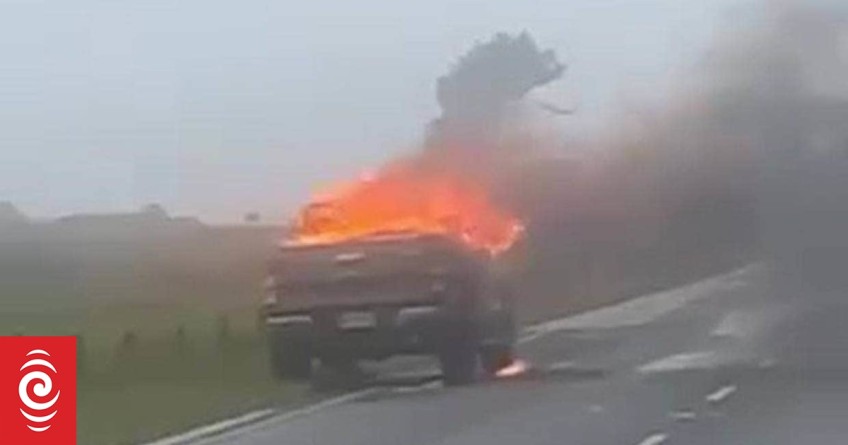 West Coast driver survives lightning strike on ute
Nov 24, 2022
---
A West Coast man is feeling lucky after surviving a lightning strike that caused his ute to go up in flames.
The storm hit as Caleb Harris was on the road, just north of Hokitika, on the way to work in Golden Bay earlier this week.
"You could see the weather was taking a turn - a few flashes ahead of me and the rain got really heavy," he told First Up.
A bright purple flash was followed by a bang on the bonnet of his ute the lightning struck.
"My ears were ringing," he said.
He got out of the ute and finding he'd accidentally locked himself out he smashed a window to get back in to get his luggage.
Then he rang the fire brigade.
"Just stood back and watched my ute go up in flames."
He could see the purple lightning just before the sound of it hitting the truck, he said.
Harris said he got a shock that he felt like touching an electric fence, only worse.
"But not as bad as I thought it would be.
"I didn't get any burns on my hands or feet."
His insurance company had heard about the incident and was expecting him when he called.
"I said it's hard to explain but I'm that young fellow who got hit by lightning and they said oh yep, we know."
Main image (Caleb Harris): Caleb Harris survived his ute being struck by lightning on the West Coast.

---