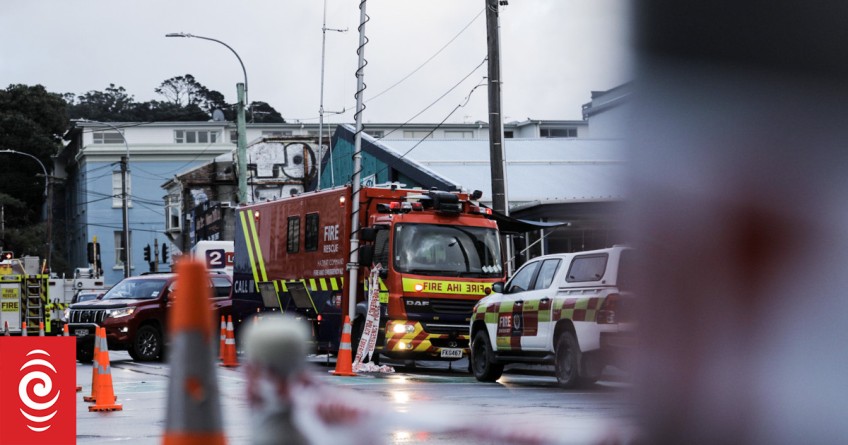 Wellington fire: Investigators, search and rescue to enter Loafers Lodge
May 17, 2023
---
Fire investigators and Urban Search and Rescue are expected to enter Loafers Lodge later this morning following a fatal fire that has left at least six people dead.
Firefighters responded to the blaze at the Wellington hostel in the early morning hours of Tuesday. Some residents jumped out of windows to safety and were rescued from the roof.
The damage to the building is so extensive that emergency service personnel have been unable to get in properly to survey the damage and potentially find more bodies.
FENZ assistant national commander and Wellington region manager Bruce Stubbs told Morning Report a fire crew had stayed overnight to deal with any reignition should it occur.
The cause of the fire was currently being treated as undetermined, he said. The possibility of it being suspicious had not been ruled out but until investigators could go in and work through evidence, nothing else could be said.
"We need to get our people in to do their work in determining the origin and cause of the fire," Stubbs said.
The investigation team as well as USAR will make a re-entry this morning alongside police to move to the next phase of the operation.
Police will then take over from midday as the leading agency.
"We'll go through the handover process with them later this morning. We outline all the hazards that are there, all the things we've done to mitigate those hazards and offer the support of our USAR team should we need to do anything going through that process."
Stubbs said there was a "fair amount of destruction and debris" on the top floor of the building. The next step is going through and ensuring no-one else is in there.
He could not confirm if a further 11 people remained unaccounted for, excluding the six bodies that had already been located.
Stubbs was also unable to confirm reports of another fire around 10.30pm on Monday. The team was currently going through the sequence of events leading up to the fire response, he said.
He said the crew working with the 32-metre ladder to rescue people did a "fantastic job putting it up and getting to work really quickly", making some early rescues from the side of the building.
Another truck with a 32-metre ladder was unavailable as it had had some mechanical issues. He could not confirm if having that truck at the scene as well would have helped rescue more people.
A total of 20 crews from across Wellington responded, he said.
"With an event like this, we bring in all the people that the incident management team require and that can be from a long way out. We just continue to bring people in and crews to work through the operations that are going on at the time."
Main image (RNZ/Angus Dreaver): The fire has left at least six people dead.
Read more: Ten feared dead in Wellington hostel fire


---