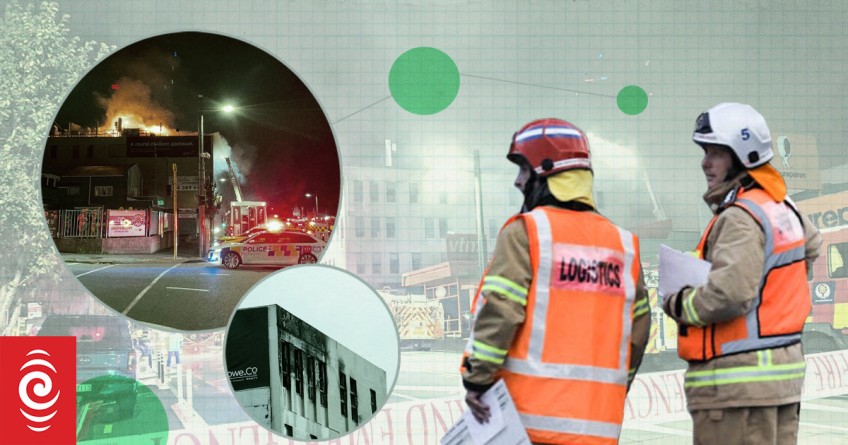 Wellington hostel fire: Ten feared dead
May 16, 2023
---
Up to 10 people are dead after a devastating fire ripped through Loafers Lodge in Wellington in the early hours. Here is what we know so far.
Crews were alerted just after midnight to the fire at Loafers Lodge on Adelaide Road in Newtown.
At the height of the blaze appliances from as far away as Porirua were assisting.
At midday Fire and Emergency said 11 people remained unaccounted for.
Eight hours after the blaze broke out, police said they were expecting a death toll of fewer than 10 but could not be more specific due to uncertainty on how many residents were in the building at the time the fire started as well as fears over the building's stability which was making searches difficult.
Four people were admitted to Wellington Hospital's emergency department; three are in a stable condition and a fourth person who is in a serious condition has been transferred to the Hutt Hospital ED.
Responding to reports in some media that the fire was suspicious, police said they would not be commenting at this stage but would provide updates today.
Prime Minister Chris Hipkins said the fire was "an absolute tragedy" and "a horrific situation".
Wellington Central MP Grant Robertson said those who escaped the deadly blaze were extremely traumatised.
Firefighters are still searching the hostel for casualties and an Urban Search and Rescue team is also involved.
Wellington mayor Tory Whanau told media she broke down while she was at the scene when she realised people had died and described it as a tragedy for the city.
The building
Loafers Lodge is at 160 Adelaide Road and has 92 rooms on its three floors of accommodation available for occupancy on both a short-term and long-term capacity, according to its website.
It was not equipped with sprinklers - and the building code does not require them to be retrofitted in older buildings.
Housing Minister Megan Woods said it had passed a building inspection earlier this year.
She was briefed by housing officials this morning, who have told her the Loafers Lodge met its building requirements.
After some hours emergency services had access to a full list of occupants and were working their way through it.
They asked that anyone who fled the fire in its aftermath get in touch.
Wellington City Council said it was working in conjunction with other government agencies to find accommodation for those left homeless.
Residents who fled the fire have said some of the occupants were elderly and they feared for their mobility in trying to escape it.
Kainga Ora did not have any placements at the lodge, however, Corrections said it had at least two people on electronic monitoring who were staying there at the time of the fire and they were both safe.
Death toll
By daybreak FENZ announced the incident would result in multiple casualties. By that stage four people had been taken to hospital for treatment, with one suffering serious injuries. Another 20 were treated at the scene.
At 8.30am police said the death toll would likely be fewer than 10 but they could not be more specific.
Fire and Emergency deputy district commander Brendan Nally said worries about the building's stability were hampering efforts to determine the exact number of casualties.
Parts of the roof, the mezzanine floor and other areas were giving rise to concern for the building's structural integrity.
Political response
Prime Minister Chris Hipkins and Police Minister Ginny Andersen were preparing to join local members of Parliament Paul Eagle and Grant Robertson at the scene this morning.
Eagle, the MP for Rongotai, said the building provided simple lodgings, with many of its residents transient, which was making efforts to ascertain exact numbers more difficult.
Robertson said when he visited the emergency centre where evacuees were being looked after, they immediately asked what he knew about their friends who were unaccounted for.
Many of them were vulnerable and did not have a permanent home, he said.
Hipkins said he wanted to offer his support to all the first responders who were handling "an incredibly traumatic event".
He planned to convey the country's gratitude for their response to such a difficult situation.
The tragedy has also thrown a spotlight onto the Building Code and Hipkins has not ruled out a higher-level review into safety regulations.
Labour MP Ibrahim Omer said it was a dark day for Wellington and those who managed to escape will need a lot of support.
He said some of those staying at the hostel last night included low paid hospital workers.
FENZ response
FENZ district manager for Wellington Nick Pyatt said the fire was a worst case scenario for firefighters who donned breathing apparatus as soon as they arrived at the scene to find the building well alight.
He described it as a once in a decade event for Wellington and his heart went out to the victims and their families.
Nally confirmed the building had no sprinkler system - instead it had a dry riser system which meant that firefighters could pump water into it for firefighting.
The alarm had been triggered manually by a resident, not by smoke alarms, he said.
One resident has told RNZ the fire alarm would often go off more than once a week so he was initially sceptical when he heard a person yelling that people should evacuate.
Nally said he was incredibly proud of firefighters' work and they would be feeling the pain of not being able to get everyone out.
He singled out the work of crews using an aerial truck. Several people had been plucked to safety from an area directly above the fire.
"Those people were going to perish except for the intervention of our team. The young officer that led that did an outstanding job. Multiple people are walking around because of it," Nally said.
Investigations are already underway and Nally said their findings would be critical for the country's building industry to prevent similar tragedies in the future.
Hospital appeal and health warning
The Asthma and Respiratory Foundation said the fire could pose a health risk for those in surrounding areas.
Smoke is reported to have been thick in the air of nearby suburbs.
Foundation chief executive Letitia Harding said nearby residents needed to ensure they protected their respiratory health.
People should stay indoors if possible, and keep doors and windows closed until the smoke cleared.
Those out in the Wellington CBD should wear masks.
Meanwhile, non-urgent patients have been asked to stay away from Wellington Hospital today.
There is limited access to the hospital due to road closures related to the fire.
Te Whatu Ora said patients who have non-urgent and safely-deferrable appointments are being rescheduled.
People are asked not to call about appointments as they will be contacted if their appointment is affected.
Te Whatu Ora says anyone who requires urgent or emergency care will receive it.
Impact on traffic
The tragedy is also affecting traffic flows in the city.
Waka Kotahi is warning people heading to the airport and Wellington Hospital to expect delays on State Highway 1.
Adelaide Road is closed while emergency services continue to respond to the fire.
The transport agency said traffic flows in the CBD have been impacted during morning rush hour and will likely be affected again later this afternoon.
The Mt Victoria tunnel is serving as a detour route for people travelling to the south coast. Because of this, a maintenance closure planned for the tunnel tonight has been deferred.

---