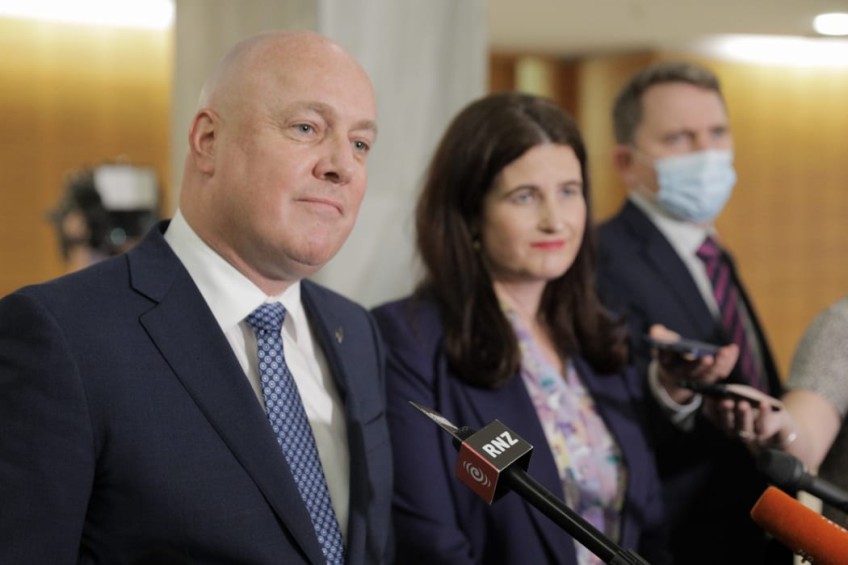 Political parties respond to Budget 2022
May 19, 2022
---
National, ACT, Te Pāti Māori and the Green Party have given their responses to the government's Budget 2022.
Grant Robertson has this afternoon delivered a budget with a one-off $350 sweetener as part of the Budget's centrepiece $1 billion cost-of-living relief package.
There's a lot of spending flying around so here are the main expenses in an easy-to-read list.
Luxon calls it a 'backwards Budget'
National Party leader Christopher Luxon says it is a "backwards Budget" which is taking Kiwi households, economic and fiscal results and outcomes backwards.
"We thought about calling it the bandaid Budget, we thought about calling it the big blowout Budget, but we settled, obviously, on the backwards Budget.
"The real reality is there is no economic management and leadership to be able to deal with this big issue that we've got which is this cost of living crisis. And that's something that we're really concerned about."
He says with inflation at a 30-year high, everyone is worse off than they were a year ago.
"The government's response is a bandaided solution of a cost-of-living payment that fundamentally is available for three months and yet the Treasury forecast we just saw today actually has inflation being not back to within the 3 percent band until 2025."
The payment doesn't get to an average income earner either, he says, such as nurses, doctors and police officers.
"Our argument has been very simple, take the current progressive tax system, lift the tax thresholds by the amount of inflation and that would actually mean that an average household would actually get $1600 back a year."
He says he hasn't had a chance to get into the detail of the full budget, but the bigger issue is a huge budget blowout.
"It's not just that, he's (Robertson) taken $2.5 billion on top of the $6b from the next two years of budgets and pulled that into this budget as well.
"Then the cost-of-living payment, the short-term, bandaid solution, for three months, on top of some climate stuff - another $1b on top of that. So you're really talking about a $9.5b huge amount of cash that's actually come out and been announced today."
He says Robertson is addicted to spending and he does not trust him to deliver the promised surplus which has been pushed out to 2025.
"We have a cost-of-living crisis and you have to control spending."
National Party deputy leader Nicola Willis says every mortgage holder should look at this Budget and will see higher interest rates for longer, which translates to less purchasing power for everyone with a mortgage in the country.
"They will be spending thousands more servicing their debt and that's going to make it a lot harder for many people to enter the housing market."
Luxon argues people who earn $50,000 or more would be better off with National's plan than the winter energy payment and the $350 cost-of-living payment.
"That's exactly why our inflation-adjusted tax threshold policy works incredibly well, it's the same system, we just lift it up by the amount of inflation to help the squeezed middle."
Willis says the payment lasts for three months and the cost of living will just keep rising after that.
Luxon says the reality is New Zealand is doing much worse on inflation than many of our trading partners and while there are global components there are also domestic elements.
"So our plan is very simple, do not add costs to businesses that lead to go through to higher prices. So therefore pull back the brightline test, put back interest deductability, don't go into a national awards scheme and national insurance.
"We've got falling levels of growth and we need to actually get our business community and our productive community actually doing it."
He says we always want better health outcomes but says a lot of the spending is going towards cost pressures.
"That is about inflation and that is about restructuring and that is not leading to better health outcomes and that is what I think we have completely lost."
He says the government conflates and confuses spending money with achieving outcomes.
"Education, you can look at transport, you can look at health, you can look at immigration: we've spent more, there's more spending going in, there's more bureaucrats having gone in, and there's worse outcomes. That is a unique skillset of this government."
Greens want more for those on low incomes
Green Party co-leader James Shaw says there are "a lot of things we strongly support in this Budget".
In particular, he says the work on climate change, on family violence and sexual violence, and the gains in every area of the Cooperation Agreement.
Shaw says the Greens would look at lifting incomes for everyone "at the bottom end which would give them more choices".
Green Party co-leader Marama Davidson says it is not "good enough" that low-income families have not been directly included in the Budget.
Davidson welcomes the increased support for first-home buyers but says help should have also been extended to people who rent.
"We wanted to see rent controls to stop the increase in rents we are seeing right now."
ACT: A 'brain drain Budget'
ACT leader David Seymour is calling it a "brain drain Budget".
Seymour says he did not imagine the Treasury to forecast a lower New Zealand population than it had forecast in December.
"Even the Treasury is now forecasting a brain drain and that's why we say it's a 'brain drain Budget'.
New Zealanders aged 18 and over will be eligible for the $350 payment unless they earn more than $70,000 a year or already receive the Winter Energy Payment.
But Seymour says those earning over $70,000 are no better off.
He says ACT's alternative budget would leave a nurse on $70,000 about $2300 a year better off by reducing taxes.
"We needed to reduce expenditure, we needed to reduce taxes to give people relief against the price increases we've already seen. Instead, the Treasury's forecast said we will have 5.2 percent inflation next year. It was going to be down to 3.1 according to the December forecast - it's got worse."
Seymour says the government's spending is inflationary. "If Grant Robertson doesn't stop spending then [RBNZ governor] Adrian Orr will have to kill inflation by rising your mortgage rates even further - and that's going to hurt people."
'Chocolate sprinkles' on a 'vanilla cake'
Te Pāti Māori co-leader Rawiri Waititi says there are questions around what the $1b Budget for Māori looks like.
"We've waited 182 years to get to 0.6 percent of the Budget."
He says that by the time Māori reach equity in the Budget, "Jesus Christ would have returned".
"We're always left with the crumbs of the Budget."
Waititi says Māori were looking to the biggest Māori caucus ever in this government.
He says going up from 0.3 percent in last year's Budget to 0.6 percent in this one was "not good enough".
"It's not equality because it's not making up the 20 percent of Māori that make up the population.
"It's not Te Tiriti of Waitangi centric which would mean 50 percent but that's the way the cookie crumbles.
"If the system was a vanilla cake, we're seeing more chocolate sprinkles being put on it but at the end of the day it's still a vanilla cake."
He says he would have liked to have seen GST taken off food items and empty houses being taxed.
"We should have put an empty house tax. Transfer tax onto the wealthy. Capital gains tax [on] those who own more than the family home.
"We would have liked to see more investment not into police but into preventative programmes to reconnect whānau back into their communities."
He says there are more than 190,000 houses vacant in Aotearoa.
"If our people make up 50 percent of the social housing list, we want 50 percent of the stock, it makes so much sense."
On the Māori Health Authority getting $42m a year for the next four years, he says "it's 0.7 percent of the total health Budget".
"It's not good enough. If we want to close mortality rates for Māori who are dying seven to ten years earlier than everybody else ... we need a hell of a lot more investment in that."
He says it is "pathetic" that Māori are receiving less money under the new model as compared with more funding under DHBs.

---