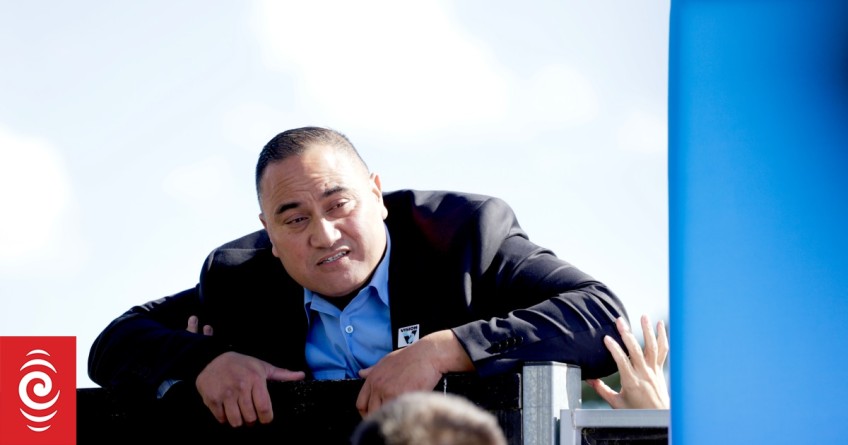 Watch: Christopher Luxon's media briefing hijacked by heckler
Aug 28, 2023
---
National leader Christopher Luxon's media briefing after holding his final Get New Zealand Back on Track rally in Auckland was interrupted by a heckler.
Beginning the briefing, held at the Howick and Pakuranga Community Sports Centre, Luxon said 10,000 people had attended the rallies, before he was asked about his thoughts on working with New Zealand First.
In response, he repeated his previous position that the party was not in parliament and his position was clear - to ensure ther was a change of government and to that end he once again urged people to party vote National.
Asked would the Nats rules out NZ First if they were in Parliament after October, he responded: "For several months now we've been able to form a government with our partner ACT and I'm confident that will be constructive." He once again encouraged people to vote for National.
At this point Luxon was interrupted by a heckler.
The heckler said he was from Freedoms NZ and he was a "genuine Otaran". He invited Luxon to come to Otara, and said they never saw him there even when there were shootings in the community.
"Why don't you be a bit respectful, buddy," Luxon responded.
The man said he was making a stand on behalf of farmers and growers and people who were "desperate for housing". Luxon said he was trying to be respectful to the man and would come and talk to him after the briefing.
However, the man who was standing above a fence behind Luxon, continued to talk, referring to the investment company BlackRock. "Be respecful and let me finish," Luxon said as the interrruption continued for several minutes.
At that point Luxon, accompanied by local MP Simeon Brown, left the podium, and moved the briefing inside.
Asked later about the heckler from Otara, Luxon said he had spend time with various organisations in the area, including at a chairty called Turn Your Life Around.
After it resumed, Luxon was again asked about working with Winston Peters, and said once again NZ First was not above the threshold and was not in Parliament.
He said he was "not spending time worrying about them".
Questions regarding NZ First came after Labour leader Chris Hipkins called the party a "force for instability and chaos" on Sunday, ruling out any formal working arrangement post-election.
Luxon said National would be standing in two Maori electorates which he was proud of and was pleased the party had two outstanding candidates running there. "As I've said so many times before I want to see a national National party and that means taking our principles, our plans and our ideas across New Zealand."
He also ruled out doing a deal with ACT in Epsom so that National did not stand a candidate there.
When Luxon was asked about a report out today that said company profits were a major factor in causing inflation, he laughed.
He then said: "Let's be really clear what's driving inflation: It's a government that's been the second biggest spender of government money per capita in the world, we were the fourth or fifth printers of cash and we shut the country down like no-one else. As a result we spiked domestic inflation".
He said New Zealand was the only country in the Asia-Pacficic region in recession and risked driving up unemployment.
He said priorities for reducing it included: stop passing costs on to businesses, free up immigration settings, go back over government spending and ensure value for money, give people tax cuts, and ensure the Reserve Bank focused on getting inflation under 3 percent.
Luxon said his party did not believe in "Band-Aid economics", such as the current government's cost of living payments, continuing the fuel subsidies and then discontinuing it. He repeated his call for tax relief for workers.
He said National would be releasing a full tax policy shortly.


---