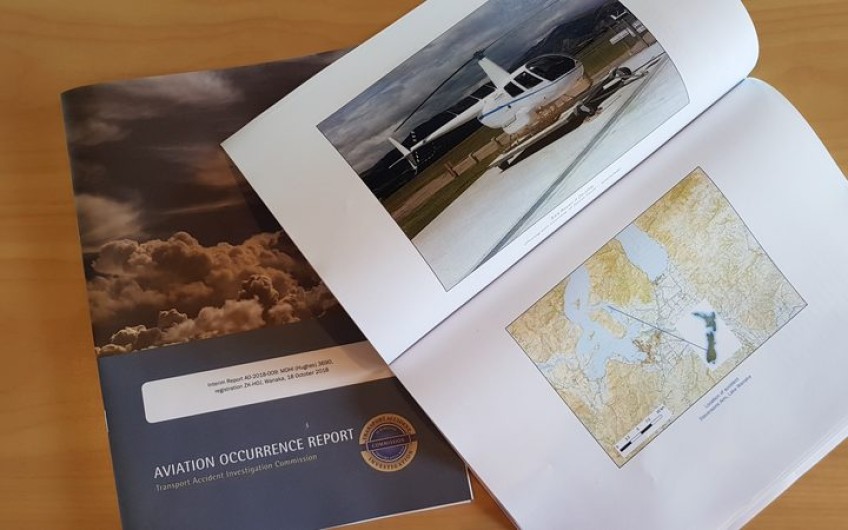 Clothing likely cause of fatal chopper crash - report
Dec 20, 2018
---
The Transport Accident Investigation Commission (TAIC) says there's evidence a pair of over-trousers came out of a helicopter and became entangled in its tail rotor before it crashed, leaving three people dead.
Interim reports from inquiries into two recent fatal helicopter accidents near Wanaka are being released today.
Three men - 38-year-old Nick Wallis, DOC ranger Paul Hondelink, 63, and Scott Theobold, 59 - were killed when the Hughes 500 crashed in Wanaka in October, shortly after takeoff.
In July, Mr Wallis' brother Matthew also died in a helicopter crash in Lake Wanaka.
The men killed in the October crash were taking part in an operation to reduce tahr numbers.
TAIC said its interim report into the crash highlighted the major safety risks posed by loose items in the cabins of helicopters.
"There is evidence that a pair of over-trousers that had been packed in the cabin came out of the helicopter and became entangled in the tail rotor," chief commissioner Jane Meares said.
"Paint marks on the over-trousers matched the colour and profile of the tail rotor blades, and marks on a tail rotor blade match a zip and dome connector on the over-trousers."
Witnesses to the crash said they saw items coming out of the helicopter towards the tail rotor, the interim report said.
They described the helicopter starting to rotate and descend. Moments later they saw the tail section separate from the helicopter in flight.
The helicopter continued to descend and struck the ground, catching fire after impact.
Last month, the Civil Aviation Authority issued a safety warning about the importance of securing loose items in helicopter cabins.
Investigators also discovered there had been three incidents in the month before the crash in which the helicopter's doors opened in flight, Ms Meares said.
"Effective safety management depends on such incidents being reported and investigated, but none of these occurences were recorded in the operator's incident reporting system."
TAIC has recommended urgent action be taken by the Civil Aviation Authority to remind people in the aviation sector to remind people of the importance of reporting such incidents.
Meanwhile, TAIC has also released its interim report into a helicopter crash in July, in which a Robinson R44, piloted by Matthew Wallis, crashed into Lake Wanaka.
Ms Meares said although they had not come to a conclusion about what caused the accident, there was evidence that the helicopter may have experienced mast bumping at some point.
That was always a concern, she said.
"There is also evidence that a main rotor blade has struck and entered the cabin in flight. There are score marks on the blade that match the screw on the canopy bow; there is scoured paint on the screws. The same rotor blade has marks matching damage to the flight instruments panel."
TAIC would continuing investigating both accidents, and formal findings would be issued after that.

---