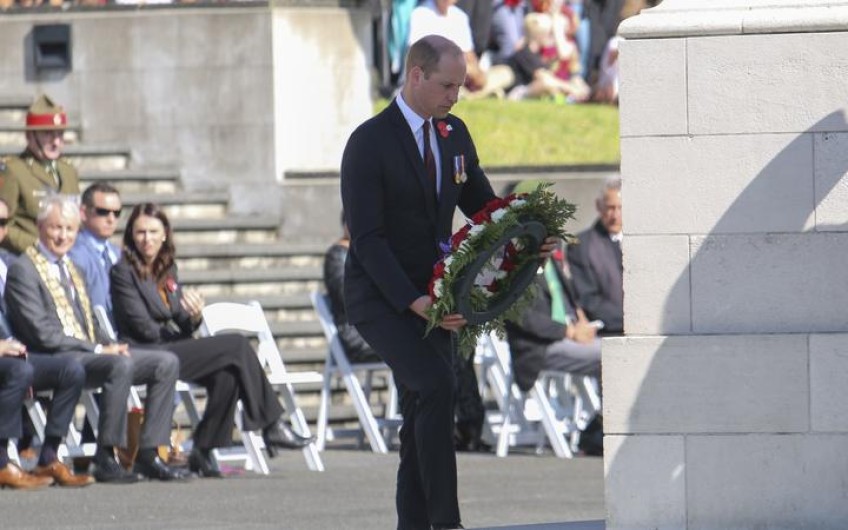 Thousands of people attend Anzac Day services around the country
Apr 25, 2019
---
Thousands of people have attended Dawn Services around the country to honour all those who have served in conflict overseas.
Large crowds attended Anzac Day services amid tight security in the main centres.
In Auckland more than 1000 people attended the city's largest civic service at Auckland Domain.
The Duke of Cambridge, Prince William, laid a wreath with the Prime Minister.
Prime Minister Jacinda Ardern spoke at the Auckland dawn service saying Anzac Day is a reminder to all to continue to honour those who served, through acts of remembrance and the defence of peace.
"Let us recommit to those simple values of freedom, democracy, and peace. Just as we've never taken for granted the loss of life by those who served on our behalf, so too must we never take for granted these principles."
Auckland's Mayor Phil Goff spoke of the 30,000 service personnel killed in both World Wars and the personal losses felt by many.
He spoke of his two great uncles who died in World War 1, an uncle killed in World War II, and a loss a generation later.
"I remember my nephew Matt killed in action in Afghanistan in 2007 and the sadness that that visited on my sister and our family."
Earlier, in Auckland heightened security was evident at the Dawn Service at the Cenotaph in the domain.
This included police officers on top of the Auckland War Memorial Museum observing the scene.
Wellington
A national commemoration service wrapped up in the capital around midday where hundreds gathered at the Pukeahu National Memorial.
Earlier, Wellington crowds gathered at the Memorial Park waiting for dawn to break.
Governor General Dame Patsy Reddy acknowledged the courage of every New Zealander who has served their country.
"We can honour their memory through our determination and commitment to stand up for what we believe in. Peace, freedom, and democracy."
Families remembered relatives who had served. James McGrail was there with his father and nine-year-old son.
"To honour their service and their sacrifice and to just remember the horrors of war and how it has changed the world."
Christchurch
In Christchurch there was a smaller attendance than usual at the dawn service in Cranmer Square.
For the first time at a Dawn Service the flag of Turkey was flown.
Mayor Lianne Dalziel said this was done to draw this country closer to Gallipoli.
"But also to acknowledge the fact that nations have found a way after the atrocity of war to come together and for Turkey to make its land, its soil available to us - Australians and New Zealanders to come together and commemorate Anzac Day."
The 106-year-old Bill Mitchell is a veteran of WWII.
He was driven into Christchurch's Cranmer Square for the dawn service in an old airforce jeep.
Sergeant Bill Mitchell was driven into the service in an old airforce Jeep that was parked in front of several thousand people in Cranmer Square.
"I always enjoy it, it's very nice - memories, we've all got Dads, we've got parents and so on. The [ride in the jeep] reminds me of the old days."
The Dean of the Christchurch Cathedral, the Very Reverend Lawrence Kimberley paid tribute to the victims of the Christchurch terror attacks on two mosques and the Easter Sunday bombings in Sri Lanka.
He was speaking to around 500 people who attended the citizens' service at the Transitional Cathedral. Those represented included the Linwood Mosque and the Buddhist and interfaith communities.
Rev Kimberley said his prayers went out to the victims of both tragedies.
He said the mix of faiths seen at today's remembrance services was reflected by the soldiers who fought in World War II. He said over 600,000 Muslims served in British, French and American forces on the frontline and over one million were part of Russia's armed forces.


---