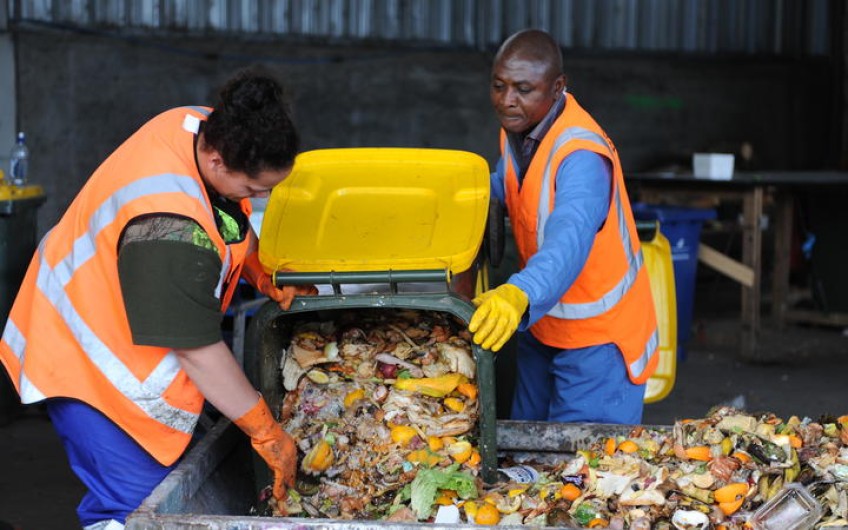 The effort to change our wasteful food habits
Aug 31, 2020
---
Long supermarket queues, overwhelmed food banks and panic buying - they were the hallmarks of Level 4 lockdown.
Some of them reappeared within hours of Auckland returning to Level 3 status earlier this week as the pandemic again highlighted our complicated relationship with food.
Food is clearly the most basic need for every human being. But we also waste piles of it every year, over 157,000 tonnes in New Zealand alone, worth $1.16 billion, according to organisers of Love Food Hate Waste, a waste minimisation campaign backed by 60 councils.
As our population grows, so too does our food waste. In real terms, we are chipping away at the problem, but not quickly enough. Lockdown conditions earlier this year only exacerbated the problem of food waste in the supply chain, said Jenny Marshall of Love Food Hate Waste but saw consumers become less wasteful while confined to home.
"At a household level, we saw food waste decrease. A lot of people, for the first time, were forced to cook their own meals, following Nadia Lim on TV while she taught everyone how to make different meals," said Marshall.
Supply chains disrupted
But the gains were cancelled out by unprecedented waste as producers were left with perishable food they couldn't sell.
"Our growers who only sold directly to restaurants and corner shops, suddenly the market for their products just vanished. We saw these massive surpluses of food."
Food rescue groups sprang into action to redistribute some of it, including prime pork, as pig farmers were forced to redirect 12,000 pig carcasses that would have been destined for restaurants and butchers.
At one point 40,000 eggs originally destined for use in McDonald's Egg McMuffins, were shipped off to food banks. As job losses mounted, food banks around the country were overwhelmed with demand.
But supermarkets remained open and well-stocked throughout. The same can't be said of other countries, particularly in the developing world. As Covid-19 has swept through African, South Asian and South American nations, food supply chains have been seriously disrupted.
Even before the pandemic, the World Food Programme estimated that 821 million people go to bed hungry each night around the world. It estimates that a further 130 million will be pushed to the brink of starvation this year due to Covid-19.
A global problem
In countries with warmer climates, over a third of crops already perish on the way to markets, due to lack of refrigeration and proper storage. With sickness denting the workforce of harvesters, packers and drivers, the problem will only worsen.
As many as 370 million children have missed out on school lunches worldwide as they are required to stay at home, removing a key nutritional component of their diet.
While Covid-19 has highlighted problems of inequality here, our problems are less pronounced. We enjoy an abundance of primary produce. But Marshall and others say we have a major task in reducing our food waste, which on the home front, is largely down to two factors - overbuying and inadequate storage of food to prolong its life.
"When we go to the supermarket, we don't take a shopping list with us. We see all these bargains. But its only a bargain if you end up eating it," said Marshall.
We let fruit and vegetables spoil when we could put them in an airtight container in the fridge to keep them fresh for weeks. There's another factor at play.
"For a long time food has been quite cheap, so we've devalued food," said Marshall.
With fast food particularly cheap and convenient, it is just easier to pick up takeaways, rather than use up the perfectly good ingredients sitting the fridge and pantry.
Of that big pile of food waste, the largest component by volume is bread - we throw out around 29 million loaves of it each year.
Our daily bread
Now a new company is attempting to tackle food waste by using that perfectly good unwanted bread to create a new, sustainable beer and bread business.
Auckland-based Citizen collects unsold loaves of bread through a partnership with Goodman Fielder and Foodstuffs. It uses the fermentable starches in those slices of bread as a primary ingredient in brewing beer, which it sells under the Citizen brand.
The leftover beer mash is then treated and used to make spent-grain flour, which goes into Citizen's sourdough, which sells for nearly $9 a loaf.
It's a type of circular economy based around bread that Citizen is keen to expand to other surplus food types.
"Vegetables is the number two most wasted product here in New Zealand," said Donald Shepherd, who co-founded Citizen last October with Sawmill Brewery's Mike Sutherland and Auckland chef and restauranteur Ben Bayly.
"Ben Bayly is about how we take the kumara, the beetroot, the coffee chaff, and turn those into tasty, delicious products that we can all enjoy, rather than it going into landfill or a stockfeed product," adds Shepherd.
The approach seems to be working, with Citizen's products finding a home in the Farro's and its beer set to be distributed through Foodstuffs supermarkets.
In the food supply chain, from field to warehouse, innovation is also underway to make better use of biological byproducts that otherwise would be fed to animals or used as fertiliser.
Turning waste into wealth
The Bioresource Processing Alliance was set up in 2012 with government funding to support research and development projects encouraging the use of what would normally be considered waste to create new product lines.
The alliance's general manager, Anna Yallop, said that the projects span everything from New Zealand King Salmon creating a line of pet food from leftover scraps of food-grade salmon to Eco stock turning organic matter into biofuels to offer a low-emissions alternative to petrol, gas and diesel.
Another company, Prescient Nutrition, was using food waste to feed black soldier flies, creating larvae that could be turned into alternative protein products for human consumption as a more environmentally sustainable alternative to beef and lamb.
It has to either save money or make money, and ideally, it would be both, because there are costs associated with using byproducts, the largest is the logistics of moving stuff around," said Yallop.
Such innovations may serve to lessen food waste over time and create higher-value exports for New Zealand. But Marshall said that tackling the issue starts at home with every person making smarter decisions about the food they buy, consume and discard.
Visit the Love Food Hate Waste website for tips on how to save money on your food bill and cut down on your own food waste.


---