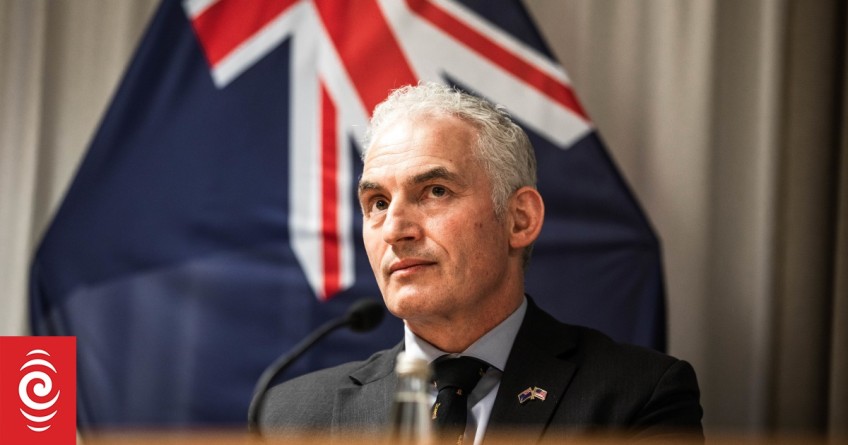 Stuart Nash has resigned as police minister
Mar 15, 2023
---
Stuart Nash has resigned as police minister, Prime Minister Chris Hipkins says.
Parliament is urgently debating the matter, with opposition parties urging the removal of Nash's other roles.
It comes after the opposition demanded Nash resign after criticising a judge's decision and revealing he phoned the police commissioner to discuss whether it would be appealed.
Nash was not police minister at the time of the conversation, but the government is expected to remain independent from judicial and police prosecutorial decisions.
Heading into the debating chamber on Wednesday, Hipkins said Nash's comments and actions were inappropriate and he'd accepted his resignation as soon as it was offered in a "relatively brief" conversation.
"It is my view that Stuart Nash's action in contacting the commissioner in relation to a possible appeal was unwise. It is also my view that his comments both at the time on the judiciary and subsequently in defending his actions, are inappropriate and represent an error of judgement.
"The Cabinet Manual sets out an expectation that ministers exercise a professional approach and good judgement in their interactions with the public and officials and in all their communications personal and professional. Stuart Nash's comments on this occasion did not meet these standards.
"The manual also sets out that ministers should not comment on or involve themselves in the results of particular cases. Again the minister Nash's actions do not meet this expectation.
"Stuart Nash has reflected on his actions and has tendered his resignation in the police portfolio. As such I have accepted that resignation effective immediately and I have advised the governor-general to accept it which she has done."
Hipkins said he would have removed Nash from the role had his resignation not been offered. However, he would remain in his other roles as Forestry, Oceans and Fisheries, and Economic Development Minister.
"He's demonstrated an error of judgement here, a serious error of judgement - and he's certainly paid a consequence for that in the fact that he's no longer minister of police."
He said Nash had cleared up some further details about the circumstances.
"The phone call took place in 2021 when he was not the minister of police. Minister Nash has assured me that he has no connection to the case in question, or any of the individuals involved.
"He's also assured me that this is the only occasion that a conversation of this nature has occurred with the police commissioner."
He said the Police Commissioner had been contacted about the matter through the Cabinet Office.
"The feedback ... I did not get involved in these conversations, I think better that they're handled at an apolitical level - was that Minister Nash's representations had no bearing on the commissioner's decisions or the police's decisions in this case."
National, ACT urge Nash's removal from Cabinet
Acting National Party leader Nicola Willis said Nash had made a serious error of judgement, and he should no longer be a Cabinet minister at all.
"I think the error of judgement was just so grave that this is an issue where he should resign from the Cabinet entirely."
He had done the right thing in stepping down, she said.
"That was the right thing to do, the question we now have to ask is why he appointed to the role in the first place and how these errors of judgement occurred.
"He has not only made a serious error, he has doubled down, he has shown contempt for one of the basic tenets of our democracy which is that ministers don't tell the police what to do.
"The fact that he as both a former and current police minister has missed that shows a serious error of judgement, he is not fit to be the minister.
"Very clearly has breached the Cabinet Manual and has also breached the principle in the Police Act the commissioner of police acts independently of ministers of the Crown."
Nash had initially defended his actions this morning, saying he was not interfering. Willis disagreed.
"Clearly he was, the fact that he's resigned is an admission of that."
ACT leader David Seymour agreed Nash was not fit to be a minister at all.
"I think the fact he doesn't get it is actually worse than the fact he did it. We all make mistakes, he could've apologised, maybe that would be acceptable.
"I mean it's the total lack of understanding ... interfering with police is one of the most serious things that a politician can do, that's why the Cabinet Manual and the Police Act say don't do it.
He said Hipkins should be less concerned about people "paying a price like a naughty schoolkid, but instead ensuring all ministers are competent and have high integrity".
"Nash has shown he fits neither description ... he interfered, he boasted about it, and then he doubled down on it. That's three strikes and Stuart Nash should be out.
"Stripping him of just his Police portfolio doesn't do justice to what a serious breach this is."
National's Police Spokesperson Mark Mitchell also said it was Nash's lack of contrition that led to his removal.
"Until he doubled down on it, I thought that if he came out, if he apologised, if he acknowledged and said 'hey I got that completely wrong' then there might've been a chance," he said.
He said it didn't matter that Nash did not hold the police portfolio at the time of the conversation.
"He's still a member of the executive, he's still a Cabinet minister - so in my mind no it doesn't."
Hipkins suggested Nash's removal as police was punishment enough, however.
"In this particular case I think the independence of the police in making prosecutorial decisions is one that we have to safeguard very clearly and also the independence of the courts.
"Those in my view mean that he should not continue as minister of police - I believe that that is a proportionate response to the error of judgement that Stuart has shown."
Police portfolio handed to Woods
Hipkins announcement confirmed Megan Woods would take over the portfolio in an acting capacity, until he appointed someone permanently.
Woods said she had made no big changes as yet.
"I've had the job for an hour. I haven't put in place any great plans or strategies, but look, I'm doing the job today, the prime minister's asked me to pick that up, more than happy to do what he's asked me to do."
Asked if she would want to retain the portfolio until the election, she said that was "absolutely the realm of the prime minister".
It was put to her whether she'd ever phoned the police commissioner to ask about a specific case, she said: "not in the last hour".
Attorney-General's reprimand
Attorney-General David Parker said he had a conversation with Nash about his statements this morning.
"I thought he was wrong and I have told him that," he said. "He accepted that ... I saw him in person."
He did not think Nash's actions had threatened that in any meaningful way "because he's suffered the consequences of media scrutiny and my comments".
"It's important the attorney-general sticks up for the judiciary, they've got a difficult job to do, they do it independently of the government. The separation of powers is enshrined in the Cabinet Manual."
The Prime Minister's Office on Wednesday afternoon said Nash would be making no further comments today.
Main image (RNZ/Samuel Rillstone): Stuart Nash.


---